---
We grow old. We grow old. Whether we wear our trousers rolled or try to deny a future foretold, death and decline await us. Yet for many, accepting the reality of old age barely goes beyond rudimentary financial planning and saving for the "golden years" of retirement, good first steps at best.
By contrast, Toronto husband and wife, Richard and Isabelle, decided to go all the way. While the rest of us quietly pretend we will live forever, the couple, 68 and 59 respectively, opted to embrace the inevitability of old age with intelligence, enthusiasm and even gusto. If you can't beat it, they reckon, better figure out how to live with it. They began the process by asking themselves where and how they wanted to spend the rest of their lives. Like the overwhelming majority of Canadian seniors – according to one 2020 poll, fully 91% -- they decided the answer was home. But as much as they loved the place they live, it was unsuited to the old and infirm. Like many early 20th-century houses in the city, theirs is a three-storey semi, narrow and very tall. In other words, it is a residence of many stairs. Bedrooms are on higher floors, kitchen and living room down below. Getting around means climbing up and down multiple times daily.
That's fine for the young and healthy, less so for aging boomers like Richard and Isabelle, not to mention those who use a wheelchair or a walker. This point was reinforced for the couple a few years ago when Isabelle broke a leg in an accident. It was a painful reminder that our world is built for the able-bodied. Anyone who has gone through a similar experience knows whereof she speaks. Suddenly, cities, cars, public transit, even our homes are transformed into hostile environments where the simplest action becomes difficult if not impossible.
READ: Trading Character for Condos: Toronto Residents Increasingly Feel Like They Don't Belong
The answer, they quickly realized, was a home elevator. But elevators are a luxury, you say, and very expensive. Well, yes, but perhaps not as much as you'd expect. According to Richard, the lift cost $23K. Not cheap, it's true, but hardly a deal-breaker. His argument is simple. Richard and Isabelle's alternative to staying at home would've been a seniors' residence. Fees for such institutions aren't cheap; a half-decent one can charge $5K a month or more. With that in mind, the elevator, the whole renovation – seemed quite reasonable.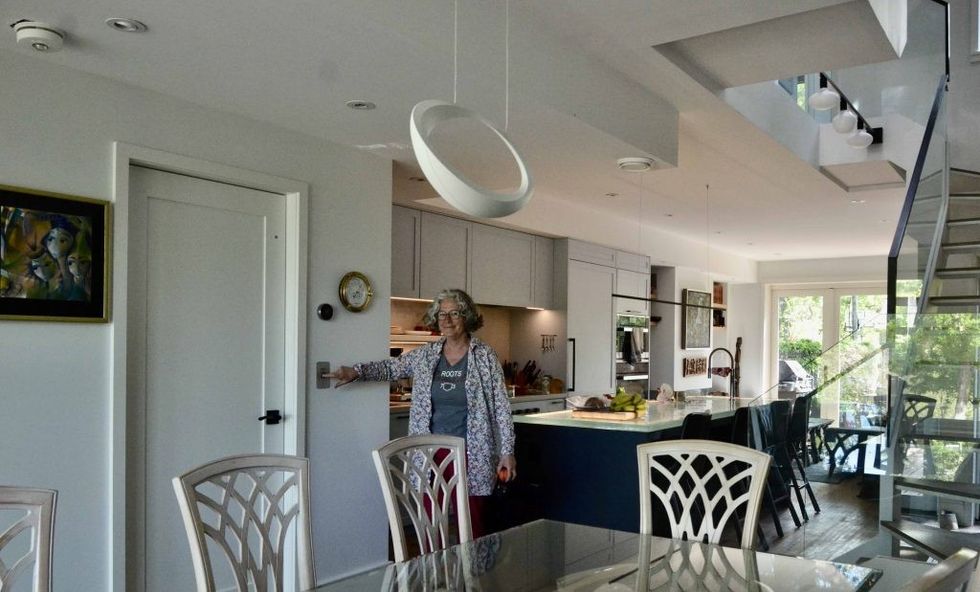 Isabelle pushing the call button on her home elevator, the door to which appears as 'normal' as all others in the house.
"The cost of an elevator," he says, "is just a few months in a retirement home. We also realized that some retirement homes are not that great. Since we were going to gut the house anyway, it made sense economically. We decided we might as well spend the money on this house. "
But the project went well beyond adding an elevator. The contractor started by demolishing everything from the old lath and plaster and wooden beams that were recycled as wall-mounted shelving units. Even the basement, now the location of a self-contained apartment built with live-in help in mind, was taken back to the stone foundation. Space typically occupied by washing machines and driers was emptied and the laundry equipment moved to the second floor where it can be more easily accessed.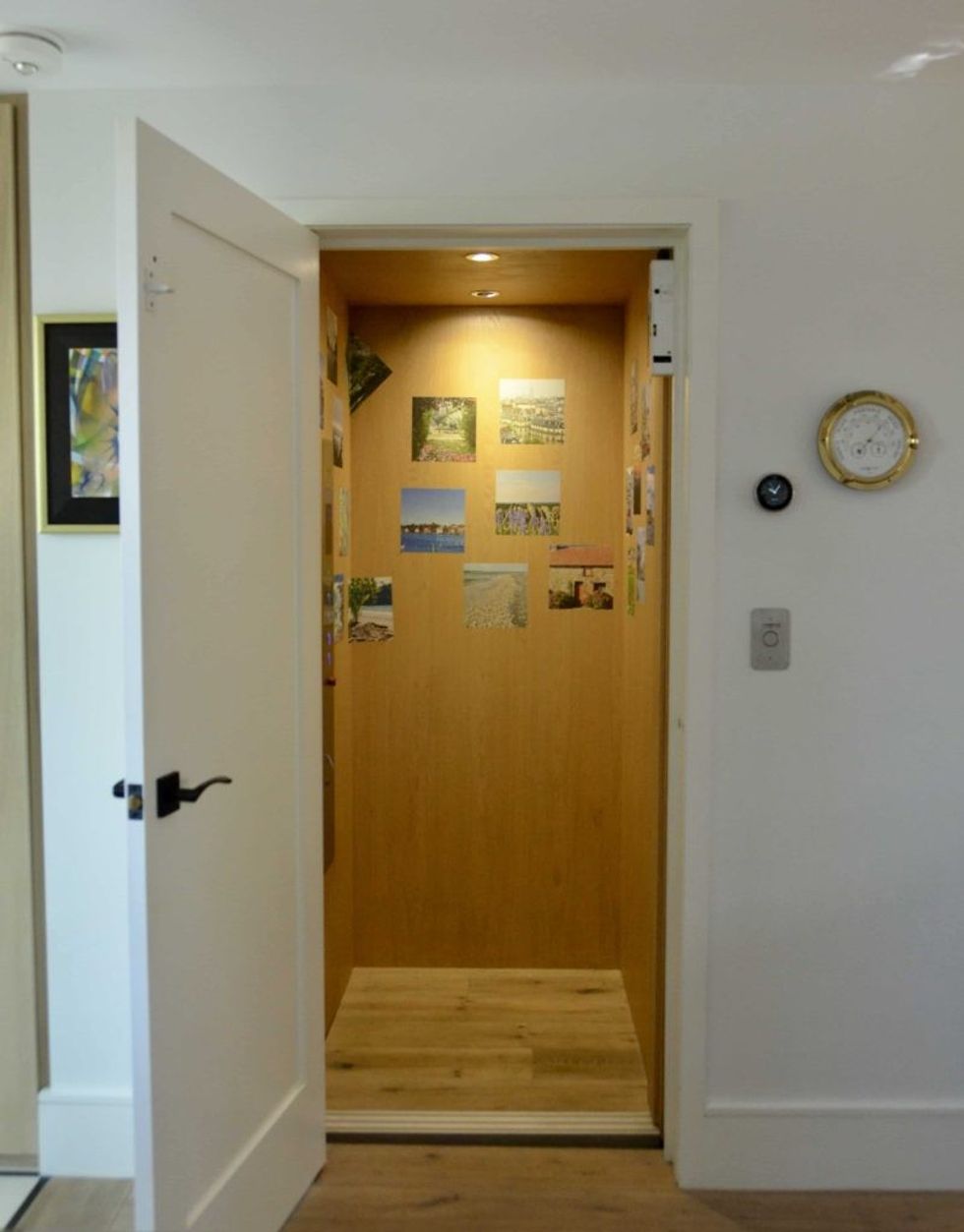 Isabelle and Richard have put up photos of their travels on the elevator's walls - a lovely personal touch.
It is next to the elevator and beside what might be called the primary bathroom, a large space big enough to accommodate a wheelchair. The room is filled with light, there's even a hidden bulb in the toilet bowl, which, Richard explains, "is helpful at night when you have to aim."
The couple's bedroom, expanded to fill the third floor, is an open and airy space with a large picture window that offers stunning views of the city and a nearby park. What was originally two small rooms has been consolidated into a single area big enough to handle all the usual accoutrements of a primary suite as well as the elevator.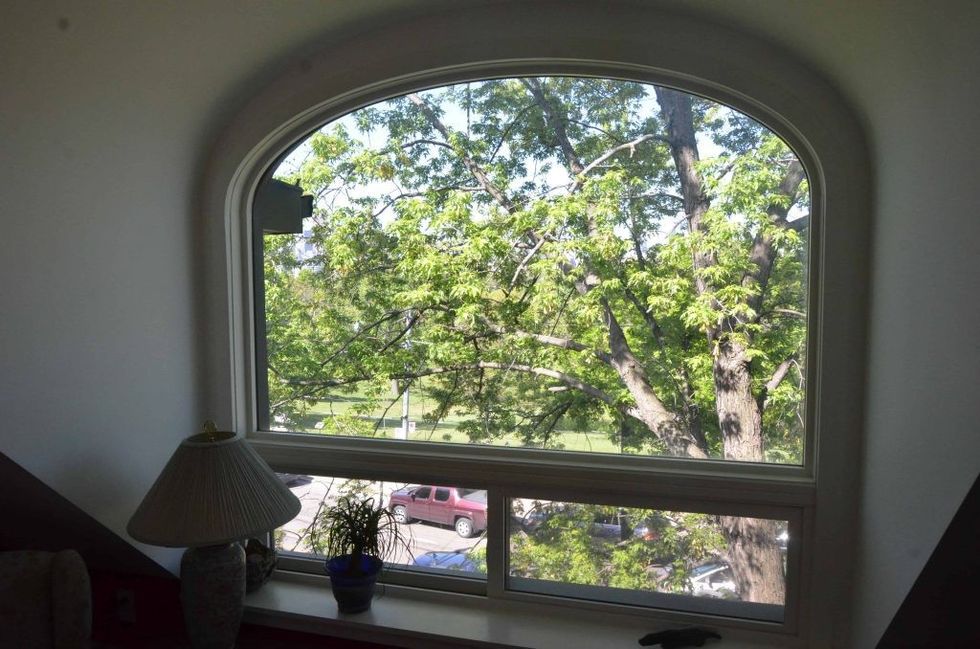 A room with a view: Riverdale Park, and its view of the downtown skyline, sits just across the street.
"We went from five bedrooms to three," Isabelle says. "But our kids have left home so we could afford to lose the space."
The other important elements of the house -- kitchen, dining room and living room -- remain on the ground floor, though in a different order. The living room, formerly in the front of the house, has been moved to the back where it leads onto a large deck that faces onto the backyard. The dining room, which has replaced the living room, looks out to the street. Except for the stove, the kitchen is hard to discern. The fridge and oven are wall-mounted for convenience and the glass-topped island, lit from below, could be part of a museum display case. Indeed, given the extent of the couple's collection of paintings and sculpture, the house has the clean lines of a contemporary art gallery.
The house is cool, elegant but efficient without looking like it. This is not a Corbusian "machine for living in." Toronto architect Nicolas Koff of Office Ou deserves credit for pulling off a project that effortlessly combines traditional domestic cosiness with 21st-century practicality. The two might not sound like an obvious mix, but in this case they work brilliantly. There's not a hint of institutionality here; for Richard and Isabelle, it is the place they have chosen to live -- and die.
Hume with a View