A new Toronto condo seems to think some tenants can survive without an oven.
Minto Westside, located near Front and Bathurst, has 162 units under 480 sq. ft. None of these suites include an oven. Instead, they have a convection microwave— a hybrid of a microwave and convection oven — that's positioned above a two-burner stovetop. The appliance is meant to save space and accommodate a certain lifestyle.
---
What lifestyle are we speaking of? It's one that's very busy — too busy to cook — and belongs to many people in the downtown core. Plenty of Torontonians either don't have time to cook, or would simply prefer to use a food delivery app or get takeout. That's the target tenant.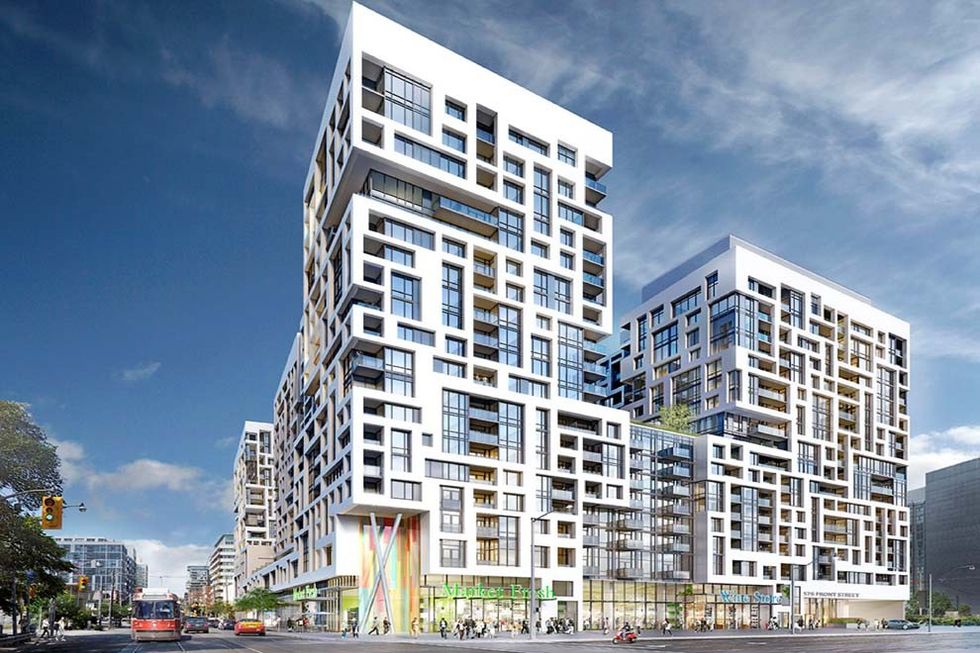 A studio at Minto Westside with no oven. (Photo via Realtor.ca)
Explaining the omission of an oven in these studio suites, Agnieszka Wloch, vice-president of development at Minto Communities Toronto, told the Toronto Star in an email: "As part of considering a diverse market and lifestyle preferences in our designs, [a convection microwave] was selected as a smart solution that offers space saving efficiencies and functionality within the living area."
The smaller suites at Minto Westside were certainly built with convenience in mind. In addition to having no oven, the units appeal to time-saving tenants by including a dishwasher hidden in the cabinetry. Of course, the kitchen also has all the regular appliances: stovetop, sink, fridge, and freezer.
A 2017 study from Dalhousie University supports Minto Westside's assumption that a growing number of people are opting for takeout over home-cooked meals. The study found that 42 per cent of Canadians are buying ready-to-eat meals or going out to a restaurant once or twice a week instead of cooking for themselves. And three per cent do this daily.
Despite this, some Torontonians thought the notion of having no oven was absurd.
One Twitter user also noted that the cost of the unit was still high, despite being ovenless.
Rental listings on Realtor.ca show the cost of Minto Westside studios with no ovens range between $1,600 and $1,800. One-bed units, which have wall ovens, start at $2,000 and go up to $2,350, while two beds range from $2,400 to $2,950.
Real Estate News