---
Plans to redevelop the site of Toronto's historic Coach Terminal took another step forward on Thursday, as CreateTO revealed the short list of developers selected to submit proposals for the site.
CreateTO is seeking to redevelop the Coach Terminal site, located at 610 Bay Street, as well as the adjacent site at 130 Elizabeth Street. Both are being actualized through the City's ModernTO initiative, which has identified eight City-owned properties that can be unlocked for housing development.
CreateTO's list of seven possible candidates to take on the Bay and Elizabeth Street sites followed a request for expression of interest initiated in November, and includes many familiar names in the Toronto development world: Capital Developments; Kilmer Group and EllisDon Inc.; MOD Developments; TAS Developments; Tricon Residential; Tridel Group and Woodbourne Capital Management; and Hines Canada.
Each of the developers have now been invited to submit a proposal with their vision for the sites, with each one requiring inclusion of a number of outlined priorities, such as affordable housing, a paramedic services hub, office space for life science and biomedical sectors, and streetscape improvements.
Redevelopment plans must also include the adaptive reuse of the Toronto Coach Terminal building. The 1931-built art deco building has been out of use since 2021, when bus services moved to the shiny new terminal at Union Station, but it's protected from demolition thanks to its heritage status.
"The former Toronto Coach Terminal played a significant role in the city's makeup for almost 100 years," CreateTO CEO Vic Gupta tells STOREYS. "Retention and adaptive re-use of the heritage building and bus shed façade is one of the guiding principals of the vision for these sites and will play a key role in deciding the future of these sites."
Gupta says all proposals will also be evaluated based on design excellence, financial sustainability, and commitment to deliver a financial return to the City. CreateTO expects to select the developer for the project by the fall, with a final report coming to the CreateTO Board of Directors and City Council shortly thereafter.
In the meantime, CreateTO released new renderings, courtesy of Toronto-based Cicada Design, illustrating the type of development that's possible on the site.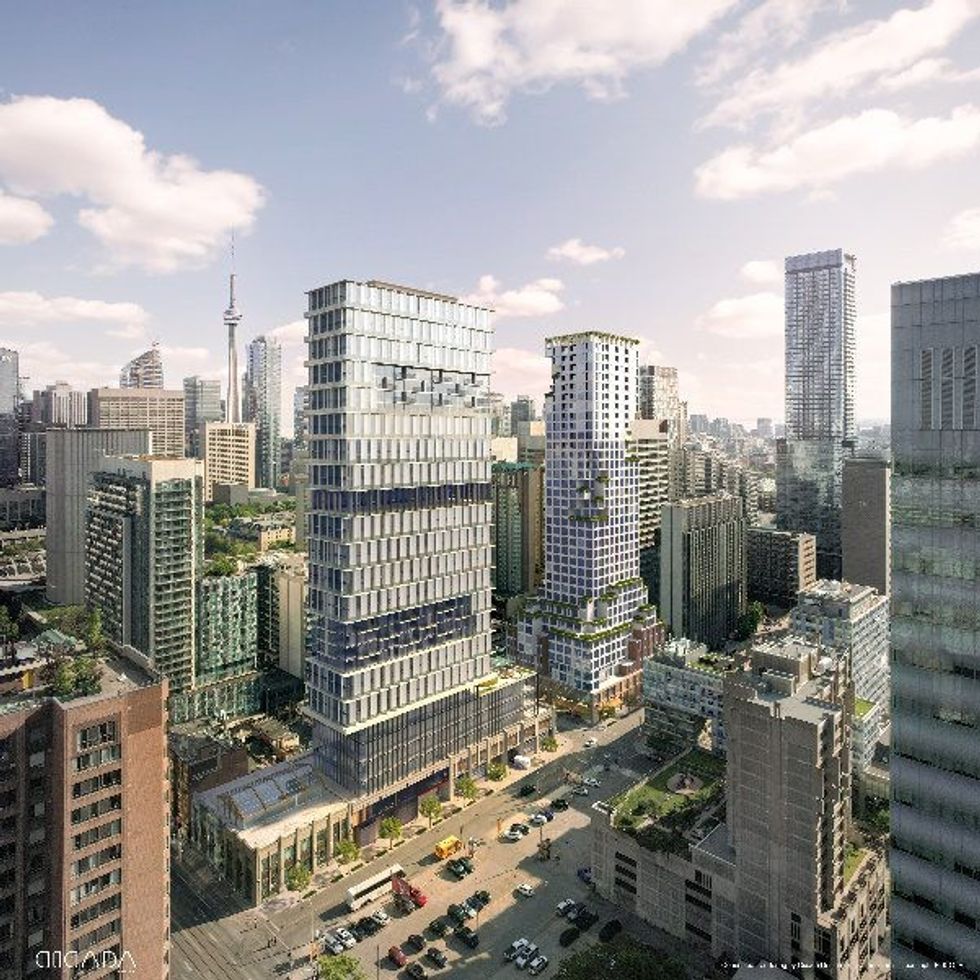 Cicada Design
The renderings depict two high-rise towers, with the 610 Bay Street build using the existing bus terminal building as a podium. Of course, the exact design won't be finalized for quite some time, so the renderings remain purely conceptual at this point.
As for how many new homes these sites will be able to hold, Gupta says that the exact number "will be finalized in the future as this site proceeds through the development planning approval process."
"However," he adds, "It is currently estimated that approximately 750 homes could be included in these sites with approximately 250 being affordable homes."
Toronto