Toronto has been recognized as being one of the best cities in the world for expats, according to an annual ranking by a global expat network.
Today, InterNations released its annual Expat City Ranking, which included insight from more than 15,000 respondents living in 66 cities around the globe in 2020 -- offering in-depth information focused around five areas of expat life: Quality of Urban Living, Getting Settled, Urban Work-Life, Finance & Housing, and Local Cost of Living. Together, the data reveals the best and worst cities for expats to live in.
---
The data was collected in March of this year -- just before COVID-19 made its way around the globe -- which leaves one question remaining: will these cities still come out on top in a post-COVID world?
READ: Shifting Home Buying Behaviours, Immigration Continue to Impact Canadian Housing Market
This year, the best cities to live in as an expat are Valencia and Alicante, both in Spain and Lisbon, Portugal. While Salmiya, Kuwait, Rome, Italy, and Seoul, South Korea are the worst. 
As for Toronto,  it ranked 40th out of 66 cities, performing best in the 'Getting Settled Index' (21st overall) since expats find it easy to get used to the local culture. According to the report, expats agreed that it's easy to get used to the local culture (74% vs. 61% globally), which might be partly due to the fact that it is so easy to learn the local language.
Moreover, expats appreciate that the people in Toronto are generally friendly towards foreign residents (75% vs. 66% globally). Lastly, work also seems to be a benefit of expat life in Toronto: 61% are happy with their local career opportunities (vs 43% globally), and 65% are satisfied with their job in general, which matches the global average (65%).
While Canada's largest city also does well in the 'Urban Work Life Index' (28th overall), it only lands in 44th place in the 'Quality of Urban Living Index.'
However, Canada's largest city actually performed worst in the 'Local Cost of Living' (52nd) and in the 'Finance & Housing' (64th) Indices. In the latter, it even ranks among the bottom three worldwide, only ahead of Munich (65th) and Dublin (66th). 
Just 53% of expats in Toronto said they're satisfied with their financial situation -- compared to 61% globally -- and nearly three in ten (28%) say their income is not enough to cover their living expenses (vs. 21% globally).
What's more, property prices and rental costs in Toronto also seem to be very high, as 80% of respondents said they find housing unaffordable (vs. 41% globally).
"The real estate market in Toronto is crazy expensive, and it is unrealistic to purchase a home," explained an expat from Serbia in the report.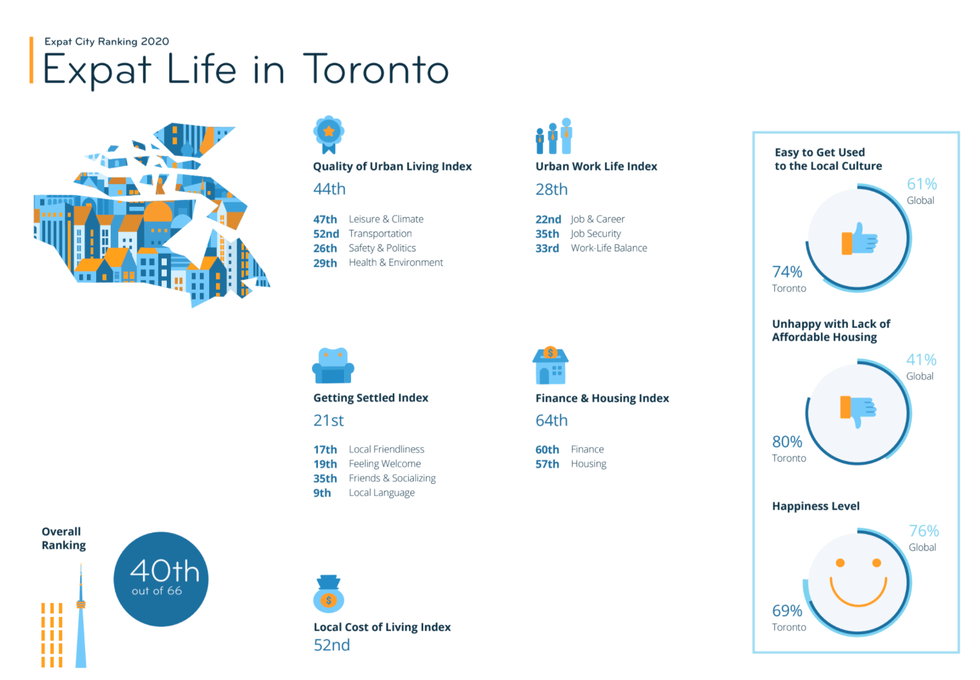 The report comes at a time when immigration into the country is down significantly after Canada closed its borders to all non-essential traffic in March to slow the spread of the coronavirus. And while the country had hoped to settle 341,000 people in 2020, by August, Canada had only welcomed 128,425 people.
However, government action was announced earlier this fall when the feds introduced a new plan to increase the country's immigration target between 2021 to 2023 to make up for this year's pandemic-induced shortfall.
Toronto