The average price to rent a 1-bedroom apartment in Toronto remains the highest in Canada, despite the disrupting presence of the ongoing COVID-19 pandemic.
While the 1-bedroom monthly average did take a year-over-year dip of -0.4% (hey, anything's better than a rise), it managed to maintain a month-over-month gain of 0.9% to settle at $2,250.
---
READ: 85% of Canadian Tenants Paid at Least a Portion of April Rent: CFAA
Toronto was the only city out of the 24 largest measured in Padmapper's April Rental Report to decline in year-over-year pricing. Average Toronto 1-bedroom rent also slipped 1.3% year-over-year in February, which marked the first time 1-bedroom prices took a hit since Padmapper began tracking them in 2017.
Toronto's $2,250 per month is a full $100 per month more than the second most expensive city in Canada, Vancouver. Meanwhile, on the other end of the spectrum, 1-bedrooms in both Quebec City and St. John's will only cost you $810 a month.
According to Padmapper, Canadian traffic to their search site dropped approximately 10% between February and March, suggesting a slow down in interest in the rental market. Perhaps an obvious reaction to the current states of emergency in place throughout the country.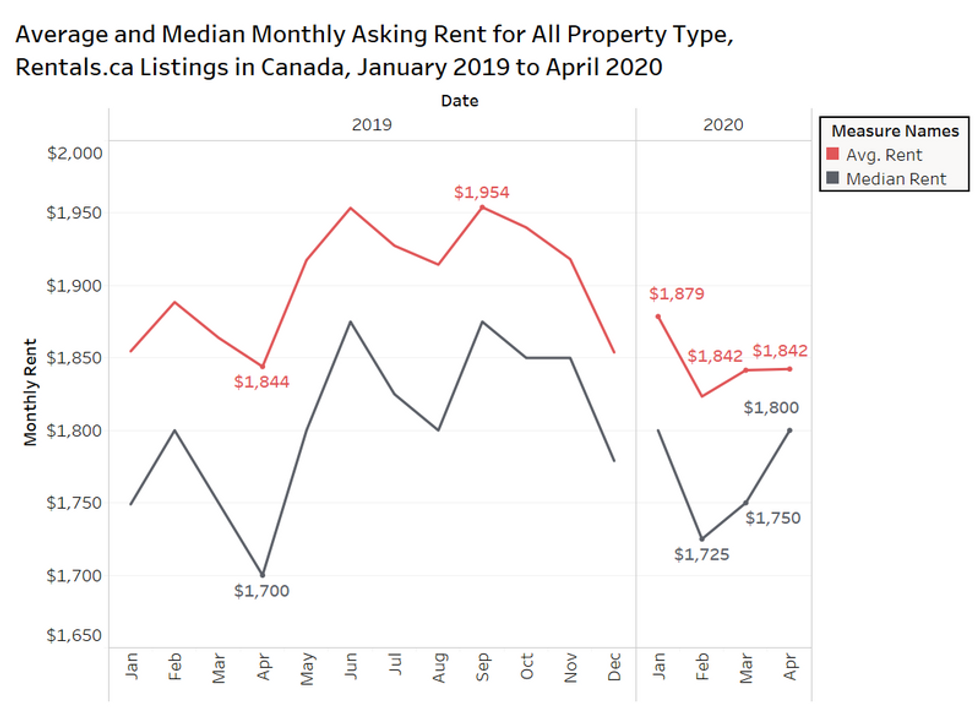 Padmapper
Despite calls for a rent strike in April, the Canadian Federation of Apartment Associations is reporting that 80% of the rent due was paid across Canada; however, the GTA saw a 25% shortfall in April rent.
Last month, Prime Minister Justin Trudeau said that "No one should have to worry about paying rent, buying groceries, or additional child care because of COVID-19. We will help Canadians financially." However, the federal government still has yet to announce any measures that specifically tackle rent-related issues, which continues to be a huge concern for Canadians.
And while EI and CERB will definitely help Canadians pay their rent and other bills, it still takes time for each of these benefits to make it into the wallets of those in need, which is why Canadians are turning toward their provincial governments for further assistance.
Here in Ontario, the Ford government previously announced it's freezing all new evictions until further notice and postponing eviction orders already in place. But there still seems to be no respite in terms of official rent relief for tenants.
However, the provincial government said it's "encouraging landlords and tenants to work together during this difficult time to establish fair arrangements to keep tenants in their homes."
Additionally, tenants can find some solace knowing that under the Residential Tenancies Act, landlords cannot charge fees or penalties for late rent payments.
With files from Ainsley Smith
Renting