Oakville
Future Developments
Suave Oakville New-Build Prioritizes Aesthetics From Top to Bottom
For followers of the mantra, "when you look good, you feel good," these positive vibes will only be amplified when the place they live in is attractive, too.
Thankfully, those looking to channel a high-vibe lifestyle won't have to look farther than this chic new-build in Oakville.
Suave and modern, The Wilmot is set to rise at Dundas Street East and Eighth Line.
Arriving to the region via WP Development and GCL Builds, with sales fronted by Baker Real Estate Incorporated, the build is poised to be more than just a condo: It's going to serve as an architectural landmark in Oakville.
READ: North York New-Build Invites You to Embrace Holistic, 'Have-it-All' Lifestyle
Situated at the intersection of Dundas East and Eighth, The Wilmot will offer its future residents the best of what Oakville has to offer.
With a sea of lush field at the build's anterior, those who reside here will appreciate sweeping views paired with access to the schools, shopping, restaurants, and activities waiting in the nearby "uptown core."
Plenty of parks in the vicinity offer opportunities for picnics and play, and — when the mood strikes for some waterfront fun — a zip down Eighth Line (which becomes Chartwell Road) will have you at Lake Ontario's shore in no time.
Indeed, the location is optimal. But what truly sets The Wilmot apart from other condos is the emphasis its creators have placed on its aesthetic appeal.
From the outside, the structure is architecturally striking. Its graceful facade is complete with strategically-placed gold metal fins, which serve to catch light from both the sun and the moon. White quartz stone grounds the facade, while complementing the perceived lightness of the 9-storey structure.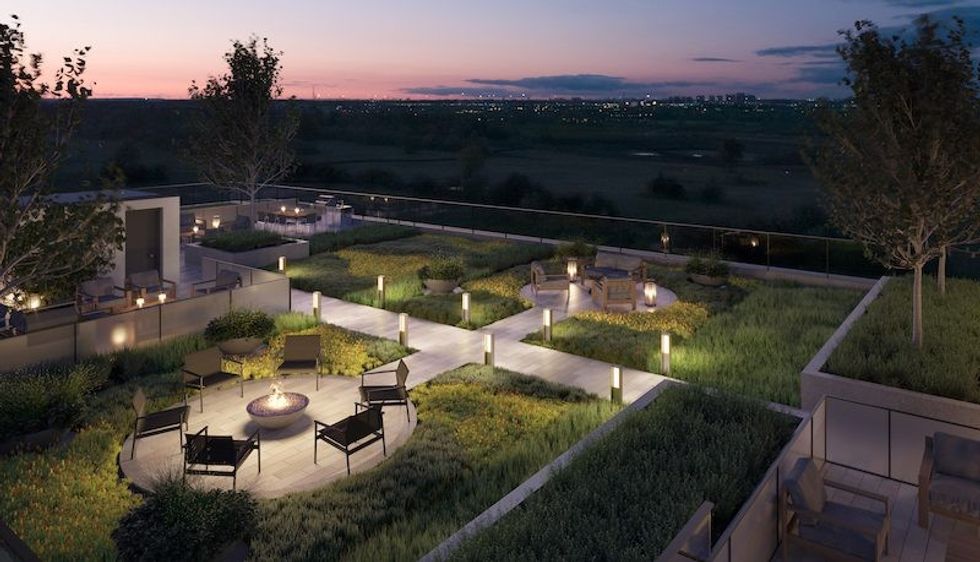 Also outdoors, the courtyard — while built to prioritize residents' enjoyment — also boasts a chic look. Seating areas have been positioned consciously, in order to fully benefit from the sunlight throughout the day. Landscaped greenery freshens the space, while a pergola offers both shelter and a cozy look.
Meanwhile, the rooftop skyline terrace — offering city skyline (plus sunrise and sunset) views — is equally considered, boasting low-maintenance landscaping, sitting and dining areas, and BBQs.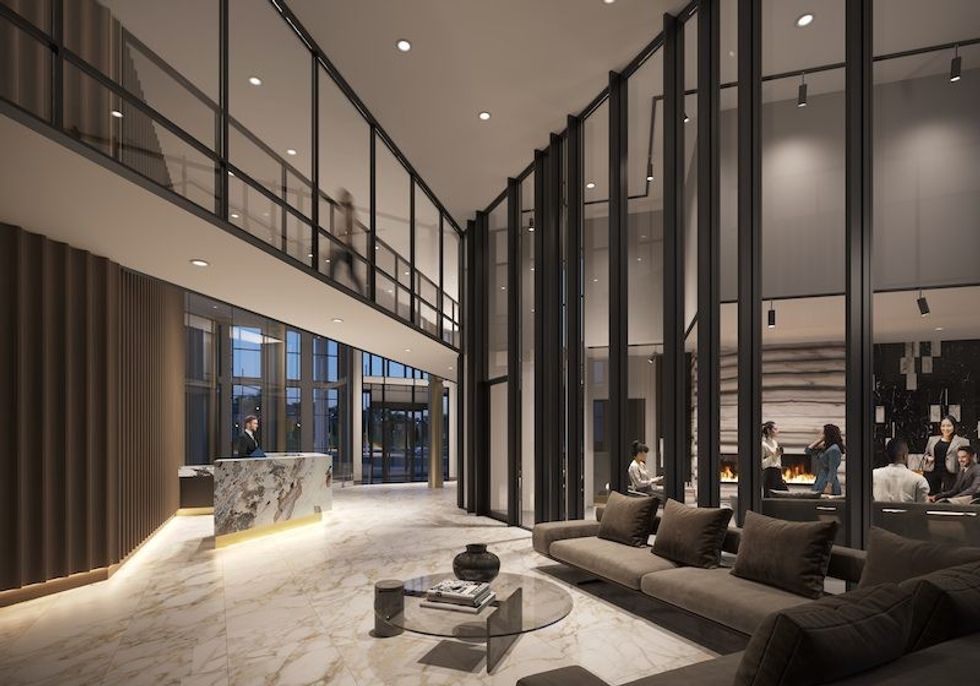 The interior of the condo is, as you'd expect, just as suave as the outdoor components. The grand, open-air lobby soars two storeys. Boasting "refined elegance" dappled with plush seating, natural wood, and stone accents, the space comes complete with round-the-clock concierge service. The event lounge and private kitchen, just off this main pass-through space, are equally chic.
These good looks continue to flex on residents in the state-of-the-art fitness facility, which offers more than 2,800 sq. ft. of equipment. Think: cardio machines, free weights, lockers, and a water station, plus a dedicated yoga studio for more calming movement practices.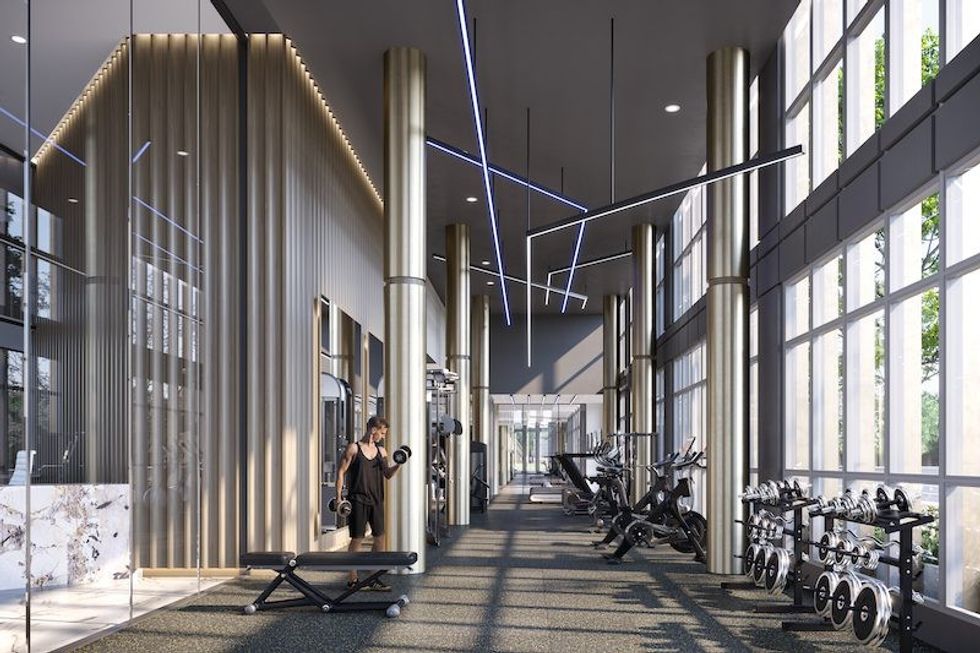 Of course, every suite is just as stunning as the rest of the condo. Channeling a vibe of "timeless elegance," future residents can anticipate open-concept layouts, modern, natural finishes, and private outdoor spaces, which bring outside's freshness in.
Meanwhile, WP Advance — the build's in-house tech — offers residents keyless entry, smart-home automation, a self-monitored security system, and more.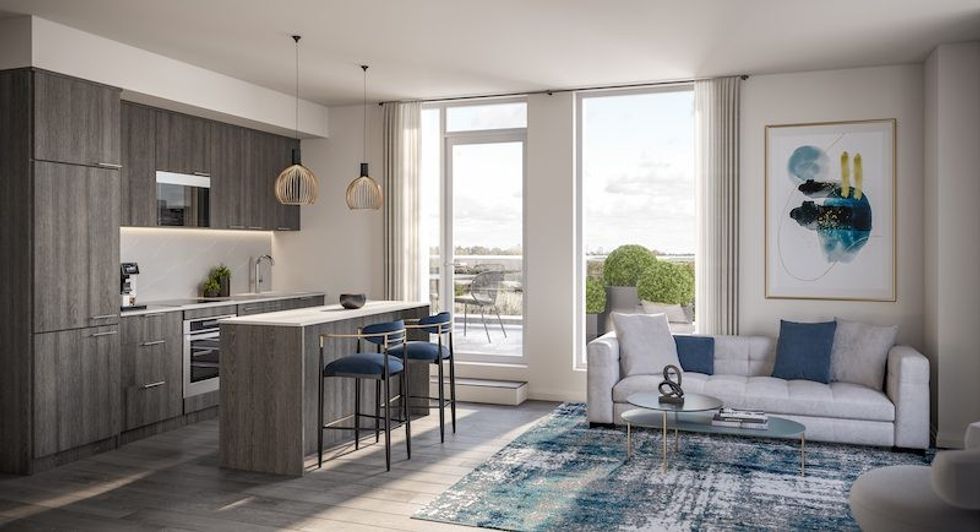 With the additional benefits of a pet spa, tech lounge, business centre, and automated parcel room throughout the building, living in The Wilmot is set to feel as good as it looks.
To sign on to this haute new lifestyle opportunity, register today.
---
This article was produced in partnership with STOREYS Custom Studio.