Future Developments
North York New-Build Invites You to Embrace Holistic, 'Have-it-All' Lifestyle
When vision meets design, powerful results come to be.
And offering a chance for you to experience the magic, a North York new-build is inviting you to "find yourself in the land of tomorrow."
Rising up as the second phase of the M2M master-planned community, M2M SQUARED is gearing up to welcome you home.
Right on Yonge and just north of Finch East, the build — developed by Aoyuan International and with sales presented by Baker Real Estate Incorporated — is set to present an ideal urban lifestyle in an ideal urban setting.
READ: Forever Yonge: Richmond Hill Condo to Boast Top-Tier Amenities
With surroundings that boast ease of access to the bounty at its front door — as well as to further pastures — M2M SQUARED stands at the helm of mouthwatering eateries, schools, shops, and lush parks and trails.
With Finch TTC station mere steps away, zipping into the downtown core for an evening of theatre will be as easy as tapping your PRESTO card.
Described as a project that's "made to matter," the M2M master-planned community will marry sophistication with convenience, just as its location does. Holding up "holistic living" as a top priority, wellness will be integrated into the every-day routines of the build's future residents.
Spacious suites, recreation-focused amenities, and plenty of green space will work together to support residents in embracing healthy lifestyles. For example, a state-of-the-art fitness centre waits on Floor 5, offering space for sculpting muscles and breaking a solid sweat.
The community centre on-site, meanwhile, is complete with a running track and basketball court, catering to those who prefer to pound the pavement.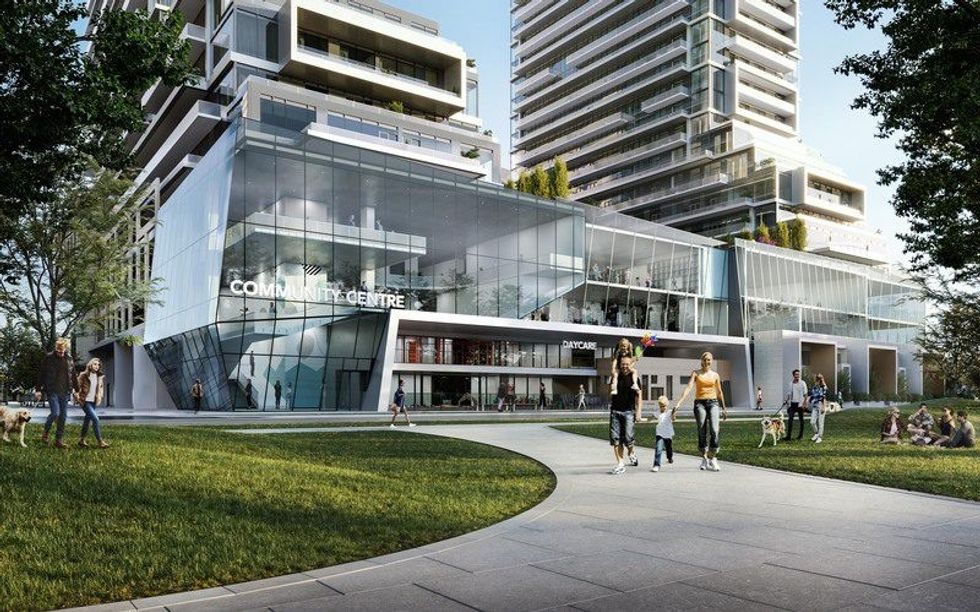 Floor 3 boasts a combination of rock-climbing walls, play structures, a mini putting green, and dedicated yoga, cardio, and dance studios. When residents are done putting in work, they can retreat to the tenth floor — there, the design scheme channels an "oasis of calm." While the pool and sun deck serve as centrepieces to the communal space, the adjacent BBQ lounge invites friends to gather for meals under the soaring sky.
Post-hosting, a wind-down in the sauna sounds like the ideal way to close the day.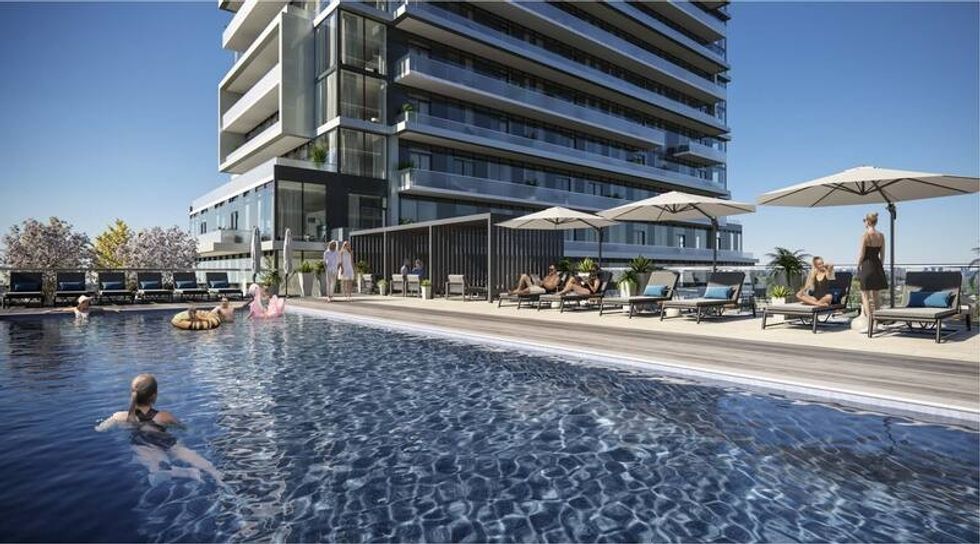 While the young ones will surely enjoy pool time and BBQ dinners, kids living at M2M will also benefit from their own "zones," designed for inspiring their imaginations and offering opportunities for energy expenditure. Indeed, parents can trust that room to run around and play will be ample.
And where more formalized offerings for the youth are concerned, the educational opportunities surrounding M2M are all but endless. Elementary and high schools are close enough to access on foot, while the nearby major transit lines offer easy access to post-secondary institutions including York, U of T, Ryerson, and Seneca.
For off-site studying, the North York Central Library is an ideal nearby gathering space.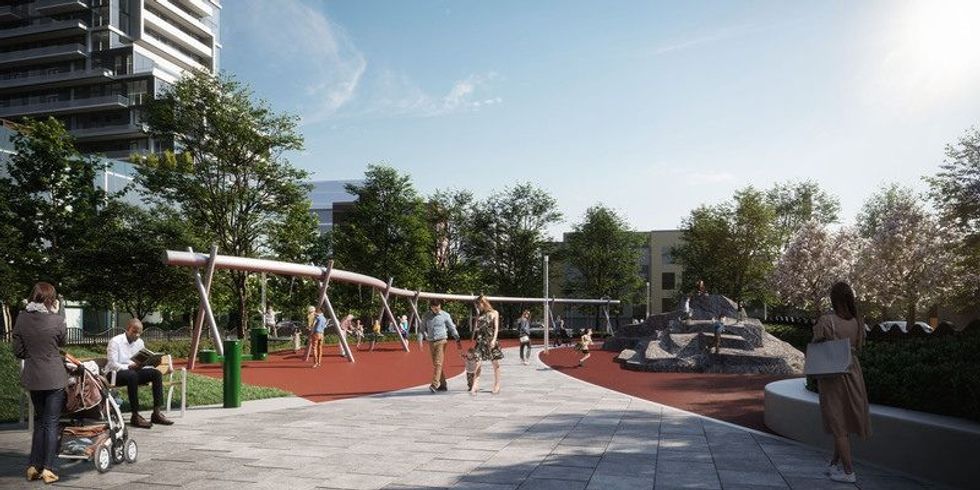 Also surrounding M2M's address are an abundance of shopping destinations. With Fairview Mall, Yonge and Sheppard Centre, and Yorkdale all nearby, those who savour a good buy will always have a mall visit to look forward to. What's more, the immediate neighbourhood is stacked with small retailers and specialty shops, making supporting locally-owned businesses a breeze.
While neighbourhood exploration will surely be a part of your routine at M2M, there's nothing quite like returning home at the end of the day. Amplifying the comforting experiencing of entering your suite, Aoyuan Connect — the project's connected software ecosystem — will keep safety and convenience at your fingertips, always.
From booking an amenity, to receiving delivery notifications, to using your phone as a fob, your tech will become a more useful tool via Aoyuan Connect.
Upping the ante on their appeal, open layouts, incredible views, beautiful kitchens, and modern baths wait inside the suites at M2M Squared.
And one of these inspired abodes is waiting for you.
If you're looking to sign on the dotted line for a space that's as thoughtfully curated as it is connected, register today for your chance to snag a suite at M2M Squared.
---
This article was produced in partnership with STOREYS Custom Studio.