Richmond Hill
Future Developments
Forever Yonge: Richmond Hill Condo to Boast Top-Tier Amenities
Age is but a number.
And a new build rising at Yonge Street, just south of Major Mackenzie Drive is poised to bring back those youthful, carefree feelings, via a swoon-worthy suite of amenities.
Coming to Richmond Hill by the hands of Metroview Developments, Y9825 is the second building in the YSeries Collection.
The interconnected, finely-appointed residences will offer ease of living in Richmond Hill, with shopping, transit and highways, and a sense of community at the foot of each structure.
READ: Heritage-Inspired 32-Storey New Build to Bring Dose of 'Goode' to Distillery District
Despite offering easy access to Toronto's downtown core, this region is one that will meet (and surpass) your needs in its own right. Restaurants, nightlife, entertainment, and more are in direct proximity to this Y9825's address, offering the best of urban living in a calm, connected atmosphere.
The Y9825 amenities were dreamt up with the utmost planning and consideration. Residents can anticipate a space that was crafted to meet their every need, from work to play to leisurely relaxation, above and beyond what's typically found in a condo setting.
Take, for instance, the creative amenities. A fully-equipped recording studio, podcast room, and media lounge await the resident who's built up (or is working on building up) a solid Spotify following. This tech-forward space is kept warm by a central marble fireplace, which marries cozy vibes with hard-working, creative energy.
A writer, meanwhile, will benefit from welcoming co-working spaces throughout the build, designed to inspire ideas in solitude, and collaboration in connection.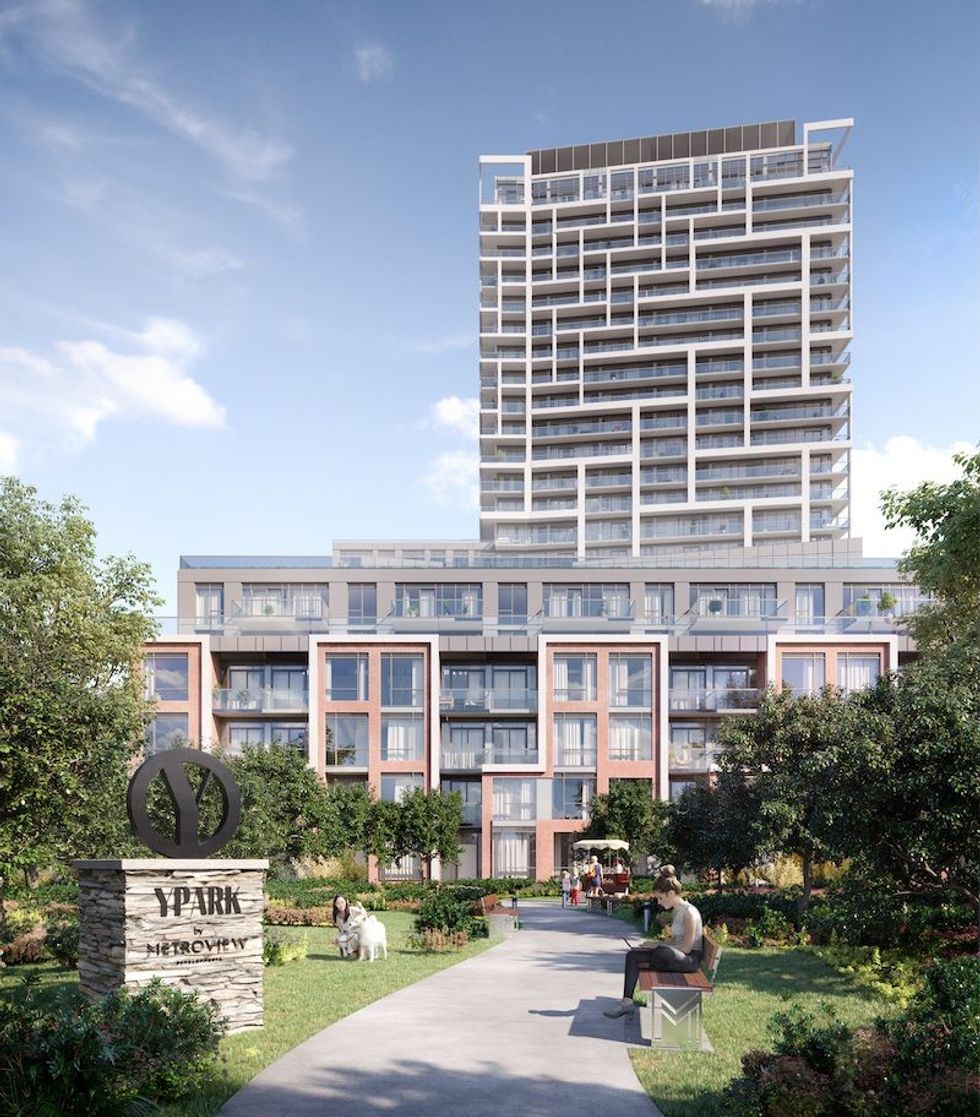 The state-of-the-art fitness centre will offer space for residents to burn off steam — which will surely come in handy post co-working session. With offerings ranging from cardio machines to free weights, plus designated spaces for yoga, meditation, and more, opportunities for upping your heart rate or slowing it down are equally accessible.
For those who prefer to find their fitness outside, an outdoor gym and track will cater to you. If you sweat it out while soaking up incredible views, you might forget you're even exercising at all.
One of the most exciting athletic amenities on deck for Y9825 is the rooftop basketball court. Offering sweeping GTA views past the hoops you're aiming for, this has to be the region's most unique destination to play H-O-R-S-E. Talk about feeling forever Y̶o̶n̶g̶e̶ young.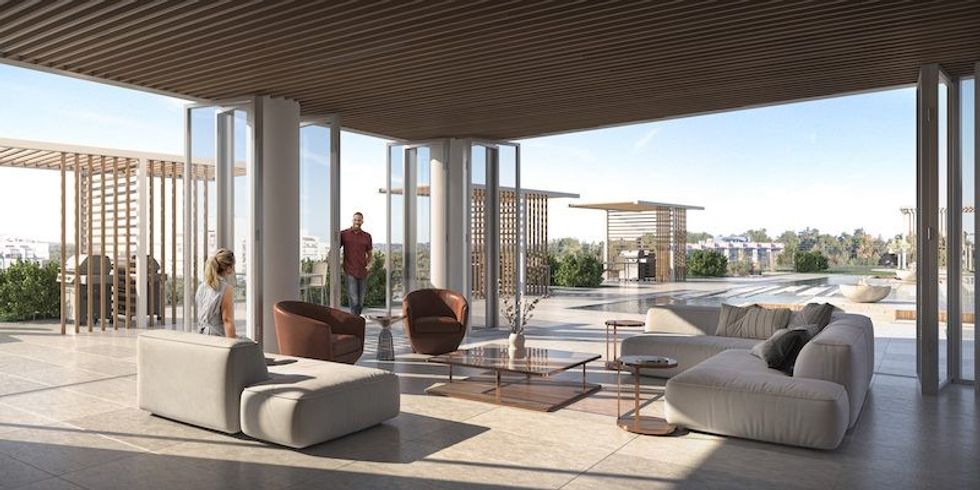 For the days residents are keen on soaking up the sun, but aren't looking to break a sweat, the resort-like cabana lounge beckons. Ideal for hosting, reading, or connecting with family, the seventh-floor space is complete with BBQs, wet bars, and a stunning water feature inspired by Troung Ly's modern hotel atmosphere.
If these offerings sound incredible, it's because Metroview Developments strives to present the best. And, with sales being presented by Baker Real Estate Incorporated, you know the lifestyle offerings at Y9825 will be elevated. For more than 25 years, Baker Real Estate has worked with visionary teams on all four corners of the globe, boasting record-breaking sell-outs on high-value homes… and this build will only further that legacy.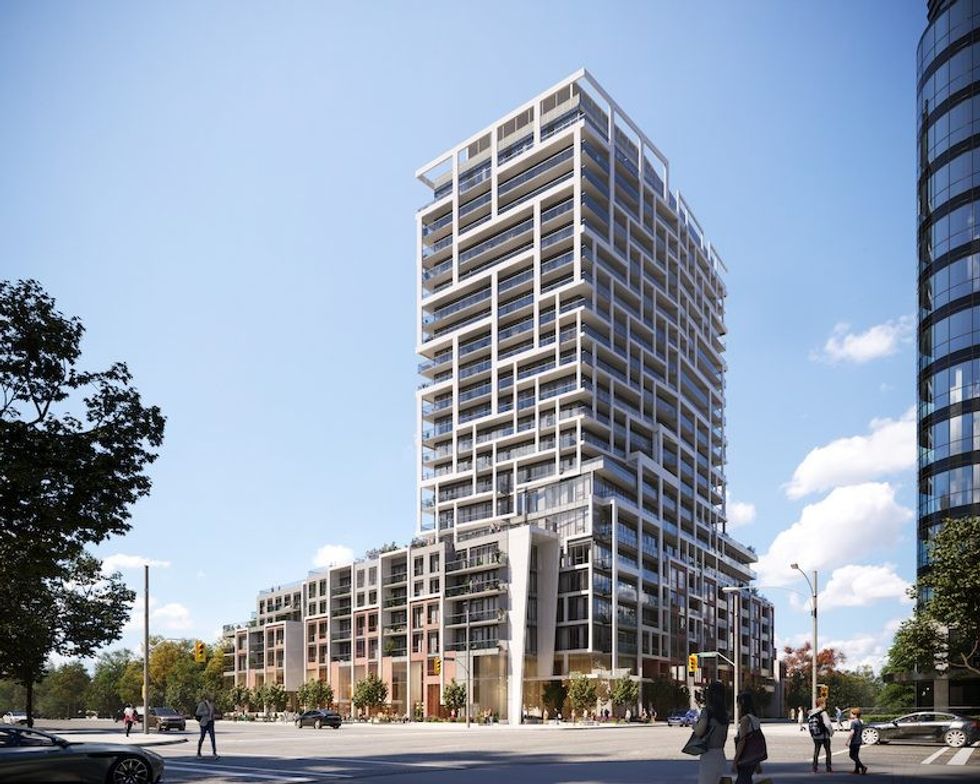 Offering 452 units across 22 storeys — in the fashion of both condos and townhomes — Y9825 boasts a warm modernity that will all at once make residents feel continually inspired, ever youthful, and right at home.
If you're looking to embrace a lifestyle dappled with top-tier, playful amenities and incredible views, register today for your chance to snag a suite at Y9825.
---
This article was produced in partnership with STOREYS Custom Studio.