With the seemingly never-ending month of April drawing to a close, Torontonians will be pleased to hear that they will be closing the month with some much-needed warmer temperatures.
---
Following a short blast of snow and wind chills this week, warm seasonal temperatures returned to the city Friday, with highs reaching 15°C, according to The Weather Network.
"The volatile nature of spring has certainly shown its true colours this month, with well above seasonal temperatures giving way to wind chills and bursts of snow at times," said The Weather Network.
"For those who were ready to give up the winter season all together, hope is back in store for this weekend, with rebounding temperatures and plenty of sunshine on tap."
The warm temperatures, which will continue over the weekend, will set the stage for an epic end of the month, as summer-like highs will make their way to the region.
Though, before this, The Weather Network has forecast Sunday will see a high of 14°C and a slight chance of showers. Monday's high will likely dip down to 11°C, while Tuesday could see a high of 20°C. Wednesday is expected to hit a summer-like high of 21°C accompanied by a mix of sun and clouds, with a chance of light rain.
"There's the potential for temperatures to reach well into the 20s for much of the region, though staying cooler for areas near the shores of the Great Lakes," says Dr. Doug Gillham, a meteorologist at The Weather Network.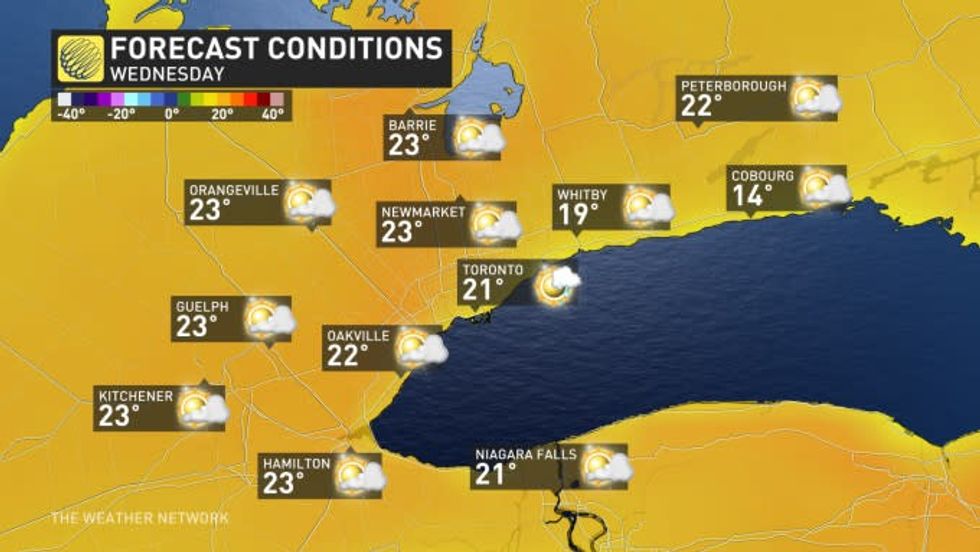 Despite the threat for rain next Thursday, temperatures will remain mild before cooling once again heading into next weekend and as we start the month of May.
"However, we're watching the potential for warmer weather as we head further into the first week of May," added Gillham.
Given that the province of Ontario is under a Stay-at-Home order, the burst of warm weather will give residents the perfect excuse to get outside and get some fresh air.
Weather