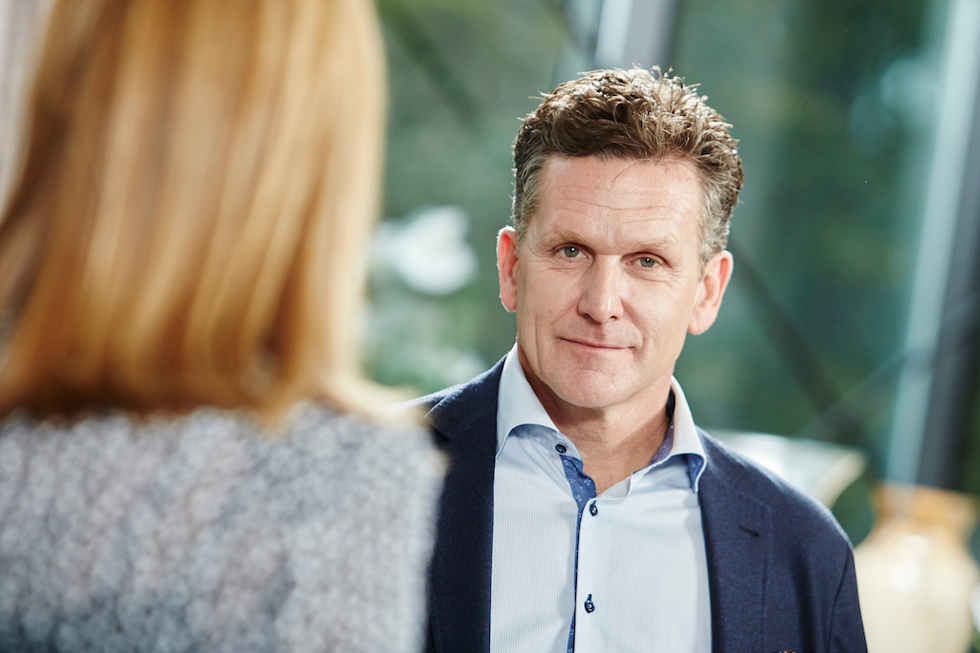 Dan Cooper is a dream maker.
---
With 27 years of leadership, numerous real estate awards, a 10-person team with a combined 90 years of experience, the Dan Cooper Group is one of the legendary real estate teams in the GTA. In fact, it opened in Oakville back in 1990 as one of the first in the area.
Though it's successful and well established now, for Cooper it boils down to recognizing how integral a home is in people's lives and genuinely wanting to match people with their perfect home. He aims to make dreams come true — putting people ahead of business. The realtor cites that as "adding a lot of value."
But what does it take to add this value and make these dreams come true? Let's find out …
How did you get started in real estate?
From a young age, I had always wanted a career in sales. I am energized by people and wanted a career that would allow me to make a difference in the lives of others. After graduating from university, I spent some time in medical sales and then quickly discovered the real estate business and have never looked back.
What is it about the profession that you like the most?
Real estate is an exciting and exhilarating business. Our homes are a special part of our lives. It's where most of life's most treasured moments take place. The fact that I get to be an integral part of this experience with so many people is very special to me. I love that my team and I have been the ones to find so many people's dream homes.
In the real estate industry, what does it take to get to the point where a team has your name on it ... In other words, what qualities make you successful?
The real estate industry is highly saturated, especially now. The most important quality that I have focused on in my over 25-year career is providing the most value to our clients. It's also important to set yourself apart. It's important to innovate. And most important, you must know the business inside-out and provide a lot of value.
Is there a special kind of pressure that comes with having your name on something so huge? If so, can you articulate what that is and how you manage it?
The Dan Cooper Group brand has a legacy, which means expectations are high. There is always the pressure for continued improvement to ensure we are leading-edge and best-in-class in the industry.
I like to think of this pressure as motivation for implementing excellence. We have to champion all market conditions, manage client expectations, adapt our marketing practices and, at the end of the day, deliver exceptional results for our clients.
I manage these expectations by consistently striving for excellence. We do this by constantly learning, asking our clients for feedback and implementing new practices. Long ago, I adopted the idea that I must remain a student and learn from the smartest people out there and have never stopped.
According to your website, you do not sell in downtown Toronto and have focused on the surrounding GTA. Why did you make this choice?
My business is primarily focused in Oakville and Burlington simply because I started the company in Oakville, then moved into Burlington and surrounding neighbourhoods. Oakville and Burlington are great cities. They are family-focused with great schools and are heavily entrenched in the arts. I fell in love with the landscape of Oakville and lakeside living.
In the last few years, we have been moving into the Toronto area buying and selling a lot of condominiums in the downtown core. So as my business evolves, I am expanding my horizons and increasing the size of my service area to include other parts of the GTA.
What excites you most about the future of Toronto and GTA as a real estate market and why?
Toronto is such a vibrant city and will be the driving force in Canada going forward.
I still believe it is undervalued and you will see the density increase exponentially every year. It is a lakefront community with so much more potential. We have only seen the beginning.
When I first became aware of you, I was told you're a big fan of publicity and rarely turn down interviews. Why is getting out there so important to your real estate game do you think?
I believe it's important that our industry has experienced voices in the media. So often, we see and hear stories about real estate that are packaged inaccurately or show a snapshot of a brief moment in time. There are almost 50,000 realtors in the GTA today and 90 per cent of them will sell two homes in a year — if that. This creates a need for advocacy and I believe that this should come from industry veterans like myself who have lived and worked through all types of market conditions and can truly comment based on experience and unbiased knowledge.
Plus, I agree with what Madonna said, "All publicity is good publicity." Wouldn't you agree?
If you're buying or selling a home right now, what's the best piece of advice that you could give?
Work with an expert. The market has changed significantly in the past few months and it's important that you understand what type of experience you will have buying or selling in today's market.
What are your keys to managing a successful team?
Creating a team has definitely been the highlight of my real estate career. I've been in this business 27 years and created my team during the first year. Our expertise and exceptional service has allowed us to remain the number one team in Oakville for Royal LePage since 1999.
I see my team and my business as a complete ecosystem. In order for the ecosystem to flourish and thrive, all parts have to be in harmony. The greatest challenge is keeping the team consistently motivated and focused on performance and client satisfaction. From regular team meetings to structured check-ins, we meet often and talk about everything.
If there is one thing in your life that you wish you could do better or take back, what would it be?
I wish I had started real estate at the very beginning of my career because it's been so satisfying. I love this business and it has been good to me, I am looking forward to the next 25 years.
Industry Profiles