North York
Future Developments
Over 4,000 New Homes Could Replace North York Office Complex
A large North York office complex in Victoria Park Village could be replaced with a mixed-use, multi-tower community that would bring thousands of new homes to the area.
Earlier this month, Fengate submitted a Zoning By-Law Amendment Application for 1-3 Concorde Gate and 10-12 Concorde Place in North York with the plans to demolish the existing office towers and redevelop the land with a mixed-use community comprised of nine towers ranging from 40 to 52-storeys, ​​4,086 residential units, two public parks, and a new street.
The subject site is currently comprised of two properties occupied by the Concorde Corporate Centre, which was developed in 1988 (1-3 Concorde Gate) and 1991 (10-12 Concorde Place) and is approximately 3.1 hectares in size and neighboured by the Don Valley Parkway to the west and the CP Rail corridor to the north.
The commercial office complex includes two connected office buildings of four- and 12-storeys in height at 1-3 Concorde Gate, the tallest of which is home to the Home Depot Canada corporate office. The building at 10-12 Concorde Place stands 10-storeys and is anchored by the ESRI Canada corporate office. Additional surface parking and a 3-storey parking garage are also located on the site.
READ: 17-Storey 'Architecturally Distinguished Tower' Proposed for Bathurst and Richmond
If the development gets approved, all of the existing office towers would be demolished and replaced with five residential and mixed-use buildings comprised of nine towers ranging in height, sitting atop 6-storey podiums.
Accompanying the proposed development is two new public parks that would be located at the north and south portions of the site, spanning a total of 3,690 square metres, in addition to a new public street that would bisect the 10-12 Concorde Place property in the north-south direction.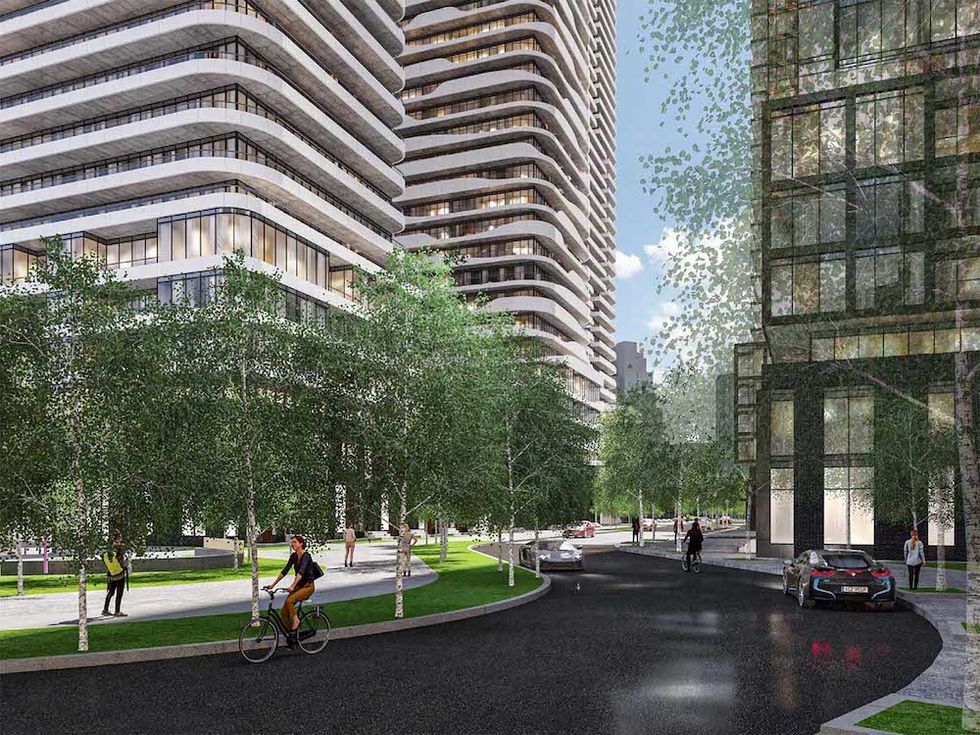 Collectively, the proposed development contains approximately 4,086 dwelling units and 307,004 square metres of residential space, as well as 841 square metres of retail and 437 square metres of community space at grade.
The proposed residential units are comprised of 408 studio units, 1,779 one-bedroom units, 1,445 two-bedroom units, and 454 three-bedroom units that would be located within the proposed podium and tower elements.
The development would also include retail and community uses at grade that will front onto Concorde Place and Concorde Gate, as well as the northern public park.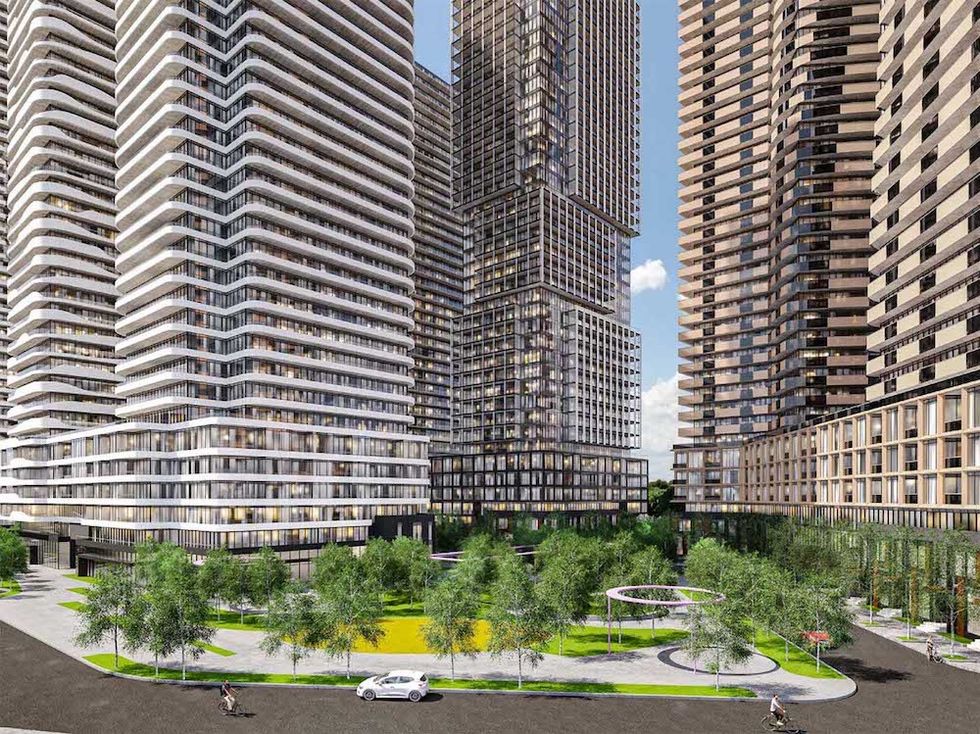 To develop the site, the land would be divided into eight blocks, five of which would be dedicated to development blocks, two new public park blocks, and a block consisting of excess land that is used by an adjacent property.
The development would occur across three phases, starting with Block One and Two, followed by Block Three and Four in phase two. Finally blocks Six, Seven, and Eight on the 1-3 Concorde Gate property would make up the final phase.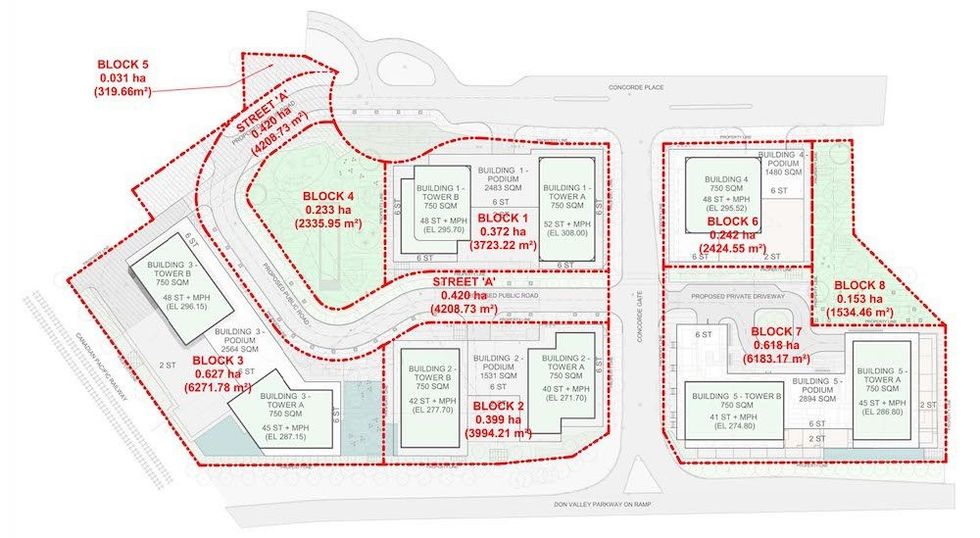 Block One will be comprised of two buildings of 48 and 52 storeys situated on top of a shared 6-storey podium with retail and community space at grade. Block Two and Three will also consist of two buildings each, standing 40 and 42-storeys and 45 and 48-storeys, respectively, also on top of shared 6-storey podiums.
Block Four will include the 2,169 square metre north public park, while Block Five will feature the excess retained lands used by 16 Concorde Place.
Block Six includes one building of 48-storeys situated on top of a shared 6-storey podium with retail space at grade, while Block Seven includes two buildings of 41 and 45-storeys also located atop of a shared 6-storey podium. Finally, Block Eight will include the 1,521 square metre south public park.
While this development would bring some much-needed new homes to North York, it will still be quite some time until shovels could hit the ground. As it stands, City planners have received to application and it has since been circulated to the City Divisions for feedback.