Canadian real estate is taking the global stage this summer, with Vollebak Island in Nova Scotia and Sterling Manor in British Columbia set to become the first two Canadian properties to be made available for bidding by Sotheby's International Realty, which will culminate in a live auction in New York.
---
The auction is being presented by Concierge Auctions, which was founded in the United States is 2008 and acquired by Sotheby's in 2021. Concierge Auctions has conducted auctions in 46 states and 35 countries, including for clients such as Cher and Michael Jordan. It now provides Sotheby's International Realty with brand exclusivity as Sotheby's Concierge Auctions.
"Similar to the auction process for other fine assets such as art, antiquities, and jewels, we conduct a similar auction for real estate, particularly when properties are difficult to value or has a small pool of buyers," says Concierge Auctions Founder and CEO Laura Brady in an interview with STOREYS.
Brady says the auction process is something that's more of an addition to the traditional real estate sales process, rather than a replacement. When Concierge Auctions agrees to auction off a home, they take four weeks to market the property and list it as one would during the traditional sales process. After those four weeks, they open up the property for bidding, and Brady says there's a five-day period for accepting bids, which ends at the live auction.
"The properties often have different amenities or very unique features, and that sometimes means the property can be difficult to value [due to fewer comparables], whereby an auction can help identify the highest and best price," Brady says.
Bidders typically fall in love with a property during that four-week period, Brady says, and will then travel to see the property -- or send somebody on their behalf -- before then placing a bid. Properties do occasionally get sold sight unseen, however.
For sellers, Brady says the biggest appeal of their auctions is the expanded pool of potential buyers that comes from their international reach and the time certainty that comes from the set auction schedule. In other words, for sellers, they know when their property will be going, as well as when it will be gone.
Before the live auction in Sotheby's New York auction house, both Canadian properties will first be available for online bidding.
The first property is Vollebak Island -- yes, the entire island -- located a quarter mile off the coast of Nova Scotia. The property was conceptualized by architecture firm Bjark Ingels Group (BIG) as a sustainable and pragmatic utopia, and is now home to a diverse ecosystem of dense forests across 11 acres of land.
Vollebak Island includes nine interconnected buildings delicately integrated into the natural landscape and constructed with materials such as locally-sourced stone, hemp, compacted earth, and stacked seaweed, according to BIG.
"The structures will represent specific fragments of nature, each intentionally built with a different material and playful elements of surprise interwoven throughout," the firm says.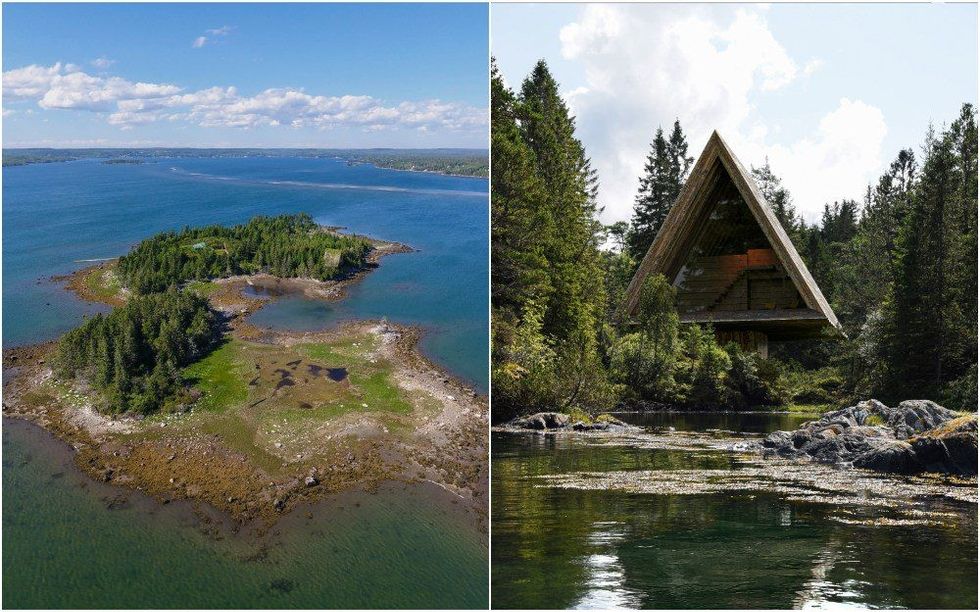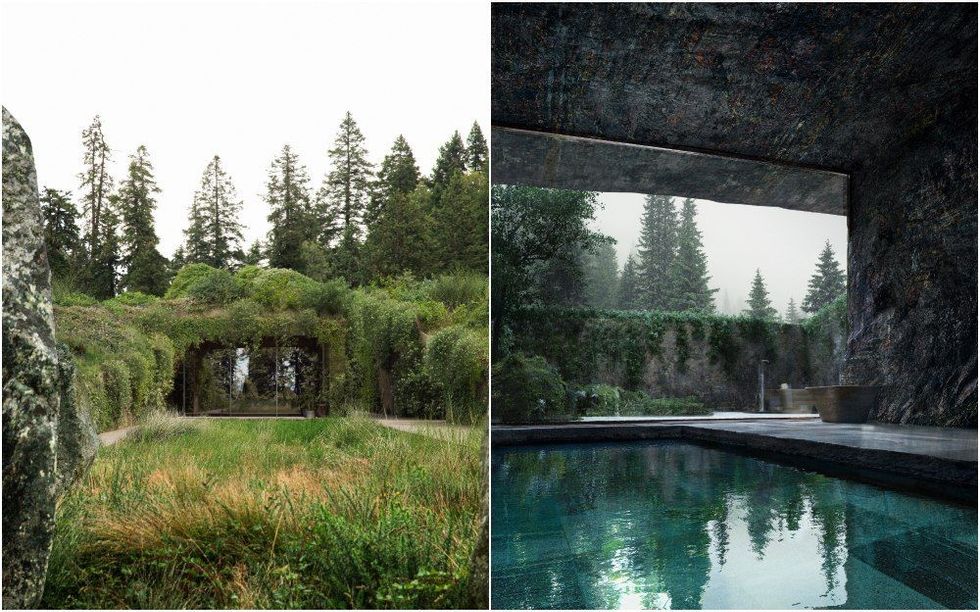 Vollebak Island off the coast of Nova Scotia. (Sotheby's Concierge Auctions)
Among the nine buildings are a thatched-roof living and dining room, a semi-underground star-gazing and meditation space, a greenhouse constructed of glass brick, and a stone Japanese-style bathhouse cut from bedrock. All of the buildings will also be fully powered by carbon-neutral energy, offshore wind power, and solar power, with energy stored in Tesla power walls.
READ: From Sales To Rentals: As The Market Moves, So Do Realtors' Priorities
Vollebak Island has never been made available for sale, and the purchase of the island will include the exclusive rights to BIG's design vision and planning permission. Online bidding for Vollebak Island began on June 8, with the live auction in New York set for June 14. Estimates for the property range between $5M to $10M USD.
The second property is Sterling Manor, located in the City of Penticton in British Columbia's Okanagan Valley -- sometimes referred to as Canada's Napa Valley.
The property sits on a 0.354-acre lot along the shore of Okanagan Lake, while the three-storey home includes three bedrooms, five bathrooms, and 6,391 sq. ft of living space, all of which was envisioned as a "modern day castle" and built with open-beam steel construction and 14-inch concrete walls that were inspired by modern European designs.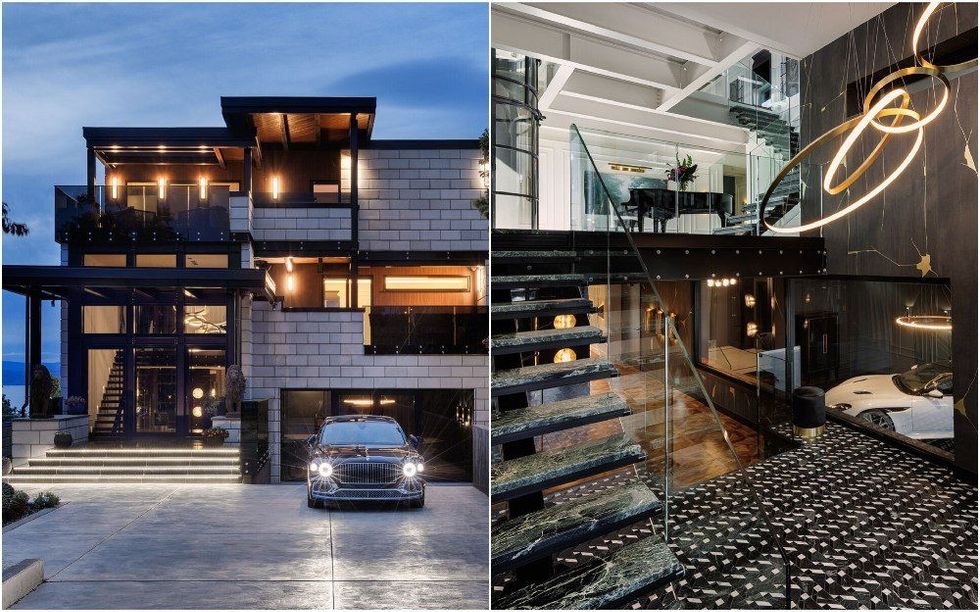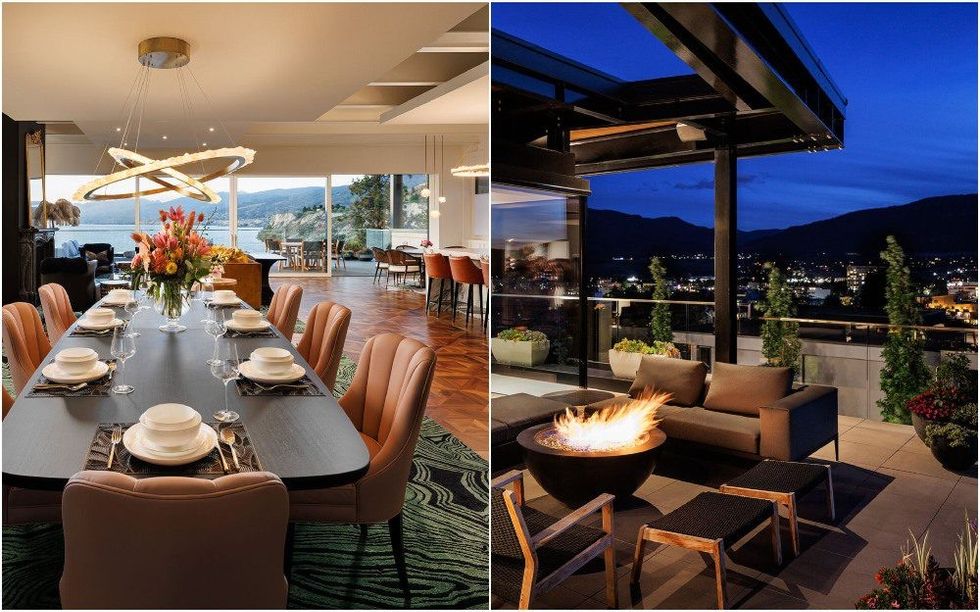 Sterling Manor in Penticton, British Columbia. (Sotheby's International Realty)
The home embraces opulent living, with features like a rotating vehicle display, a glass elevator, glass staircases, and a chef's kitchen with about half a million dollars' worth of La Cournue, Sub Zero, and Gaggenau technology. But there are also more subtle touches, like the heated driveway, crystal light fixtures, and hand-painted wallpaper.
The home has won multiple interior design awards, including the Best Bedroom and Best Luxury Residence - Canada awards at the 2020 International Design and Architecture Awards.
Bidding for Sterling Manor will be begin at $15.5M, with online bids opening on August 2 and the live auction set for August 9.
Homes