---
Despite high interest rates and the soaring cost of living, Canadians are making a return to the housing market as the ground thaws. 
According to a new Royal LePage survey conducted by Maru/Blue, Canadians gearing up for house-hunting season. All it took was a tiny bit (key words) of relief on the interest rate front.
According to the survey, more than one quarter (26%) of Canadians who put their home purchase plans on hold over the last year due to rising interest rates will resume their search this spring. The survey found that nearly one quarter of Canadians (24%) were in the market for a new home this past year, but 63% of them said they had to postpone their plans due to rising interest rates.
Interest rate hikes began not long after the Russian invasion of Ukraine a year ago triggered a global economy shock, and didn't stop until last week, when the Bank of Canada finally placed a hold on the overnight lending rate. This was the sign many would-be homeowners were hoping for. According to the survey, more than one third (36%) of Canadians who chose to pause their plans say they intend to move forward with their buying intentions, but only if the central bank maintains the current rate for several consecutive months.
"Eight times a year, the Bank of Canada announces changes to its key interest rate, and for eight consecutive meetings, they aggressively raised rates in an effort to tame runaway inflation. On March 8th, 2023 they did nothing and doing nothing was a very big deal," said Phil Soper, President and CEO of Royal LePage. "Based on our just-completed national survey, this was the signal that many Canadians were waiting for – an indication that it was safe to wade back into the housing market to search for the family home they so desperately want or need."
With that said, not every would-be buyer is lining up for open houses. Some 25% of those who postponed their home buying goals in the past year stated that they do not intend to resume their plans in the near future. Of those who chose to postpone their home purchase plans, two-thirds (67%) are between the ages of 18 and 34.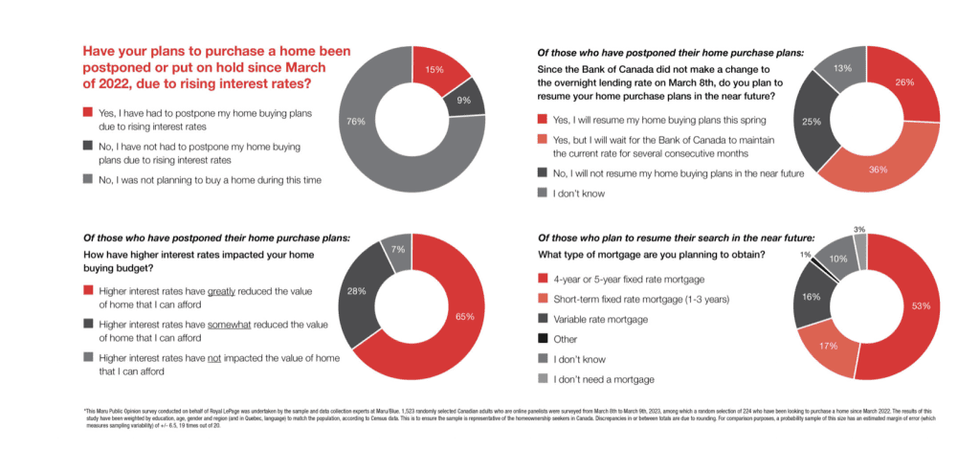 housing market
Of those who stated that their home buying plans were postponed on account of the increased cost of borrowing, 65% report that higher interest rates have greatly reduced the value of home they can afford. Meanwhile, 28% of respondents say rates have somewhat reduced this value. Prices for even the most basic starter home remain sky high in cities like Toronto and Vancouver. 
According to the survey, of those Canadians who intend to jump back into the housing market, many are gravitating towards a fixed rate mortgage to protect themselves from fluctuating rates. More than half (53%) say they would choose a four- or five-year fixed rate mortgage, and 17% say they would choose a short-term fixed-rate mortgage (one to three years). Some 16% of respondents say they would opt for a variable rate mortgage.
"The Bank of Canada has indicated that it believes the rate hikes completed over the past twelve months are working their way through the economy, and that inflation should fall to 3% by mid-year," continued Soper. "While stating that they believe this period of rising rates is behind us, the bank qualified the statement, stating that if needed, it will increase rates again in the future. That said, it is unlikely we will see another period of back-to-back rate hikes in the near future."
Despite more pronounced economic challenges in the U.S., Canada's economy has remained stable throughout this period of correction, highlights the report.
"In recent weeks, well-priced properties in some popular neighbourhoods with low inventory have already seen multiple offers," added Soper. "We anticipate that signs of stable economic conditions will lead to a more normalized spring market."
As for those pesky interest rates, experts now expect them to begin to drop by the end of 2023.
Real Estate News