Phew: less than a week until the royal wedding. Say what? Time flies, huh?
Aye, it's hard to believe the once shy little prince (who morphed for a time, tsk tsk, into a properly royal rebel) is now a corduroy trousered, brogue footed 33-year-old set to welcome his (Toronto loving — Yay!) American bride Meghan Markle into the royal familial enclosure.
---
As yet, we haven't enjoyed the pleasure of the divine Ms. M's company, though we've hung with Harry on a couple of occasions. (Once at Windsor's Cartier Royal Polo Tournament and once in Boujis, a select nightclub in London's upmarket South Ken.) And thoroughly personable he seemed. From what we can recall, certainly, through the Champagne-fuelled memory clouds of London's — then — chicest club.
Justin and his mother on royal duty, talking with Prince Philip, while hosting The Prince's Trust at Hollyrood Palace in Edinburgh. (Photo courtesy of Colin and Justin)
And so, as the world awaits the fairytale to reach its joyous climax, we thought it might be fun to observe the various ways in which you can plot and plan a memorable day — chez vous — with pomp sufficient to send your orbs — balls or boobs — into orbit.
Aye, consider today's epistle a royal summons to help get your nest up to speed ahead of the glitzy nuptials.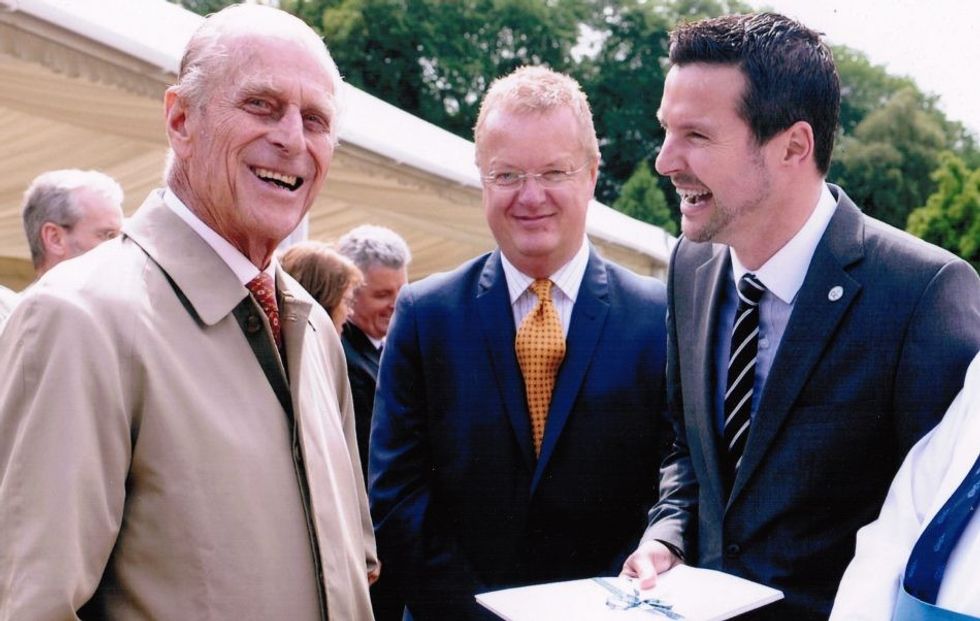 Colin on royal duty, speaking with the jovial Prince Philip, while hosting The Prince's Trust at Hollyrood Palace in Edinburgh. (Photo courtesy of Colin and Justin)
Drawing inspiration from a recent trip to blighty (where we observed London — and the rest of the U.K. for that matter — in the grip of regal frenzy), here's our guide to help crown your own party glory …
First up — guests.
When your attendees' list has been honed like a veritable royal sceptre, it's time to raise the bar with the actual invites. And please: forget email — the interweb, after all, is so passé.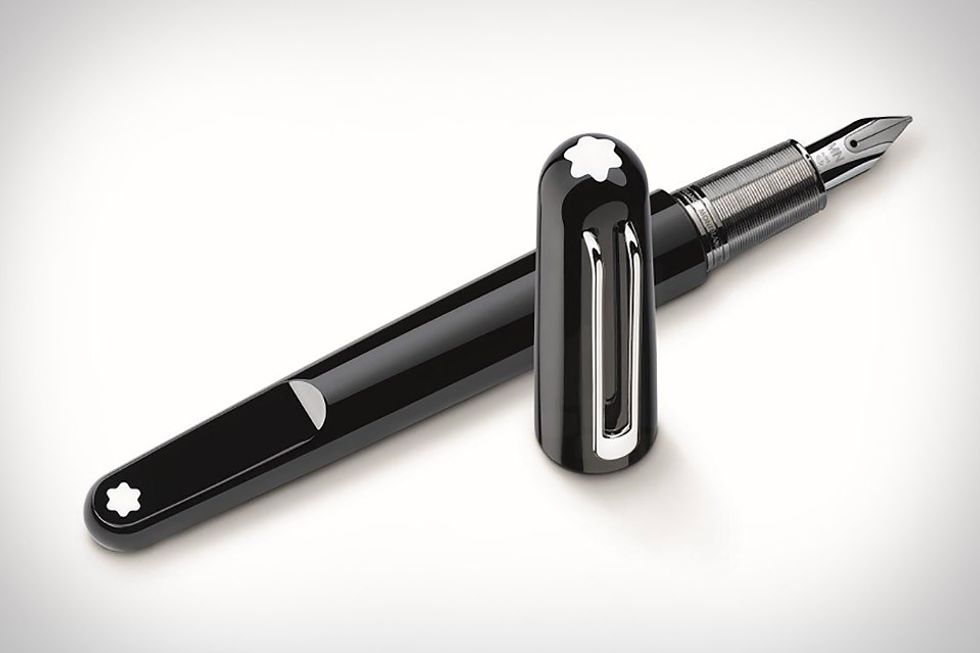 Mont Blanc pen — the only tool with which to scribe your invites. (Photo courtesy of Mont Blanc)
Old school? Pen and ink? Yup, that's where it's at. It demonstrates a better sense of ceremony to lavish your guests with printed invites. With the help of a computer and your trusty scanner, print everything on a stiff card to add circumstance. To evoke extra class, run a gold pen around the perimeter of each card and hand sign with jet (never blue) ink, using cursive font, lovingly delivered down the nib of a Mont Blanc fountain pen. Or at least make your Sharpie scroll look super posh. Need a lil' extra help? Visit www.optimalprint.ca for inspiration.
Next? Plan your menu.
The banquet awaiting H&M remains a closely guarded secret. Though the wedding cake, a concoction of lemon and elderflower sponge enrobed in buttercream — created by Claire Ptak of London's Violet Bakery — is already the stuff of sweet-toothed folklore on social media platform across the globe.
But don't stress it: with auspicious planning, you can create exciting fare to impress guests.
Over the years, we've attended several royal engagements, where favoured dishes — typically speaking — rotated between chicken in red currant demi glaze, rack of lamb with mint sauce reduction, or good ol' British beef filet.
Sharing a tipple with the Duchess of Cornwall...
Feats of epicurean fancy such as these, however, could prove heavy for Canadian morning consumption (given the five-hour time difference), so a lighter wedding breakfast seems appropriate for those on Canuck shores.
Cucumber or smoked salmon sarnies (crusts off darlings, you know the rule) are wildly de rigueur in royal circles. But, for heaven's sake, ensure they're cut corner to corner: dainty triangles, after all, are easier for fingers to navigate than hulking great coal miner door stoppers, which would only obstruct gobs as royal chatter builds.
When it comes to sweet eats, think crusty scones, bite-sized Battenberg cakes or fruit loaves bursting with ginger or banana.
If you're not much of a baker then fake it till you make it (we won't tell) by raiding the pastry porn counters at Cluny's in the Distillery District or branches of Nadege across the city.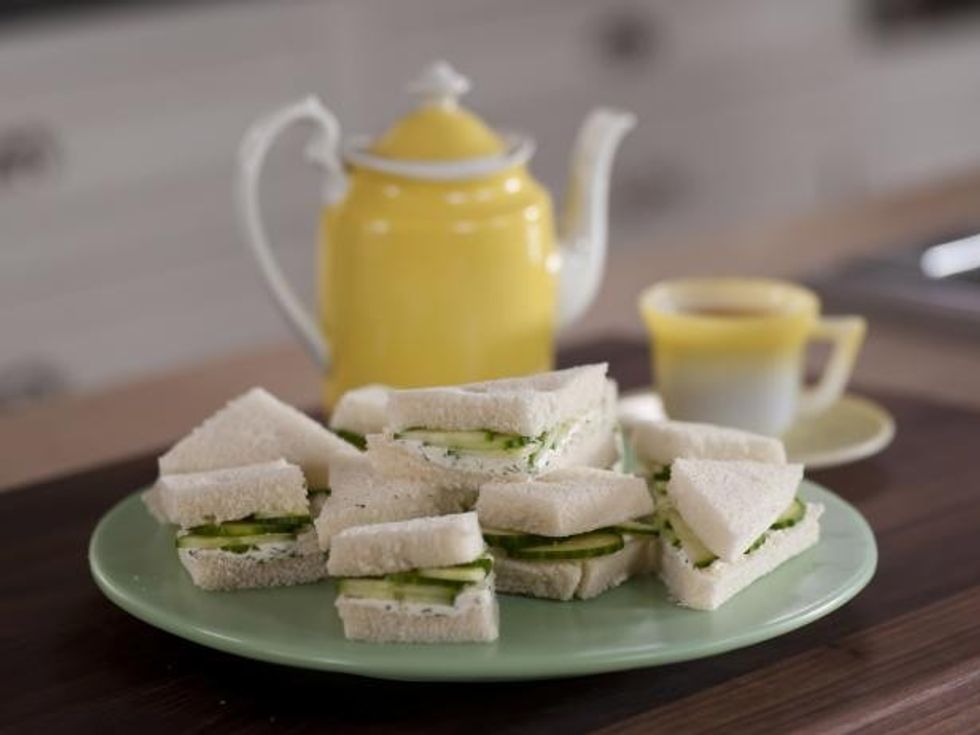 Tea and cucumber sardines — a royal tradition (Photo courtesy of Instagram.com)
Serve refreshing tea (English Breakfast or Darjeeling) and avoid coffee for daytime celebrations. Each time we've attended The Queen's Garden Party at Hollyrood, tea was plentiful but coffee distinctly noticeable by its absence. The former, we suppose, is effortlessly British, the latter less so.
As far as crockery is concerned, don't pile food onto random, mismatched plates like over-zealous dinner ladies at the local high school. Instead, artistically arrange gastronomic comestibles on rose or willow patterned fine china. (Calm down, Scrooge: it's amazing what you can pick up at charity stores for a buck a piece.) And, if you can locate a multi-tiered cake stand, even better. While you're at it, dress everything onto white linen tablecloths to really up the royally inspired ante.
For guests who appreciate a little celebratory booze, little is more British than Pimm's, stacked high, God damn it, with cucumber slices and sprigs of fresh mint. Champagne, too, while obviously French in origin, is now a perfectly acceptable British staple. So amp up your guests with a flute of fizz to capture the essence of pomp. Then float a plump strawberry in each glass for added ceremony. Detail, right?
And how 'bout decor? Take a tip: go easy.  
It might seem fun to paint a massive Union Jack on a feature zone, but it'll feel like old news as soon as party fever fades and the royal couple disappears on honeymoon. Less is more — a restrained dash of Windsor inspired magic should provide ample royal flush.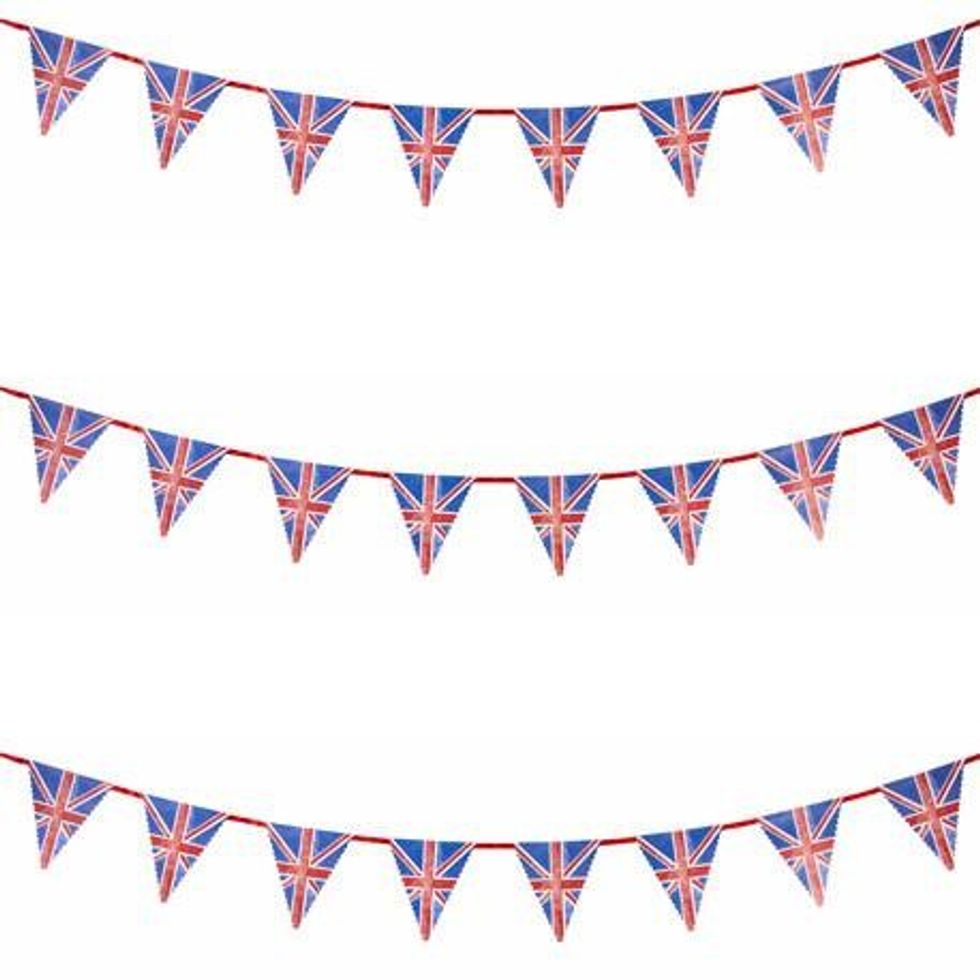 Go hunting for bunting - from Putti in Toronto (Photo courtesy of Putti)
Bunting, for example, the preserve of the great British street party, is a great scene setter: typically fashioned from fabric scraps in post-war Britain, the triangular garland has now achieved ironic retro coolness. Find it in store at Toronto's Putti, order it online at www.amazon.ca or try sewing together fabric remnants to create your own.
Alternatively, download printable bunting (without cost) via www.freepik.com. Visit the website and type 'Union Jack Bunting' into the search bar.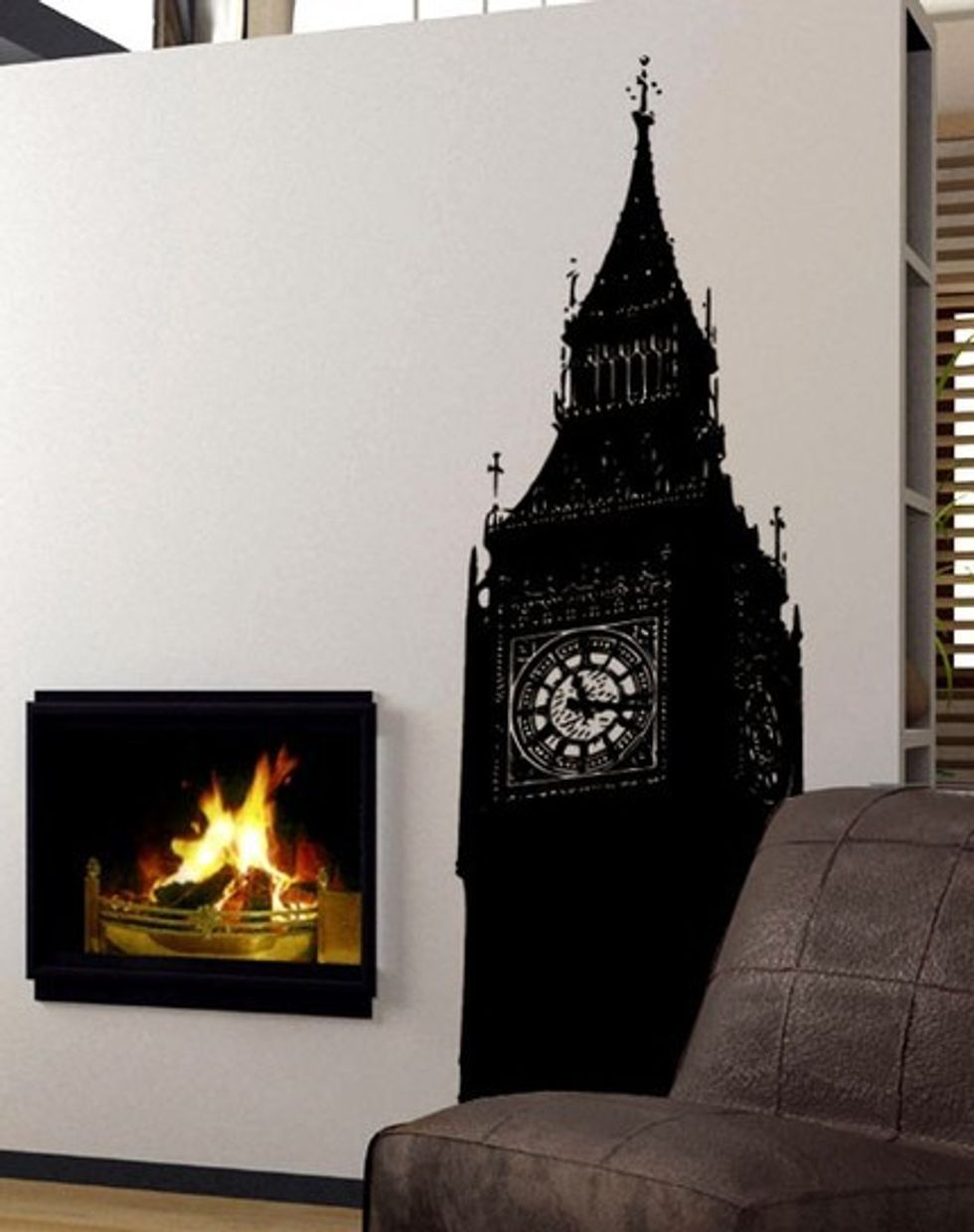 Ding Dong - Big Ben wall decal
Adhering to the spirit of all things British, add (temporary) decorative detailing courtesy of Big Ben wall decals that retail for $39.95 (US) at www.artfire.com. Or try www.etsy.ca for a range of "Keep Calm and Carry On" posters, patchworks, tea towels and other novelty gifting.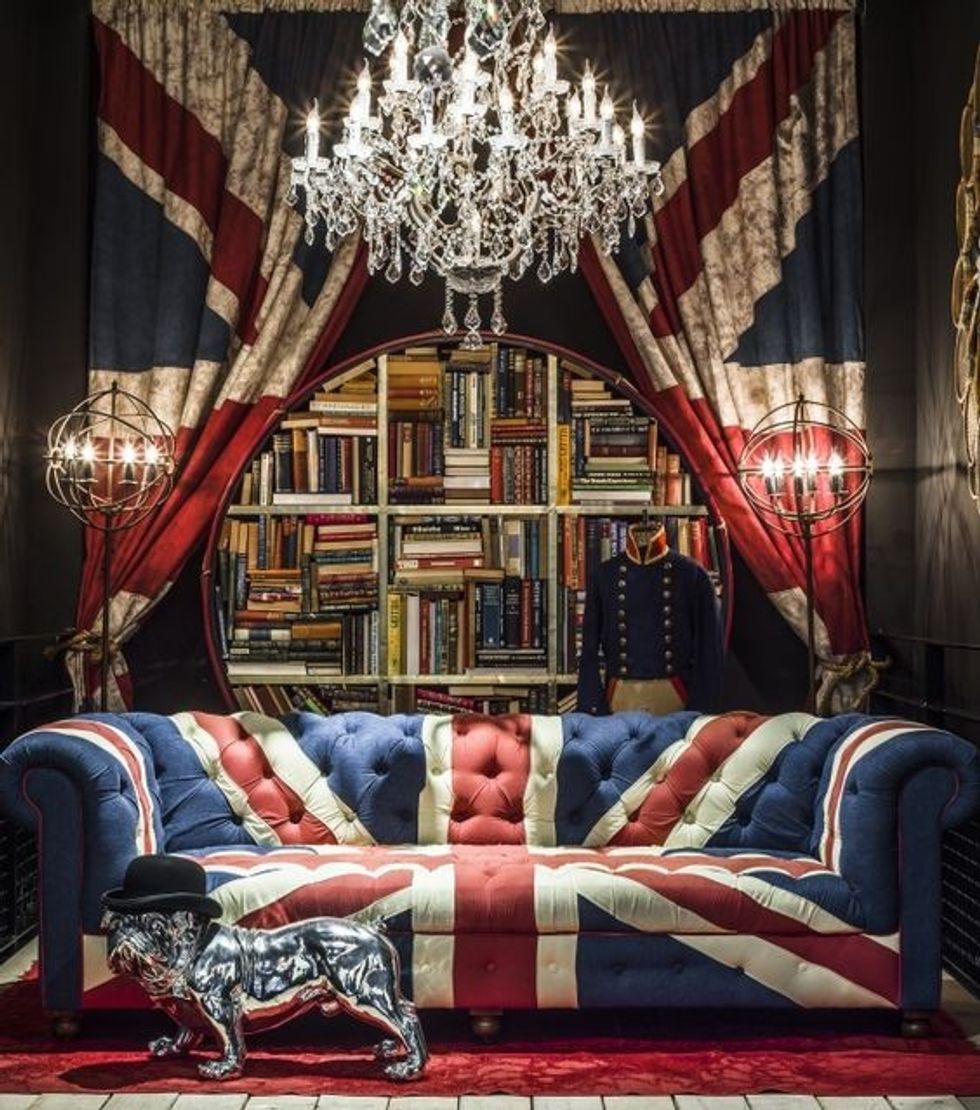 Flying the flag - this Timothy Oulton designed sofa is very patriotic and available at Upcountry (Photo courtesy of Upcountry)
Retailer UpCountry merchant Great British paraphernalia. And, if you fancy pushing the boat out, their Union Jack sofa is drop-dead gorgeous. If you've less of a mind to bust the cobwebs off your wallet, the store's entry-level Union Jack cushions start at just $75. We recently went wild in the aisles for an episode of Cityline (see our endeavours, ahead of Harry and Meghan's wedding, on May 15 on City). Visit www.upcountry.ca and prepare to swoon.
Whatever you plan for the big day, we hope you have, as we'd say in Britain, "a right royal time."
So get your bloomin' crown on, fly the flag, and hoist up that regal garter.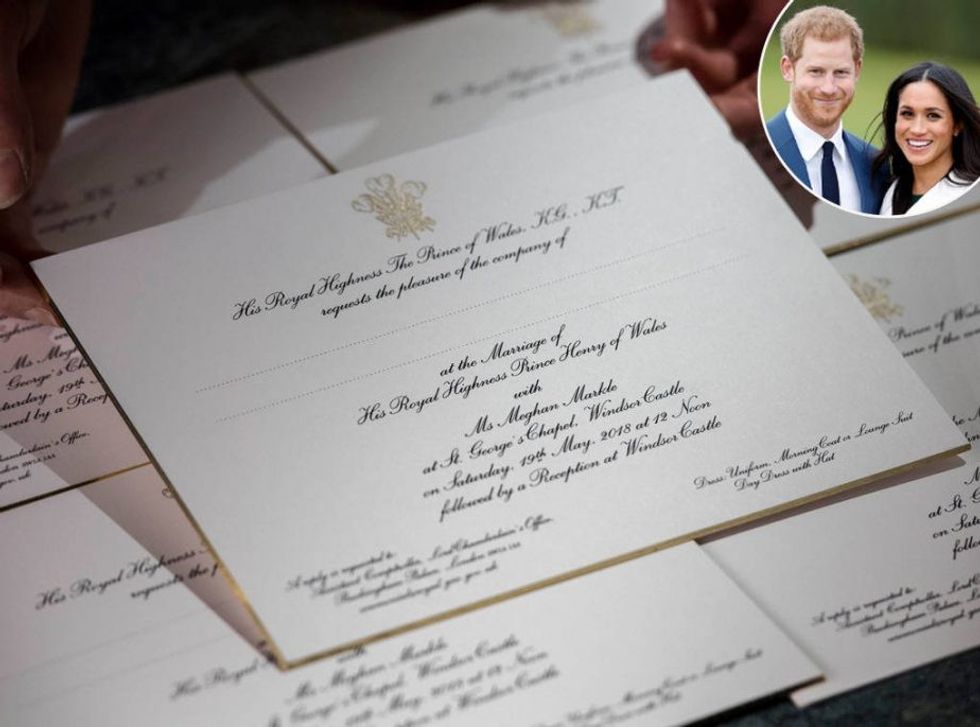 The official H&M wedding invite (Photo released by Kensington Palace)
In the meantime, Harry and Meghan, if perchance you're reading, just one question: Precisely where did you send our invite? Because, search as we might, we just can't seem to find it ...
Recommended extra reading: The Royal Wedding For Dummies by Julian Knight. Whilst published ahead of William's wedding to Kate, the book's (oft' tongue-in-cheek) content remains topical. From event planning to food prep, and etiquette to parlour games, it's all covered. Via Amazon.ca or in bookstores across the land.
Style + Décor