Royal LePage Commercial is not shy about its ambitions.
Its goal: increasing its stable of commercial agents across Canada to 1,000 within the next three to five years.
---
At the moment, the number is 653 (and growing weekly), which already makes Royal LePage Commercial the largest commercial brokerage in Canada, by the amount of brokers, according to Damon Conrad, National Director of Royal LePage Commercial.
Most of their agents are based in Ontario, followed by British Columbia, and then Quebec.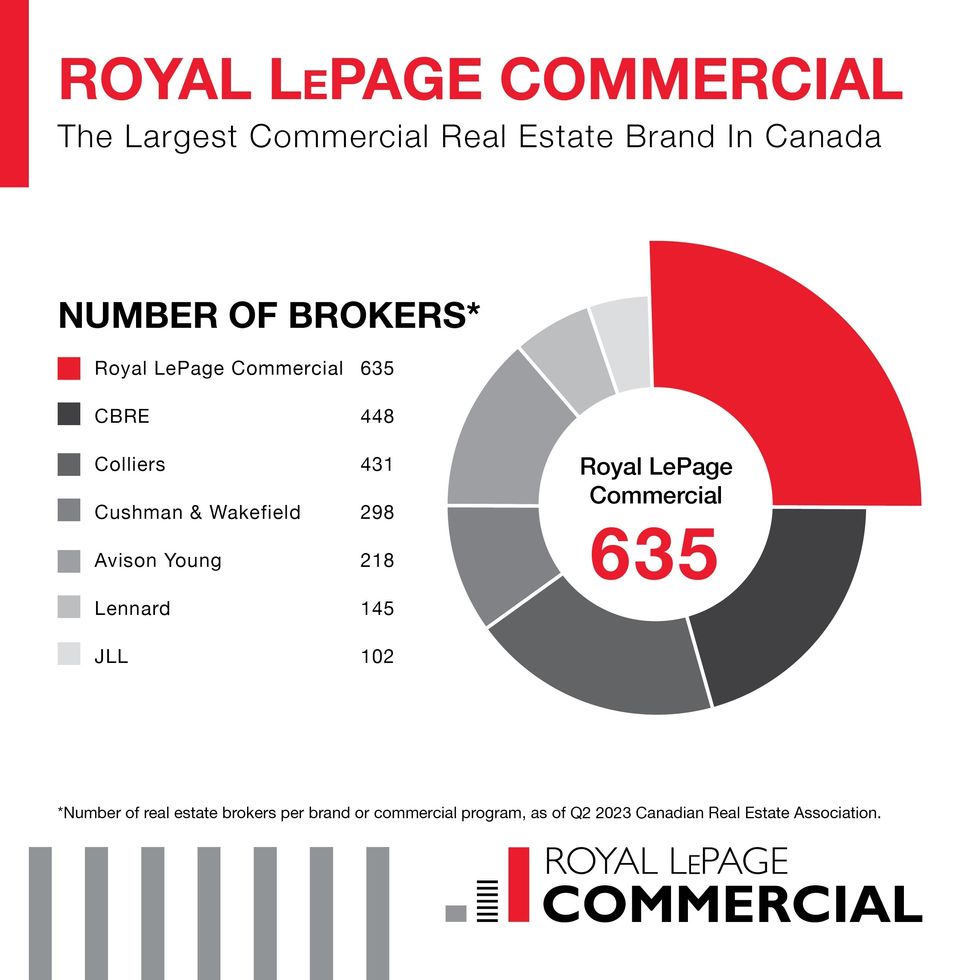 (Royal LePage Commercial)
They're also not shy about how they plan to reach that 1,000-agents goal.
Conrad says they have a multi-pronged strategy that includes merging/acquiring existing brokerages (particularly boutique commercial brokerages), recruiting agents from their competitors, and training residential agents already on their roster that may be interested in going commercial.
Earlier this year, in a two-month span, Royal LePage Commercial grew its stable by 49 agents. A few months later, in BC, Little Oak Realty — and its 100+ agents (residential and commercial) across four offices in the Fraser Valley — joined Royal LePage Commercial after 30 years under the RE/MAX banner. And there's more to come.
In an interview with STOREYS, Sean Burns — Owner and Managing Broker of Royal LePage Coast Capital Realty in Victoria and Royal LePage Sterling Realty in Port Moody — discusses what he thinks makes Royal LePage Commercial appealing and how they use that to recruit from their competitors.
I'm aware that Royal LePage uses the franchise model, similar to RE/MAX, for its brokerages. Is Royal LePage Commercial structured similarly?
Typically, like RE/MAX, most of the commercial agents at the franchisee level are under the same franchise as the residential side. But what we're seeing is so much growth on the commercial side that it's now making a lot of sense to say "no, we definitely need a separate franchise just for commercial."
My background is commercial real estate, and it's such a different game with different needs from its agents that it makes more sense to have a commercial franchise that's separate.
What are those specific needs you're alluding to?
The [Commercial] deals are more complex. Obviously. But they need a lot more hand-holding and help and administrative assistance on the paperwork side. Conveyancing [the legal transfer of a property] is much more sophisticated and difficult. Another thing is they need more services, such as analysis or support from a marketing perspective.
You mentioned the recruitment, and I understand Royal LePage Commercial has a goal of getting to 1,000 agents within the next three to five years. How big of a role does recruitment play in meeting that goal?
When I first heard that number, I sort of thought "hmm, okay," because historically, the way it happened is residential agents expressed interest in commercial, then get trained up in commercial, and start doing more.
That was a real slow, organic kind of growth. But what we've seen is a shift, and the shift is those brokers at the big commercial houses are seeing that they get a lot more flexibility and freedom to do more deals at Royal LePage.
So now that we've added that funnel from those established brokerage houses, I think that goal is entirely achievable.
And I understand that Royal LePage has more smaller offices spread across a particular region, compared to firms like Colliers, which have a couple of big offices in central locations and kind of parachute brokers around the region as needed?
That's correct. The model that Royal LePage Commercial offers is really there's nobody above you that's taking a chunk of what you make, and we're actually working as a team. They're actually independent contractors as opposed to what feels like an employee status where people are taking everything you make.
So they have more equity.

Exactly. A lot more equity. It's a hard enough gig to begin with. It would be very frustrating to then have to watch four layers above you take pieces of all your work.
You mentioned residential agents moving into commercial. Does that happen a lot? And how often does the reverse happen?
We rarely ever see commercial agents go into residential. As for the direction from residential to commercial, I think the conversation happens a lot, with agents sort of exploring it. But from our perspective, we really want to hold the line and ensure that we've got quality people coming into the commercial program, for a number of reasons.
One: it is a drain on resources, because there's so many questions and training and it's much more complicated than the residential side, so we want to make sure that we're investing correctly. But also, we want people who are not just playing in the commercial side because somebody they know says they need help buying a commercial building or warehouse. We want commercial brokers who are professional and carry the brand well and represent us in the market the way we expect to be.
You're on Vancouver Island. Can you give me the lay of the land in terms of Royal LePage Commercial's brokerages there and where you guys have offices?
I'm in Victoria, and as an example, we were sort of saying "okay, we've got a good number of commercial agents across Victoria, let's look at all the rest of the commercial agents within Royal LePage at the other franchises up and down the Island, and pull them all out into one separate franchise." What we found out is that we already have the lion's share of them in Victoria, with a handful in Nanaimo and places like Parksville and Campbell River.
Are you aware of any areas where the company is looking to expand its presence?
Over the last three years, we've doubled the size of our commercial team across Greater Victoria and we've done the same in our Tri-Cities office, and I understand the same is happening in Metro Vancouver as well.
In terms of new geographies, we are always looking at other opportunities. The thing is commercial real estate really comes down to the connections of the broker and a lot of it is virtual. It's not so in-person as it used to be. What we're finding is that some of our Victoria brokers serve Vancouver clients and some of our Vancouver brokers serve Victoria clients and come over and put the deal together [in-person]. From a geography perspective, I'd say all of BC is in our sights.
In terms of within the industry, office at the moment seems to have a red flag whenever you go near financing. Industrial is obviously a red-hot market. There's huge demand in BC. Retail and leasing is also coming back, with a vengeance, after COVID. And leasing space is a great entry for newer brokers trying to cut their teeth. While the commissions are not as big as selling a large warehouse, it's great experience for them so they can begin to establish themselves.
Regarding the virtual aspect. Is that something that was the result of the pandemic, or was that happening before then?
I think that's a very good question. You know, it was happening and starting to happen even before the pandemic, but the pandemic accelerated it. It normalized it as being okay, whereas before it was sometimes done by neccessity.
This interview may have been edited for both length and clarity. The views and opinions expressed in this article are those of the interviewee and do not necessarily reflect the views or positions of STOREYS.
Featured