Toronto
Real Estate News
16-Storey Residence Incorporating 19th Century Heritage Schoolhouse Proposed
A new 16-storey residential building, which would incorporate an original schoolhouse built in 1891, is proposed to rise north of The Danforth on Broadview Avenue.
Diamond Kilmer Developments submitted applications to the City of Toronto for an Official Plan Amendment and Zoning By-law Amendment to redevelop the land at 954 and 958 Broadview Avenue.
The proposed site, which is roughly 1.16 acres in size, fronts Broadview Avenue, Chester Hill Road, and a short City-owned laneway that runs north from Chester Hill.
Presently, the property consists of two semi-detached houses, one detached house, and a four-storey 19th Century heritage schoolhouse currently used as "Estonian House," and accompanying surface parking.
To the west of the property is the forested bank of the Don Valley, to the north, a mixed-use corridor of tall buildings, and along Broadview, to the immediate east and south, low-rise residential and commercial buildings.
READ: Massive $500M State-of-the-Art Performance Venue Planned for Exhibition Place
The project's application has seen some changes over the years, including an appeal to the LPAT which was assigned to Diamond Kilmer, after they became the new owner of the site.
Initially, the plan for the site included building an 18-storey building that would consist of a variety of rental units for seniors and care services.
Though, now that the property is under new ownership, Diamond Kilmer's latest proposal represents a vision that reflects feedback from City staff and key neighbourhood stakeholders; it now seeks to complete the development of the underutilized property and large surface parking lot with a "fine-grain" public realm, contemporary high-quality building design, and the appropriate retention and integration of the heritage building, all while providing new housing opportunities near existing transit.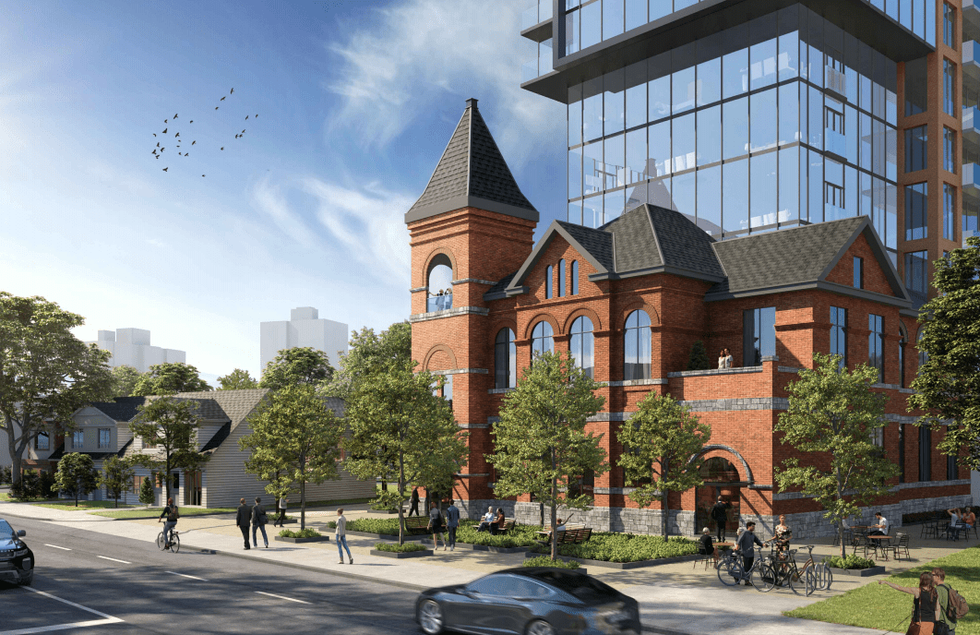 The new building, designed by Graziani + Corazza Architects, includes a podium "tail" element and a taller building element, standing 4 and 16-storeys respectively. Ground floor units would have garden terraces at grade while units on the upper floors have a mix of Juliet and traditional balconies or terraces.
Overall, the building contains 15,848-square metres of gross floor area, comprised of 15,309-square metres of residential area, and 175-square metres of non-residential area.
The proposal is said to respect the area's existing character with the building materials, massing, and articulation, with brick masonry anchoring the podium and transitioning to a lighter glass façade as the building steps and transitions up in height towards Broadview Avenue.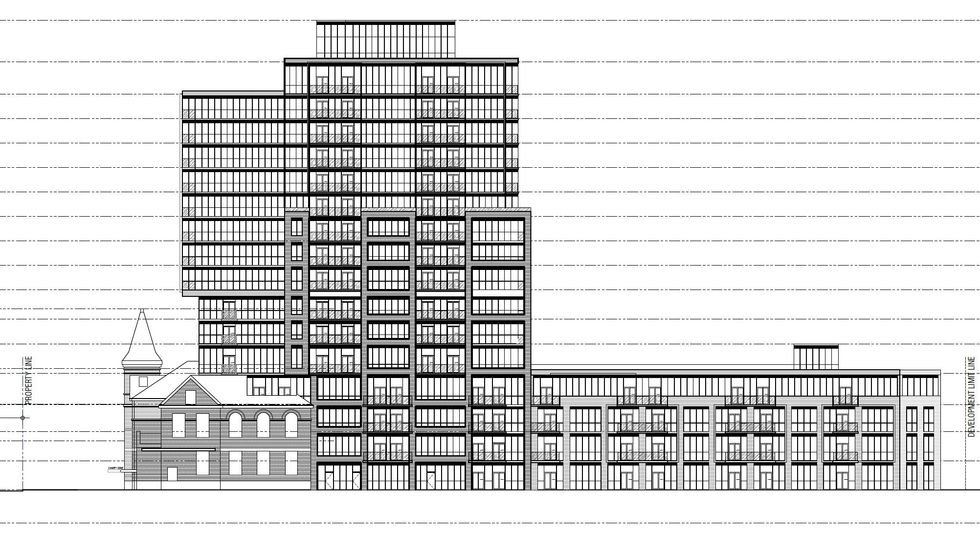 The proposed development would contain 223 units, with a mix of 66% one-bedroom suites, 23% two-bedroom suites, and 11% three-bedroom suites.
The interior amenities would include a gym, pet spa, party room, and multi-purpose "urban garage" facility. The outdoor amenities include a pet relief area, a gym patio envisioned for outdoor yoga and meditation, a landscaped mews, and a rooftop terrace with raised garden plots.
Overall, 91 vehicular parking spaces are proposed in a three-level below-grade facility. This provides 13 residential visitor spaces and 78 residential spaces.