Regent Park is on the up-and-up.
Indeed, the now award-winning -- and forever evolving -- downtown east Toronto neighbourhood has come a long way in its journey to become a coveted spot to call home for young urban professionals and families.
---
The neighbourhood's roots go back to the late 1940s, when it was built as a public housing project, managed by Toronto Public Housing. For decades, all of Regent Park's residential developments were designated as social housing and remained glaringly isolated from the rest of the city. And, as time went on – one crumbling façade at a time – it's safe to say these buildings had seen better days.
Indeed, Regent Park carried a stereotypically bad rep for years. But that's all been changing over the past decade and a half with the erosion of the long-held "rough" or "undesirable" stigma associated with the neighbourhood.
Now, Regent Park is virtually unrecognizable.
READ: Say Hello to Regent Park's All-Inclusive Evolv
Rather than stretches of single-purpose public housing units, the neighbourhood currently follows a mixed-income revitalization model that features a street grid seamlessly incorporating the surrounding roads and communities. The vision also includes welcoming, retail-filled streets, and no shortage of green space or rich community offerings.
Toronto-based architect, urban designer, and author Ken Greenberg was part of a collaborative team in 2002 that was commissioned to propose a comprehensive redevelopment plan for Regent Park. "This wasn't just a physical plan, but dealt with financial viability, social development, tenant relocation, and environmental sustainability," says Greenberg. The plan gained traction with the creation of the Toronto Community Housing Corporation (TCHC). 
"The work of Toronto Community Housing to transform troubled public housing projects is producing some of the most 'complete' neighbourhoods in Toronto in terms of both mixed income and a full range of attributes of a complete neighbourhood," says Greenberg. "Regent Park is a prime example of this."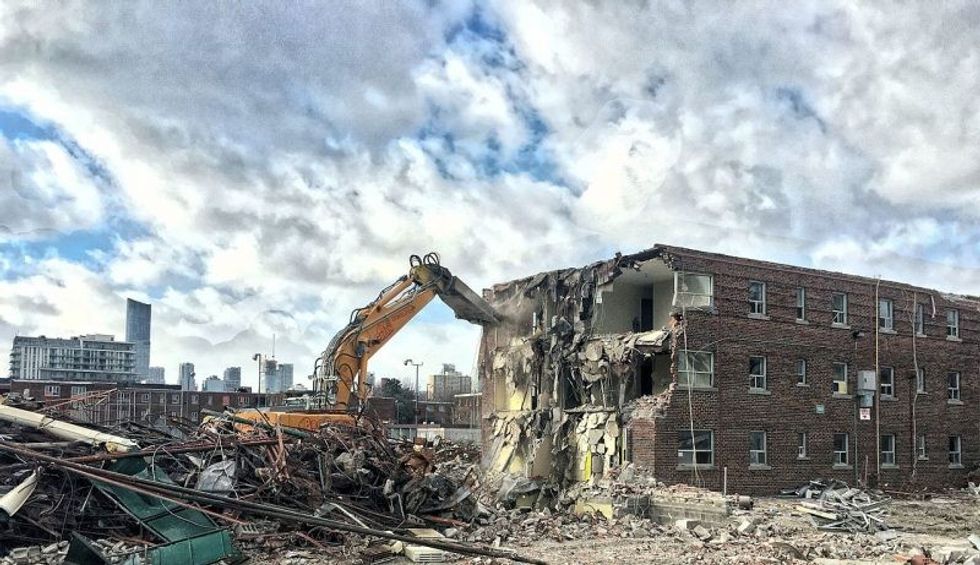 Demolition of residences in Regent Park/Wikipedia
In 2005,The Daniels Corporation was chosen to partner with TCHC to revitalize 53 of the 69 acres in Regent Park, which is now viewed as the gold standard for re-imagining challenged urban neighbourhoods around the world. The redevelopment began in the east end of the community, predominantly centered around the intersection of Dundas and River. The ongoing phase three – the most ambitious of the five phases – is scheduled for completion in 2023. Early stages of phase four are also currently underway, which will include more market condos and rental units.
As a result of all this activity, Regent Park is now home to diverse restaurants and cafés, grocery stores, state-of-the-art athletic grounds, a six-acre community park, an enriching community centre with one of Toronto's best swimming pools, and a remodeled public school. 
That's all without yet mentioning Daniels Spectrum – a 60,000-square-foot arts and culture hub -- which plays host to community events, youth and adult programs, hallway galleries and exhibitions, and more. And beyond physical creations hanging on walls, the locale itself embodies a sense of artistic flair, from the food offerings -- think, modern French fare at Le Beau -- to the personal care scene, such as what's on at 611 Purple Factory, where you can get a fade and the newest street style, all in one spot.
Those captivated by the promise of what this pocket of Toronto has to offer will be pleased to learn the neighbourhood is also home to an increasing number of new residents, thanks to its shiny new residential buildings.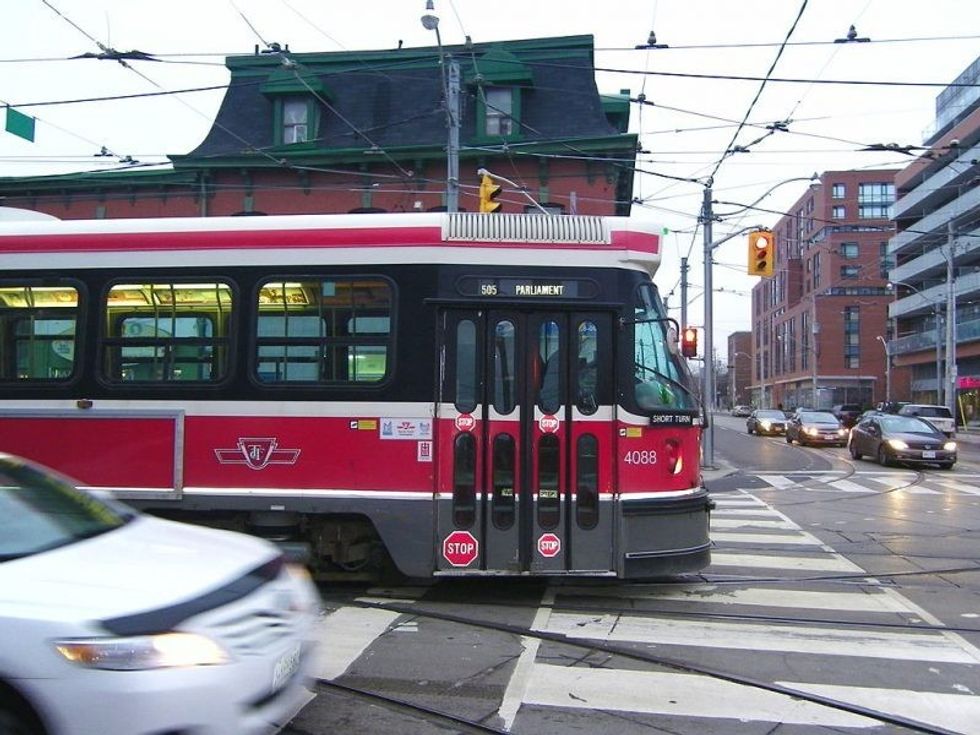 The 505 streetcar entering Regent Park/Wikipedia
"On all sides of Regent Park, attractive new buildings contain a mix of fully subsidized rent-geared-to-income rental units equal to the number that existed in old Regent Park, as well as new condo and market rental units that more than double the previous population," says Greenberg. "It's hard for the untrained eye to know which building is subsidized and which is market rate."
One of the most exciting new developments in the rapidly revitalizing community is the aptly named Evolv, developed by The Daniels Corporation and managed byDaniels Gateway Communities™. Taking over now sought-after space at the northwest corner of River and Shuter Streets, the 29-storeyEvolv development will offer over 340 purpose-built rental suites. Currently the furthest along of all active phase three projects, Evolv is designed with the well-rounded urban lifestyle front and centre. 
The units will range from studios to extremely rare (but coveted) family-friendly four-bedroom suite designs. With construction well under way on the anticipated project, occupancies start early next year. The common themes throughout Evolv are design-forward and innovative spaces, while each suite is outfitted with modern and contemporary finishes, including vinyl plank flooring, 9-foot ceilings, and stainless-steel appliances.

South-west view from 20th floor
Catering to everyone from single students to large families, Evolv's endless amenity offerings include co-working spaces, bookable meeting rooms, a media lounge, a pet wash, a kids' room with dedicated outdoor terrace, gardening plots, a party room with a terrace complete BBQs and seating areas, a fitness room with a yoga/stretch studio, and a theatre room with adjacent catering area and lounge. Further adding to the convenience factor, the development will house approximately 8,000-square-feet of street level retail space.
Much of the appeal of this project is the reliable Daniels Gateway name – one that's been associated with inclusivity and quality for decades – behind it. The Daniels Corporation's award-winning construction team has over 35 years of experience, and the project is managed by Daniels Gateway Rental Communities™, whose expertise spans over 18 years in rental communities all across the GTA. Furthermore, renting in a Daniels Gateway Rental Community opens the door to home ownership with the Daniels Home Investment Program (HIP), which allows residents the opportunity to accumulate HIP dollars towards the purchase of a new Daniels home.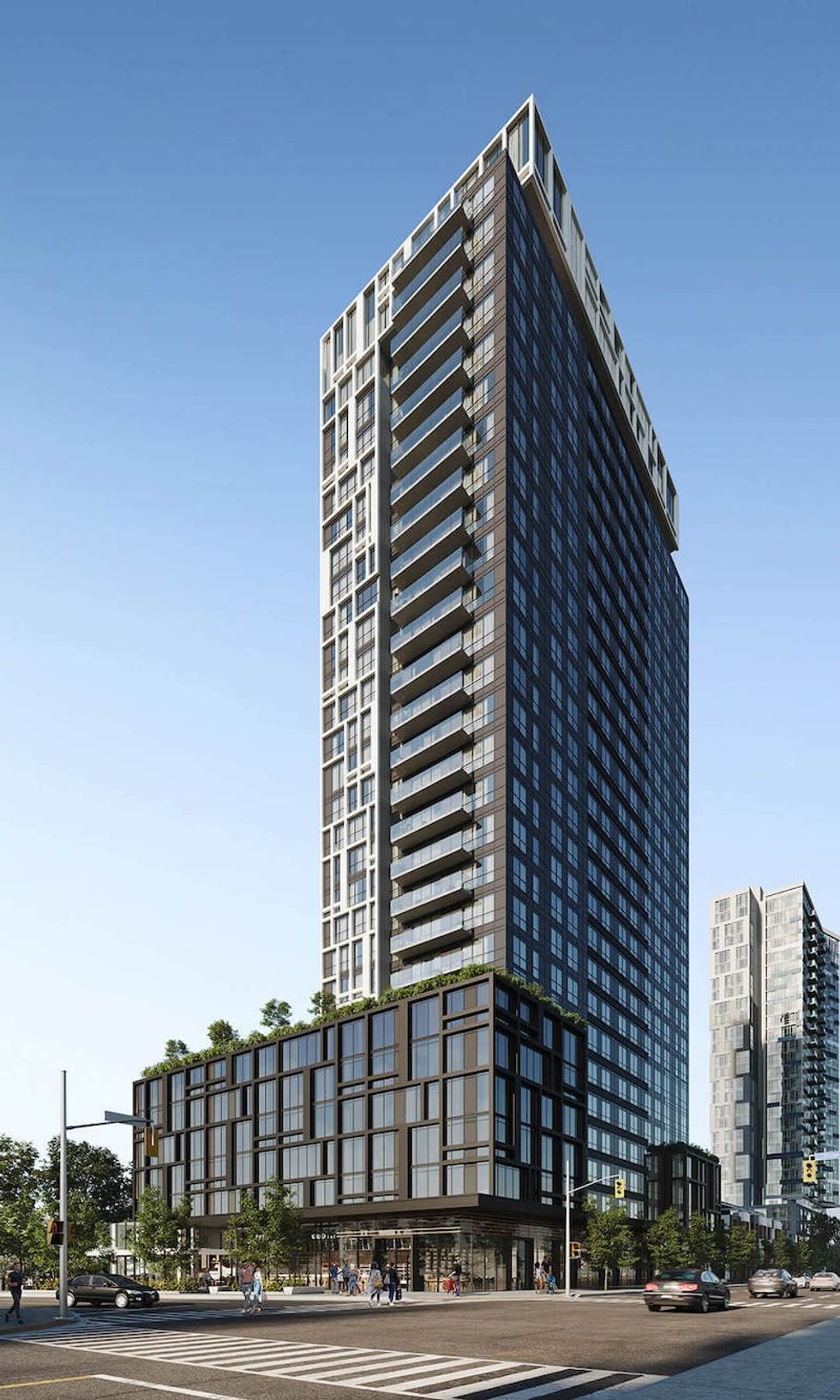 Evolv (Rendering)
Those in the market for 'evolution' on the lifestyle front, however, shouldregister for this coveted new rental community soon. Based on the performance of other Daniels Gateway Rental Communities™ these units won't last – just like Regent Park's bad rep.
In the meantime, you may want to make a point of taking a stroll through this up-and-coming neighbourhood to witness its impressive and evolving facelift for yourself. While there is still much to be built (you can stay up-to-date on its progresshere, and sneak a peek at the goings-on via the virtual tour here), those who haven't visited Regent Park as of late will be pleasantly surprised – and even inspired – by its newfound vibrancy and subsequently revamped reputation.
Renting