---
After playing the part of Chicago and/or New York for decades (also Boston, LA, and others), Toronto is finally appearing as itself more often on the big screen. 
In its most recent role, Toronto is the setting of a new Disney and Pixar film. This marks the first time the city will appear in a major animated feature (and when does Pixar ever disappoint?). The trailer released yesterday features Toronto spots like the CN Tower, Chinatown, and downtown's graffiti-covered alleys.
Set for release March 2022, Turning Red is directed by Oscar-winning Canadian director Domee Shi and features Canada's homegrown superstar, Sandra Oh, as one of the voice actors. 
The film tells the story of a 13-year-old girl named Mei Lee, voiced by Rasalie Chiang, who transforms into a giant red panda when she gets too excited or embarrassed. Oh voices Lee's over-protective mother. 
READ: Dens Done Right: A Home Theatre for Thunderstorm Season (and Beyond)
"We are beyond thrilled that director Domee Shi chose her hometown of Toronto as the backdrop for her new feature film," said Greg Mason, VP of Marketing for Walt Disney Studios Canada in a statement.
"With Ottawa native Sandra Oh lending her voice and a group of very talented Canadian artists on the filmmaking team, Turning Red truly is a love letter to Toronto and Canada. There are a couple of great Canadian easter eggs in this trailer and we can't wait for Canadian audiences to see more when the film hits theatres next year," he continued.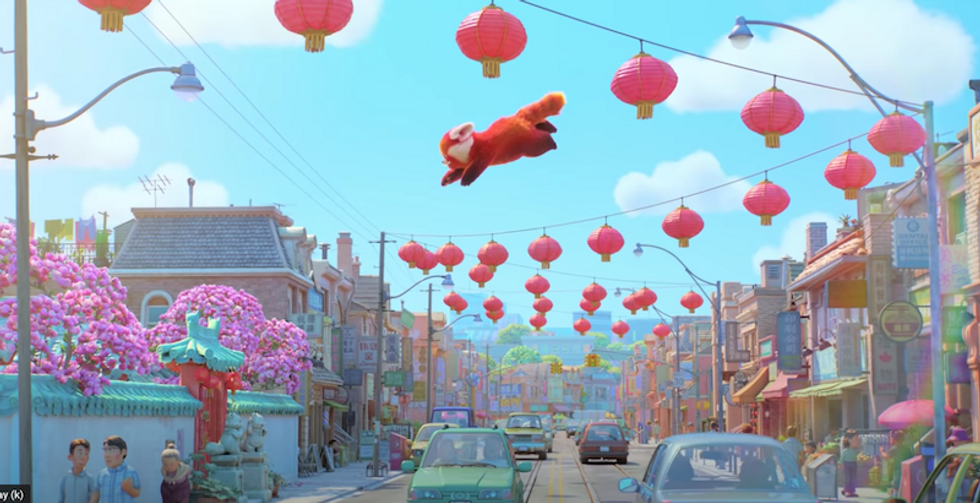 And judging from all the excitement on social media, Canadian audiences can't wait to see an animated Toronto come to life in all its glory and to count these "Easter eggs" for themselves.
Toronto