Earlier this year, it was unveiled that multi-talented artist Pharrell Williams had teamed up with Westdale Properties and Reserve Properties to help develop the multi-tower purpose-built rental condo project 'Untitled.'
And after the initial Site Plan Application (SPA) was submitted to the City, the project, which is proposed to rise at 100 Broadway Avenue is getting closer to becoming a reality.
---
Known for its design team, which consists of Pharrell and architects IBI Group as well as interior designers U31, the proposed midtown residential complex has made more progress with the resubmission of the SPA in late-August.
READ: A Wellness Centre, Social Lounge, and Rec Room: Inside Pharrell's Untitled Condo Project
According to documents submitted to Toronto city planners, the resubmission calls to facilitate the construction of a mixed-use development containing residential, retail, and office space as well as a new public park with surrounding privately-owned, publicly-accessible open space ("POPS").
The resubmission also addresses comments received from the City on the initial application submission made on May 13, 2020.
Rendering submitted to City of Toronto
Now, the proposal includes a number of adjustments, which have been made to the building and the public realm, bringing the project even closer to approval. Among the most notable changes include the revisions to the proposed park and POPS areas, bike lane incorporation, and landscaping.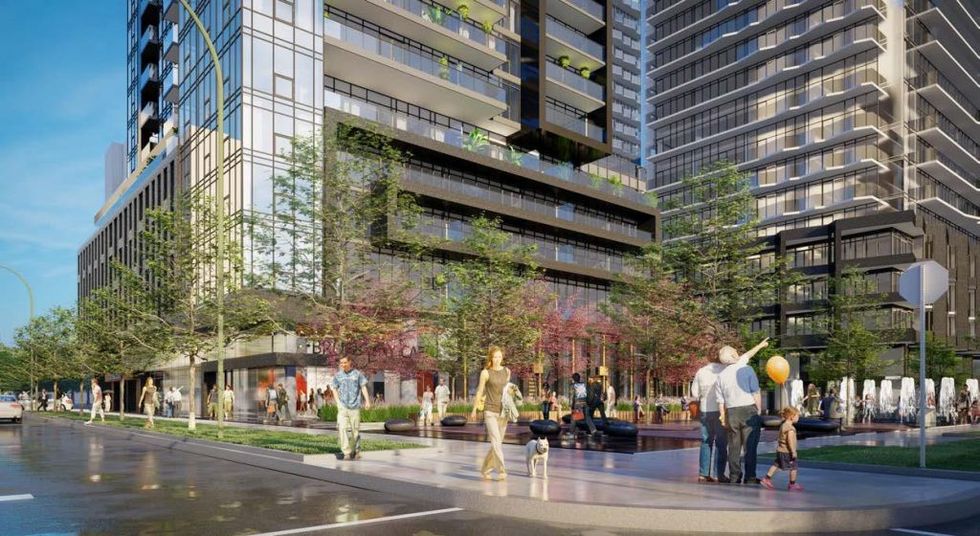 POPS Area (Rendering submitted to the City of Toronto)
According to the resubmission, the public park concept -- from NAK Design Strategies -- has been updated and the changes include the modification of grading, the removal of a retaining wall, and an overall improvement in wind conditions.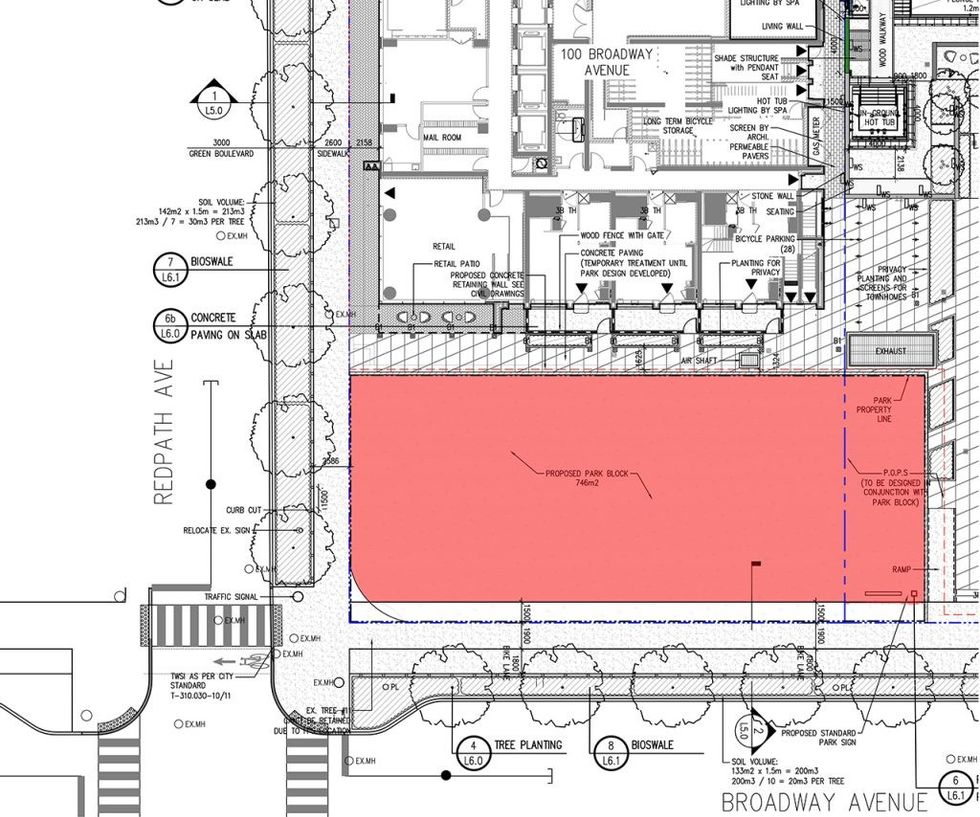 Submitted to the City of Toronto
A canopy is also proposed to be added over a retail patio at the southwest corner of the building, and the height of glass walls along the north and west sides of terrace levels has also been modified.
When completed, the development consists of three towers, including a 36-storey purpose-built residential rental building containing 412 units with 100 square metres of retail space at-grade proposed on the 100 Broadway Avenue portion.
Two residential towers standing at 33 and 21-storeys in height, connected by a 4 to 8-storey base building containing 741 residential units and 606 square metres of office space are also proposed on the 110-120 Broadway Avenue portion.
The site will have a combined total of 326 vehicular parking spaces and 1,154 bicycle parking spaces within two levels of shared underground parking.
Future Developments