---
Ottawa could put homes above its famous downtown shopping mall, the CF Rideau Centre.
Last week, Cadillac Fairview (CF) announced it has submitted an application for a new 21-storey development at 70 Nicholas Street in downtown Ottawa, reinvigorating the southeast corner of the bustling CF Rideau Centre.
The project is being led by Vaidila Banelis and Queenie Wong of Zeidler Architecture Inc., and is designed in partnership with Montreal-based NEUF Architects.
According to the Site Application Plan, the redevelopment will add 280 luxury purpose-built rental residential units to the city's housing market. It will feature a mix of one- and two-bedroom units as well as about 2,500-square-feet of ground-floor retail space to complement that of the existing shopping centre.
Central to the proposed site's transformation is the preservation, integration, and adaptive re-use of an existing heritage building that was built in 1874. It will be restored and relocated further north. A shiny new high-rise will be built above it.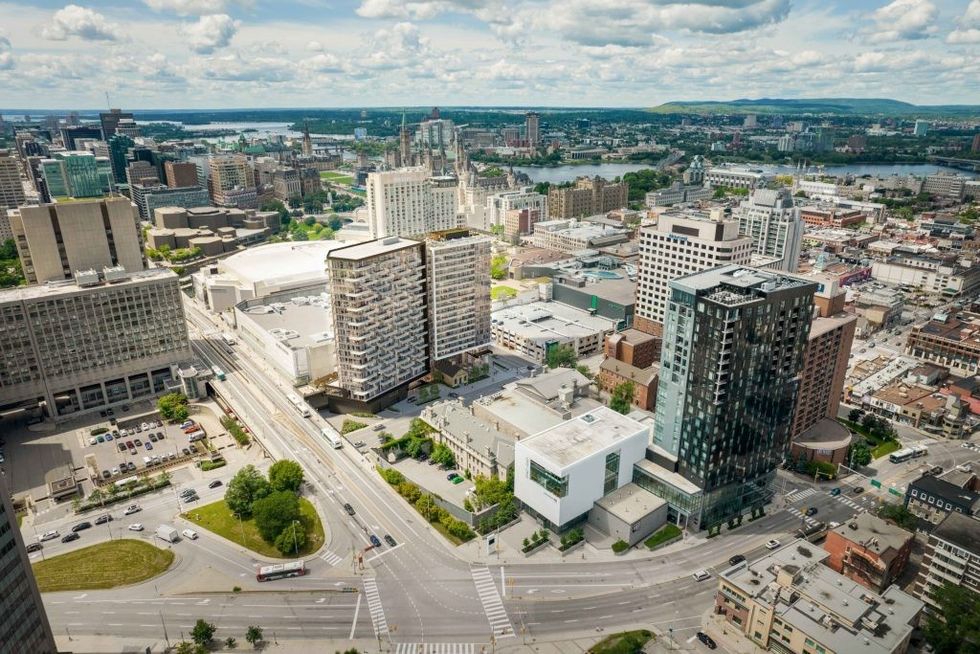 The redevelopment will result in an enhanced pedestrian environment that's anchored by a central landscaped plaza that will include a café/bar. The tower will offer a direct connection to the retail at CF Rideau Centre via an enclosed pedestrian walkway. 
Catering to a variety of age demographics, the development shines in the amenities department. Its extensive indoor and outdoor amenities will include party, child play, and gym rooms, a theatre, outdoor sitting and BBQs, indoor wet rooms, and an outdoor rooftop swimming pool with a hot tub.
A pristine rooftop will offer a 360-degree view of the city that will feature photo-worthy views of Parliament Hill, the Rideau Canal, and other storied heritage buildings. 
READ: Could Aging Office Buildings Offer an Answer to Canada's Housing Supply Crisis?
Like other parts of the country, our nation's capital faces a relentless housing supply shortage. The proposed residential development supports intensification targets put forth by the City of Ottawa and will offer much-needed rental units -- in a prime downtown location, nonetheless.
The CF Rideau Centre initiative reflects two big housing trends in urban Canadian markets, most notably, in Toronto: an increase in luxury purpose-built rentals, and adding residential units on top of shopping malls as mall landlords respond to the shift to online shopping.
Redefining the rental experience, Toronto has seen the emergence of shiny new purpose-built rental buildings like The Selby and The Waverly. Both of the upscale, editorial-worthy buildings are packed with amenities and modern conveniences, catering to a sophisticated set of renters. 
Meanwhile, plans are in the works to add residential units to the designer-filled real estate at Yorkdale Shopping Centre. That's not all: Oxford has plans to add homes to two other malls in the GTA; Square One Mall and Scarborough Town Centre. In fact, construction has already started at Square One in Mississauga. Meanwhile, Scarborough Town Centre is in the proposal process. Yorkdale will be the last mall to break ground.
In a climate of mall landlords looking to make up for lost revenue, coupled with the housing supply crisis that is impacting cities across the country, fusing residences with retail by way of new buildings at shopping malls could be a win/win.
Future Developments