Redevelopment of the residential area immediately behind the Metropolis at Metrotown shopping mall in Burnaby remains steady, with the latest project being a new proposal by Vancouver-based OpenForm Properties that Council will consider on Monday in its first meeting back from summer vacation.
The proposal is for a 33-storey strata condominium tower at 6508 Silver Avenue and a six-storey rental tower at 6470 Silver Avenue that would together provide a total of 441 units. The two development sites are directly across the street from Maywood Park and less than a five-minute walk away from Metrotown Station and Metrotown mall.
---
Like much of the Maywood area, the two sites are currently occupied by aging low-rise rental buildings that were originally constructed in 1967 and 1966, respectively, according to BC Assessment records. The assembled property drew a notable amount of media attention in February 2022, after it was sold for $50M in a deal that was brokered by Goodman Commercial.
OpenForm Properties initially submitted a rezoning application and letter of intent to the City of Burnaby in September 2021, but the project has not progressed since then. On Monday, Council will grant the application a first reading and forward it to a public hearing.
The 33-storey strata tower will include 358 units, with a suite mix consisting of 87 studios, 143 one-bedrooms, 95 two-bedrooms, and 33 three-bedrooms.
According to a Council report, some of the one-bedroom units in the strata tower are smaller than usual and are "intended to provide a level of affordability for new home ownership, providing access to the market for first-time home buyers." To offset that, a number of the two-bedroom units and three-bedroom units are larger than usual.
Meanwhile, the six-storey rental building will include seven studios, 55 one-bedrooms, and 21 two-bedrooms, for a total of 83 units, in a 1:1 replacement of the 83 units in the existing buildings.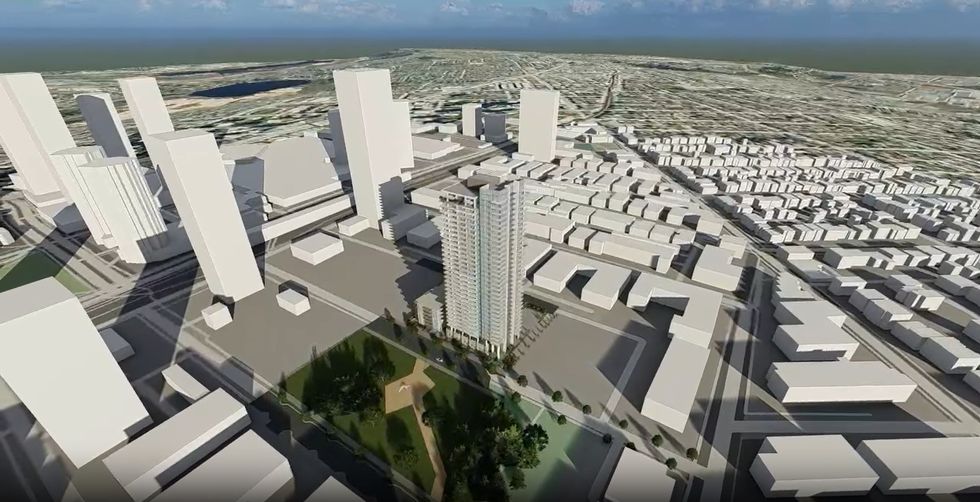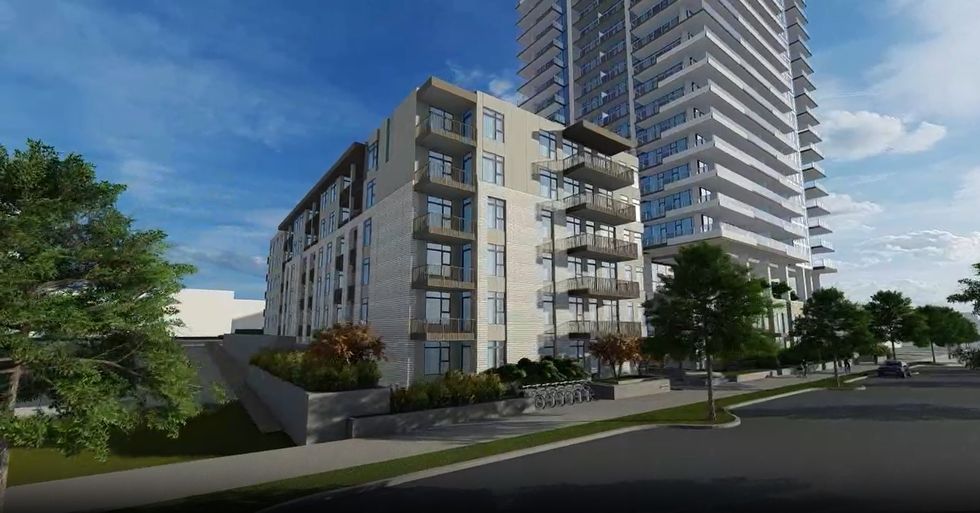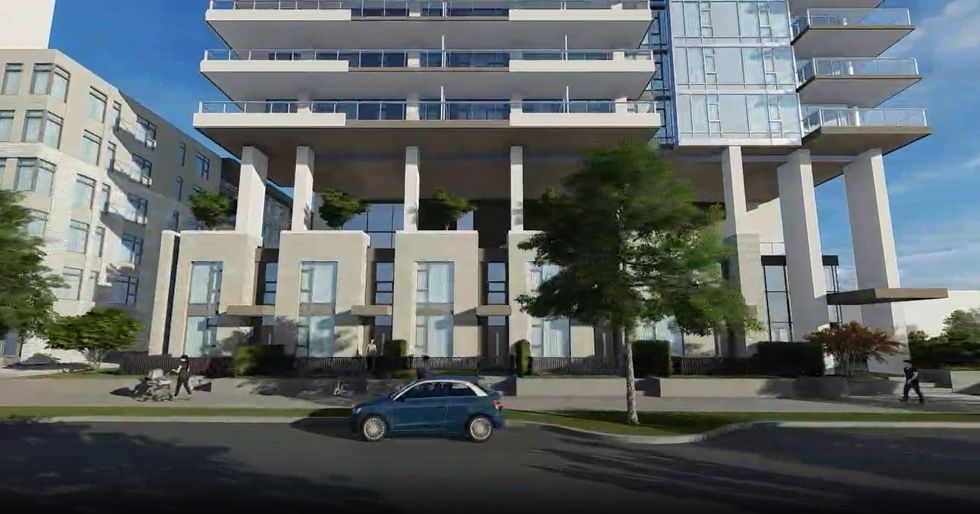 Renderings of the proposed buildings for 6470-6508 Silver Avenue.(OpenForm Properties)
OpenForm Properties is proposing that the site be rezoned from RM3 (Multi-Family Residential) to CD (Comprehensive Development) to allow for the proposed density, which will have a total floor space ratio of 5.39 — below the maximum 6.15 allowed for the site.
The proposal also includes 419 vehicle parking stalls and 970 bicycle parking stalls, which will primarily be provided in an underground parkade accessible from the existing rear lane and be shared by residents of both buildings.
As part of the proposal, the developer will also be required to provide a transportation demand measurement strategy in the form of two-year transit pass subsidies for 100% of the rental units and 15% of the strata units, four permanent car share vehicles and parking spaces, and car share membership for each of the 441 units.
City staff appear to be in support of the project, saying the proposal "exemplifies exceptional urban design and architectural expression related to building massing, siting, pedestrian orientation, and materiality" and that it meets the development standard that is expected for the area.
And that area is one that has been — and remains — very popular among developers.
Directly across the street from this proposal, next to Maywood Park, is the 32-storey Maywood On The Park by Intracorp Homes, which has another high-rise project — Telford On The Walk — one block away. Just south of OpenForm's proposal is the site of Contour Metrotown, a 24-storey condo tower that was recently put up for sale due to market conditions. Two blocks away is the site of an upcoming three-building project — one of which will be 49 storeys — proposed by Peterson Group in June.
Future Developments