Slate Asset Management's Capital Point Metrotown project, which was set to become the first fully-strata AAA office tower in Burnaby, has been cancelled, STOREYS has learned.
---
"The Capital Point project has unfortunately been cancelled and will not be proceeding," an employee at one of the firms previously involved in the project -- who spoke on the condition of anonymity in order to discuss the project -- said. "The developer made this decision in late 2022 due to the challenging business conditions and real estate market environment."
Upon inquiry, Slate Asset Management, the global real-estate-focused investment firm based in Toronto, confirmed the project's cancellation.
"Slate worked to develop the Capital Point project at 4330 Kingsway in Burnaby, BC from 2019 to 2022," the firm said. "Unfortunately, a number of external factors persistently challenged the real estate industry during that time -- from the overarching impacts of the COVID-19 pandemic to ongoing supply chain issues, surging construction costs driven by heightened inflation, and most recently, the unprecedented rise in interest rates."
Slate also told STOREYS that they explored every viable option available, but were not able to meet key conditions to move the project forward with the original scope and timeline, and has since terminated all purchase agreements, refunding purchasers the full value of any deposits, along with accrued interest.
READ: Why Vancouver's Strata Office Phenomenon May Have Already Peaked
Capital Point Metrotown
The Capital Point Metrotown project was to be built on 4330 Kingsway, bound by Kingsway, Kathleen Avenue, Wilson Street, and Kemp Street -- a few blocks away from the Metropolis at Metrotown shopping centre and Metrotown Station.
The project would've seen the extensive renovation and redevelopment of the two longstanding office buildings on the site, which are known to Burnaby residents for their eye-catching golden sheen.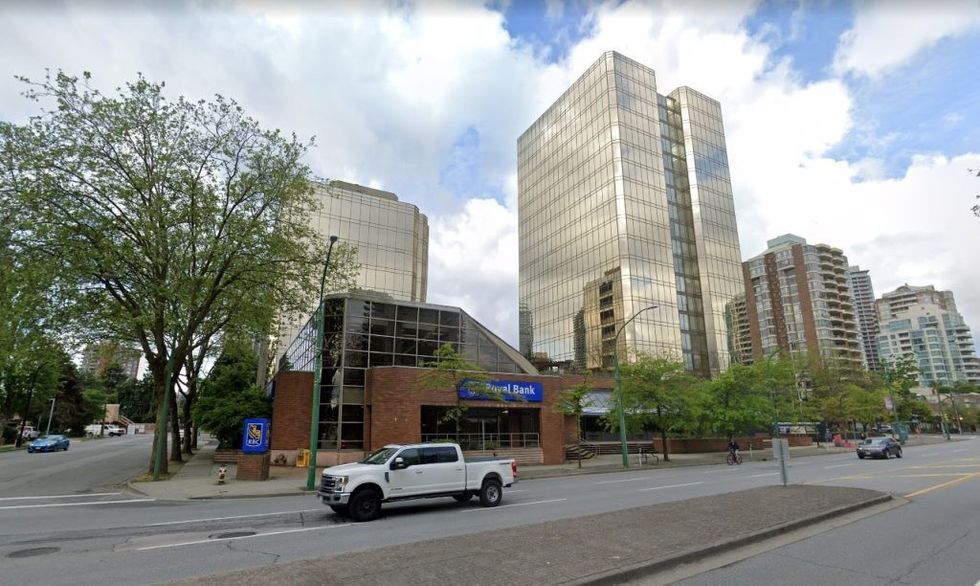 The existing office towers on 5945 Kathleen Avenue and 4330 Kingsway. (Google Maps, June 2022)
The two buildings -- one 19 storeys, the other 10 storeys -- were originally built in 1983 according to BC Assessment, and formerly housed Metro Vancouver before the federation of municipalities purchased the nearby Metrotower III office tower for $205M in 2015.
According to the City of Burnaby's rezoning report from 2020, the project would have involved the "re-cladding of the buildings, alterations to the site's public realm and landscaping, and an increase in floor area [by approximately 39,229 sq. ft] to improve the street presence of the building."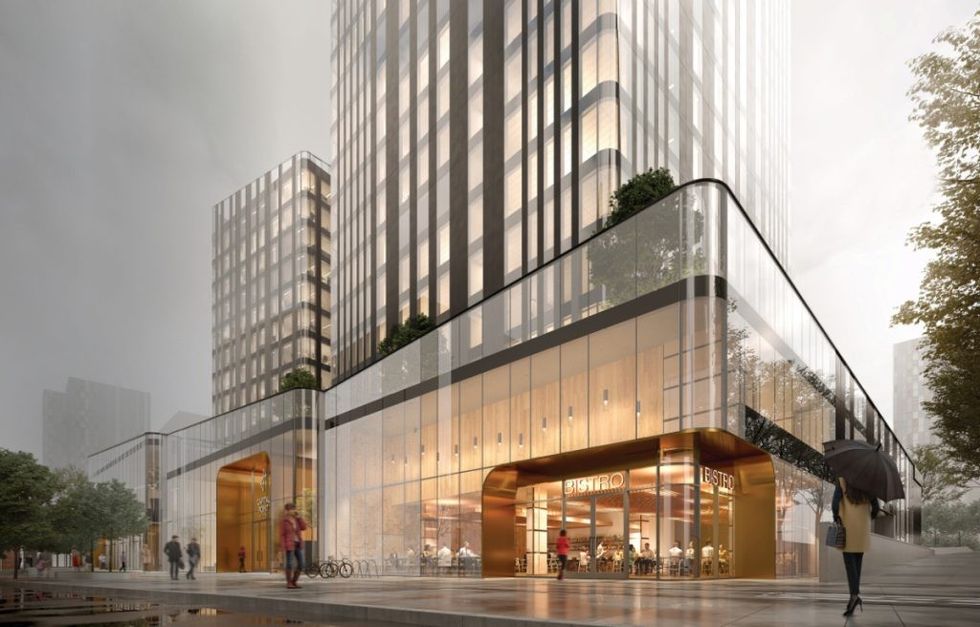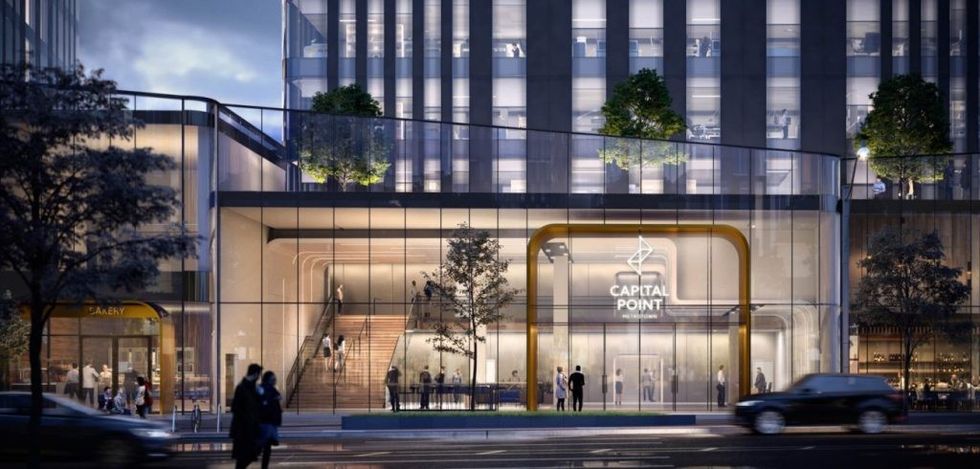 Renderings of what was envisioned Capital Point Metrotown on 4330 Kingsway in Burnaby. (Slate Asset Management)
Capital Point Metrotown would have included 284 strata office units across 220,000 sq. ft of office space in a Class-AAA building, as well as some commercial retail space. Building amenities would have included an 80-person auditorium, corporate welcome lounges, private conference rooms, as well as The Capital Club, which includes a fitness room, courtyard with outdoor kitchen and dining space, and end-of-trip facilities, according to the project website, which remains online.
"The building's sophisticated architecture and elevated interiors will change the city skyline and reset expectations of what office space can be," reads Slate's website, which still lists the project's originally scheduled completion date of 2023.
The Future of 4330 Kingsway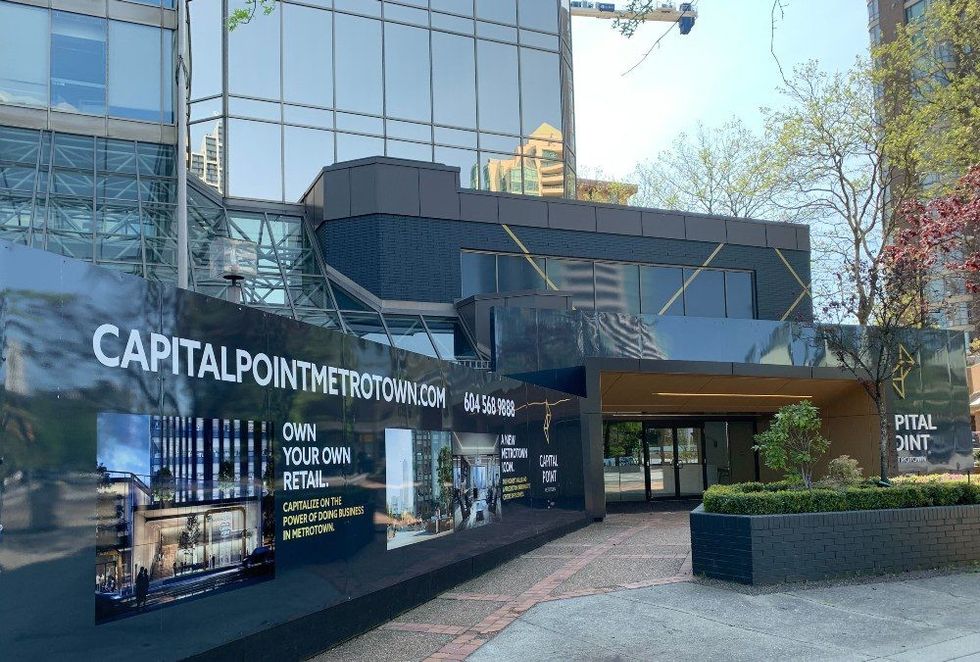 The Capital Point Metrotown site on 4330 Kingsway, as of mid-May. (Howard Chai / Storeys)
While Slate has cancelled the Capital Point Metrotown project, they still have plans for the site.
"We remain fully committed to working with the City of Burnaby and the local community to realize the potential of this great site in a way that best meets the demands of the Burnaby market today," Slate said. "We believe the best use for the site will include a mix of residential and commercial uses and will be proposing a new development strategy with an updated rezoning package later this year."
The possibility of "residential" would seem to hint at a potential office-to-residential conversion, also known as adaptive reuse, which has seen little-to-no discussion in British Columbia.
READ: Adapt or Die: Why Converting Offices Into Homes Hasn't Taken Off in Canada
Changing the use of the building to be primarily residential would fit well with its surroundings -- a hotbed of residential development by various big-name developers including a 52-storey residential skyscraper by Bosa Properties on 6031 Wilson Avenue, two residential towers by Polygon Homes on Olive Avenue, and a 59-storey mixed-use tower for the Esso gas station on 4444-4488 Kingsway, which Bosa Properties sold to Keltic Development in 2022.
Although not residential, the City of Burnaby recently announced its intentions to build a new City Hall building to replace the existing building constructed in 1955 near Deer Lake. No decisions have been made, but the City has said that it's envisioning the new City Hall to be in Metrotown.
Office