---
Redevelopment of the Metrotown area in Burnaby continues to unfold, with the neighbourhood as the focus of a new multi-building proposal by Vancouver-based developer Peterson Group.
The developer is proposing three new buildings reaching up to 49 storeys in height for 6645-6707 Dow Avenue, at the corner of Beresford Street. It's a prime location, parallel to Central Boulevard, across the street from the Metropolis at Metrotown shopping mall, and a five-minute walk away from the Expo Line SkyTrain's Metrotown Station.
According to a City of Burnaby report, an initial proposal was submitted back in April 2020 for 6645, 6659, 6675, and 6691 Dow Avenue. In October 2021, however, the applicant returned with a revised proposal to include 6707 Dow Avenue as well.
The previous proposal for the four sites was submitted by Matchpoint Development. It's unclear if Matchpoint is still involved in the project, but the latest proposal was submitted by Dow Beresford Development Limited Partnership and a representative from Peterson Group.
All five parcels of land are currently occupied by rental buildings, all below three storeys and constructed in the late-1950s and early-1960s, with a total of 112 units. All five parcels are identified for high-density multi-family residential under the City's Metrotown Downtown Plan.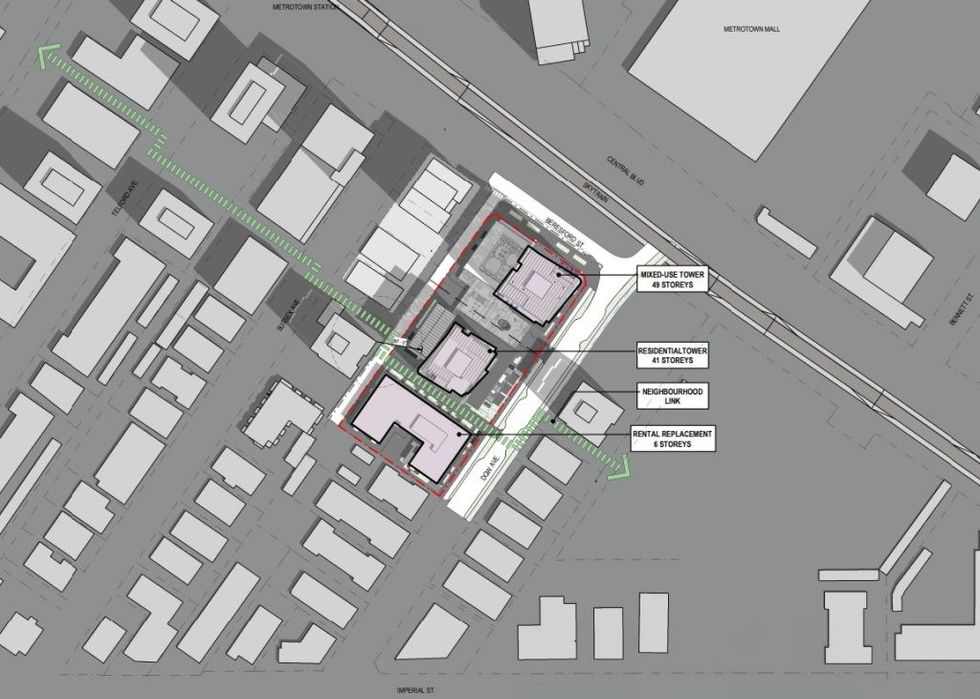 The subject site at the intersection of Dow Avenue and Beresford Street. (Boniface Oleksiuk Politano Architects / Peterson Group)
At the corner of Dow Avenue and Beresford Street would be a 49-storey tower with 413 strata condominium units, followed by a 41-storey tower with 354 strata condominium units, and then a six-storey rental building with 132 units, replacing the 112 existing rental units that would be lost from the redevelopment.
The 41-storey tower will also be fronted by three townhouse units, bringing the total number of residential units for the project to 902 and the total project density to a floor space ratio of 7.74.
The 41-storey tower will not have a commercial component, but will be connected -- via a third-floor outdoor amenity deck -- to the 49-storey tower, which will sit atop a nine-storey commercial podium with seven levels of office space and some retail space.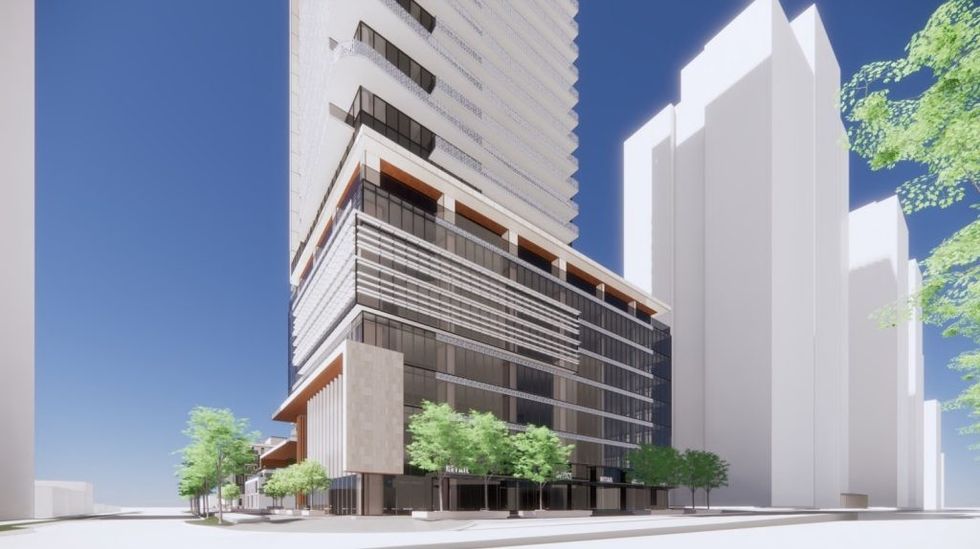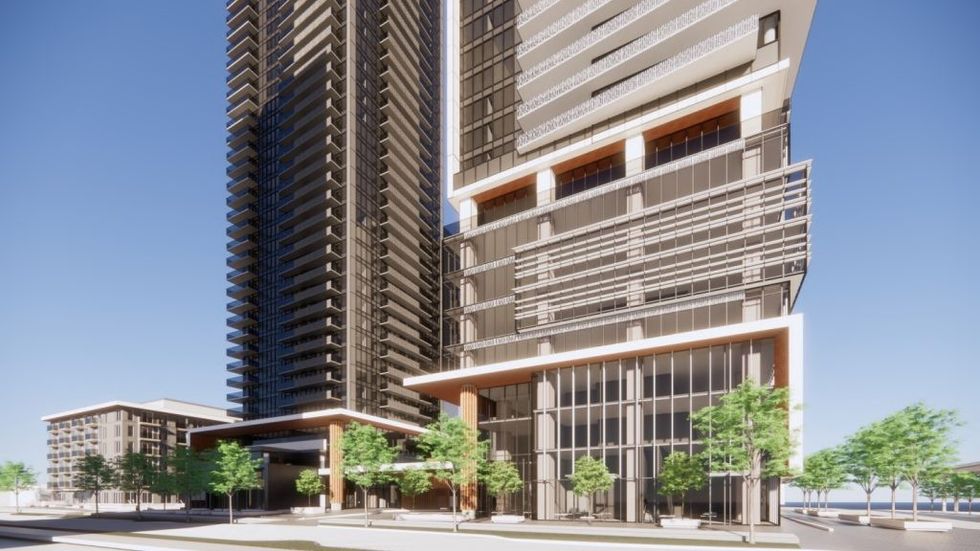 Views of the buildings from the Dow-Beresford intersection. (Boniface Oleksiuk Politano Architects / Peterson Group)
According to the City of Burnaby, however, the commercial podium is still subject to change, as Peterson Group is "proposing to maintain the flexibility to convert the proposed commercial office space in [the 49-storey building] to a hotel use at a later date," with the City noting that this is due to "uncertain market conditions."
Peterson has proposed a rezoning that would allow for the hotel use, and City staff say they are "supportive of the proposed hotel use as a secondary option to the commercial office use," due to the subject site's proximity to Metrotown Station. Fairly close by, on the other side of Metrotown Station, at Station Square, is an existing Holiday Inn Express.
According to the City of Burnaby, this area of Metrotown -- the Maywood sub-neighbourhood -- has been designated as the "residential heart of Metrotown" and the area has been, and continues to be, the focus of numerous high-density multi-family redevelopment projects, such as the Sun Towers on Beresford Street. This area is also in close proximity to the potential locations of Burnaby's new City Hall.
"Development along Beresford Street is intended to include locally oriented commercial uses which help to generate pedestrian activity and provide opportunities for people to live, gather, socialize, and celebrate," says the City. "The Metrotown Plan indicates that mixed-use developments at the northern extent of the neighbourhood are intended to accommodate elegant residential buildings supported by commercial podiums fronting Beresford and wrapping the flanking street."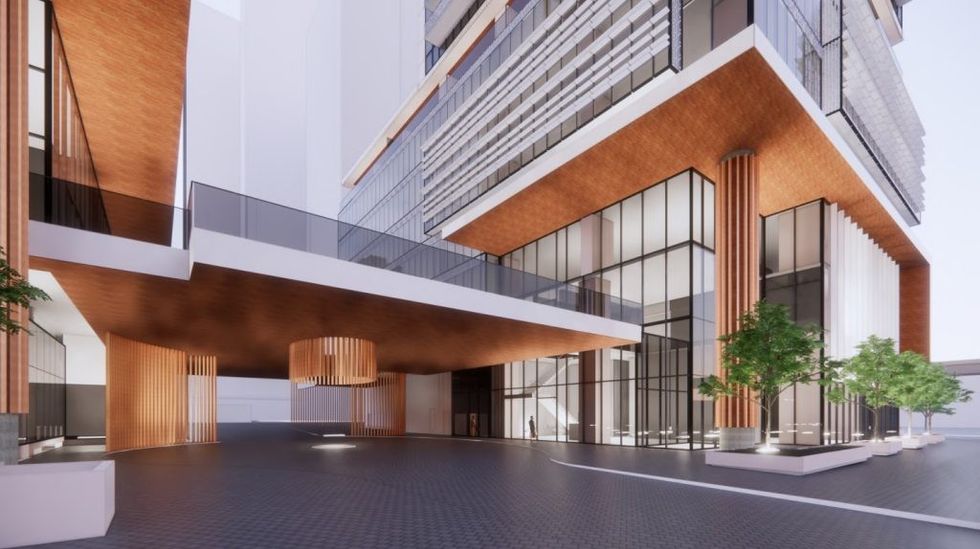 The link between the two high-rise buildings. (Boniface Oleksiuk Politano Architects / Peterson Group)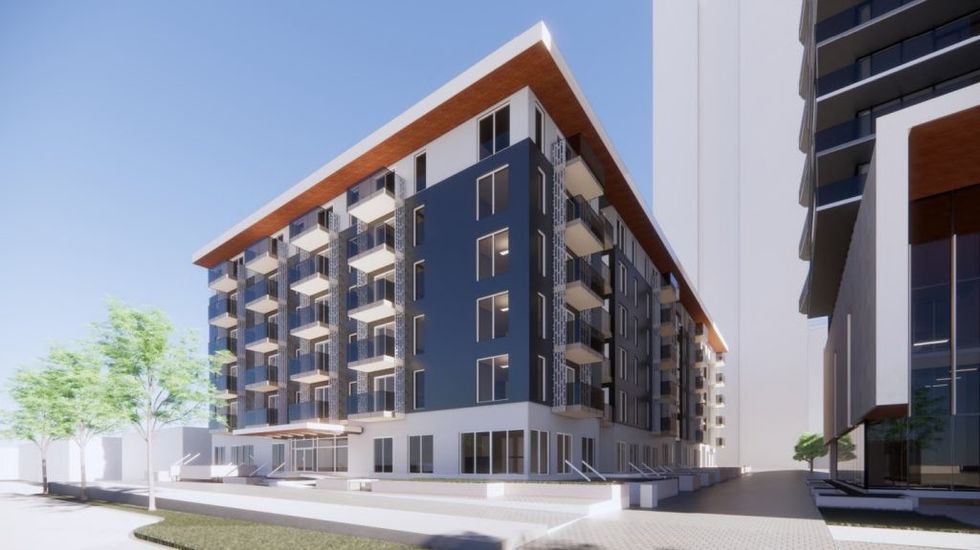 The six-storey rental building. (Boniface Oleksiuk Politano Architects / Peterson Group)
Amenities for the strata buildings are expected to include multiple outdoor decks, a pool, fitness centre, sauna, children's play area, and sky lounge, while the rental building is expected to have a package room, fitness room, lounge space, barbeque area, courtyard, and community garden plots.
All in all, the City says that Peterson Group's proposal for Dow Avenue "includes a diversity of housing forms and tenures in order to accommodate a range of incomes and age cohorts, as well as a generous amenity package including a variety of leisure and recreation spaces for each residential tenure."
READ: Peterson Proposing 14-Tower Master Plan "Burnaby Lake Village"
All three buildings will share a single underground parkade, with 993 vehicle stalls for residents and 248 vehicle stalls for the commercial component of the project. Over 2,000 bicycle stalls will also be included, and each building is expected to have bicycle support facilities.
After receiving the proposal earlier this month, the City of Burnaby has forwarded this project to a public hearing, which is currently scheduled for Tuesday, June 27.
Future Developments