Considering that over 14 million Canadians have already been approved for Canada's Emergency Response Benefit (CERB), it shouldn't come as a surprise that many homeowners are struggling to cover their mortgages.
In fact, the Canada Mortgage and Housing Corporation (CMHC), the country's national housing agency, estimates over a tenth of insured mortgages are now on payment deferrals as a result of the COVID crisis. What's more, the agency said it expects this percentage could increase to 20% in the coming months.
---
READ: CMHC Now Forecasting Up to 18% Drop in Average House Prices as "Deferral Cliff" Looms
Currently, CMHC estimates that 12% of mortgage holders have chosen to defer payments so far, and on a provincial level, Quebec has the highest ratio of mortgage payment deferrals, while Alberta and Ontario also lead the country, according to the CMHC.
Quebec currently represents the largest segment, accounting for 27%, Alberta trails in second with 26%, while Ontario comes in third with 21% (or just over one in five) of the mortgages on deferred payment plans.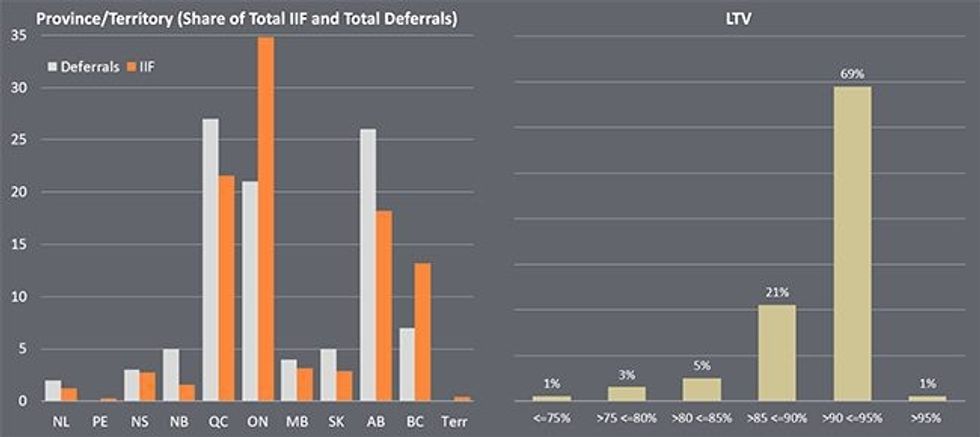 CMHC
However, the trend of mortgage deferrals won't be ending any time soon, with the CMHC predicting that the current 12% of mortgage holders that have elected to defer their payments so far could increase to 20% by September of this year.
For those looking for assistance, the CMHC says it's coordinating with private mortgage insurers to offer Canadians temporary deferrals of mortgage payments for up to six months.
The CMHC says it now has a team helping to manage the growing debt "deferral cliff" that looms in the fall when some unemployed Canadians will need to start paying their mortgages again.
"As much as one-fifth of all mortgages could be in arrears if our economy has not recovered sufficiently," says CMHC.
Mortgages