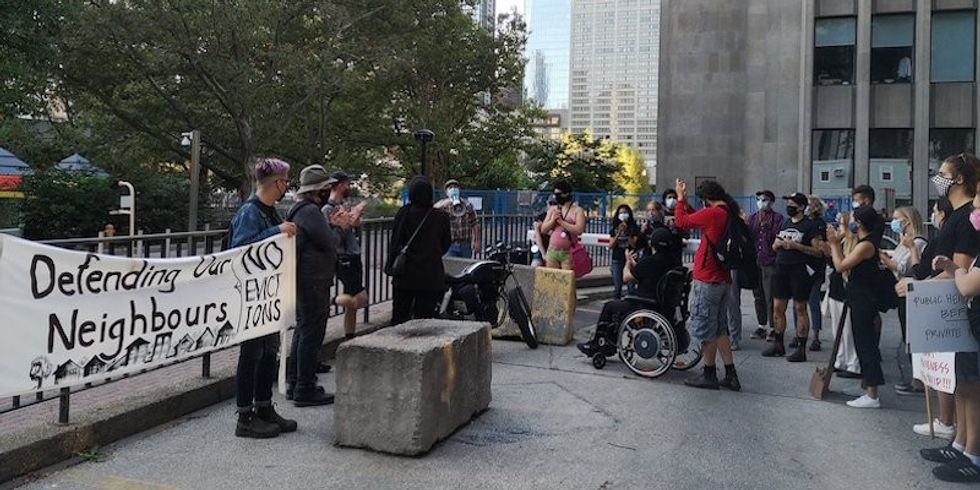 Photo courtesy of Linh Do via Flickr.
Ontario landlords may soon find it a lot easier to evict tenants if Doug Ford's conservative government gets its way.
---
According to The Star, the PC party is considering making changes to eviction regulations including "shorten[ing] the waiting period for eviction orders from 11 days to six days."
The new plan would also allow landlords to hire private bailiffs to remove evicted tenants from the rental property. Currently, landlords must wait for government-appointed officials to remove renters and their belongings. Under the Bailiffs Act, government-appointed bailiffs cannot use force while evicting people or repossessing items.
Internal documents from the Conservative party indicate that the Ford administration is considering this new strategy "to streamline the process" and ultimately boost rental supply.
How this would increase housing supply remains to be revealed. A fact city councillor Mike Layton was quick to point out on Twitter.
In anticipation of public criticism, the government's internal documents attempt to cajole renters by stating that "tenant protections are at the forefront of any changes we consider."
The document also states that "tenant organizations would support the current notice provisions as it allows tenants time to pay rent without starting the eviction process."
In addition to reviewing eviction regulation, the government is also reportedly "studying additional changes to the Landlord and Tenant Board."
According to Municipal Affairs and Housing Minister Steve Clark's office, details regarding Ontario's action plan for increasing affordable housing will be revealed this spring.
Renting