---
As part of Ontario's goal of building 1.5 million new homes by 2031, the provincial government has assigned housing targets to 29 of the largest and fastest-growing municipalities.
These 10-year targets, which range from 8,000 new homes in Niagara Falls to 285,000 in Toronto, are based on each city's current population, as well the growth trend observed from 2011 to 2021. All together, these 29 locales will account for 1,229,0000 of Ontario's total 1.5M goal.
Every month, the Canada Mortgage and Housing Corporation releases municipal-level data on housing starts, completions, and units under construction. Dr. Mike Moffatt, an economist and Assistant Professor at Ivey Business School, compiled CMHC's most recent data, for May 2023, and compared it to Ontario's targets.
Moffatt's data presents each city's monthly goal, the number of housing starts it accomplished, and the number of completions it recorded. Both figures are also shown as a percentage of the monthly target.
READ: "Wartime-Scale Effort" Needed As Several Ontario Cities Already Behind On Housing Goals
While some municipalities exceeded expectations, the majority received a failing grade.
Of the 29 cities with provincially imposed targets, only two actually met their monthly goal in terms of housing starts, and another two met their monthly goal in terms of completions.
At 132%, Brantford had the highest percentage of housing starts in May. The city's monthly target was 83 units, but it got shovels in the ground on 110. It only recorded 62 completions, though, accounting for 74% of its monthly target.
Although Toronto trailed slightly behind at 124%, the city had a far higher number of housing starts, at 2,936 -- the most in the province in May. Toronto's monthly completions target was 2,375 units, of which it saw 1,247, or 53% of its goal.
Cambridge was the only city to surpass 75% both in terms of housing starts and completions. With a goal of 158 units, the city saw 120 starts (76%) and 171 completions (108%).
Kitchener had the best performance regarding completions, at 203% (592 units), but reported just 83 starts, or 28% of its 292 unit goal for the month.
While several cities made considerable progress in May, housing starts were below 50% of the monthly target in 23 municipalities, 15 of which were below 22%. Housing completions were below 50% of the target in 13 cities, four of which were below 10%.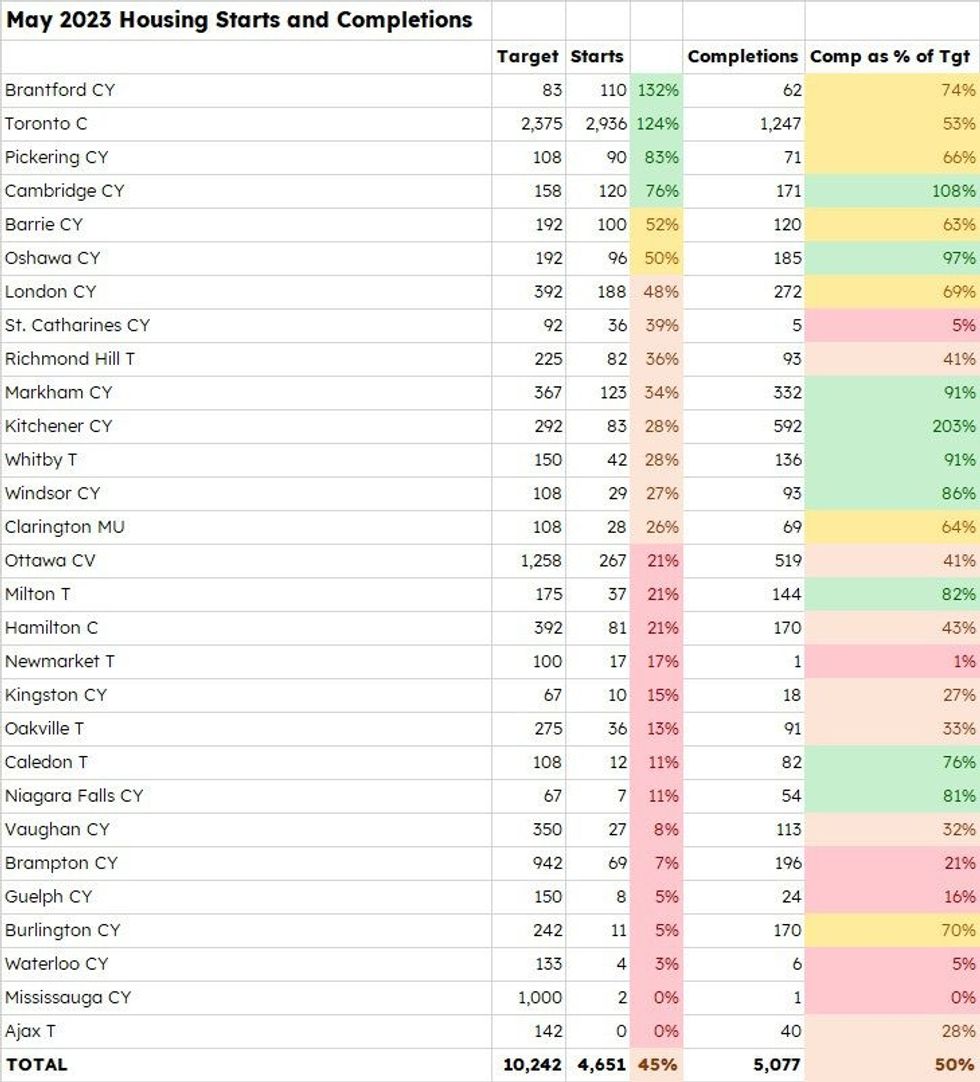 Canada Mortgage Housing Corporation, Dr. Mike Moffatt
Ajax, which had a target of 142 units in May, had zero starts and only 40 completions (28%). Mississauga had a 1,000 unit goal for the month, but accomplished two starts and one completion, making 0% progress towards its target.
Although it had a monthly goal of 133 units, Waterloo managed just four starts (3%) and six completions (5%) in May.
Caledon and Niagara Falls both performed well in terms of completions; the former reported 82 completions -- 76% of its monthly goal -- while the latter saw 54 completions, or 81% of its target. But in terms of housing starts, they both managed just 11%.
While each city's individual target plays a role in how well it performed, Moffatt points to several other factors of influence.
"Places like Brantford have more area to expand into, they have more green field than other cities to build on," Moffatt told STOREYS. "But a lot of it is also policy.
"If you compare the City of Toronto -- which is actually doing relatively well on its targets -- to other large cities, they are significantly lagging behind. And I think a lot of that is policy and zoning. Toronto had made a lot of changes, like allowing for multiplexes and allocating more space to condos and apartments. Policy-wise, they are more progressive than cities in the 905, like Mississauga, which are lagging."
Victoria Podbielski, Press Secretary for Municipal Affairs and Housing Minister Steve Clark, told STOREYS the Province would ensure municipalities had the necessary tools to meet their housing targets, but that all levels of government must work together to realize their shared goal of 1.5 million new homes by 2031.
"Ontario's housing supply crisis has been decades in the making, and industry leaders have been clear – without bold and decisive action now, demand will continue to outpace supply and Ontarians will continue to be priced out of the housing market," Podbielski told STOREYS.
Overall, Ontario had a target of 10,242 units in May. The province reported 4,651 housing starts and 5,077 completions -- accounting for 45% and 50% of its monthly goal, respectively.
Real Estate News