---
As another Remembrance Day passes, the sad reality is that we have as many as 5,000 veterans who are homeless and living on the streets throughout Canada.
But the Homes for Heroes Foundation is hoping to change that by providing veterans with housing, resources, and training to transition back into civilian life. 
On the housing front, tiny houses -- an ever-popular phenomenon of recent years -- are front and centre to create meaningful change for Canada's veterans.
In Ontario, the provincial government is working with Homes for Heroes and the City of Kingston for the development of village of tiny houses in Kingston for homeless veterans. The village comes with a price tag of close to $2M. 
Set for completion during the next year, the village of tiny houses will sit on a 0.6-hectare parcel of the provincial campus near the intersection of King St. W. and Portsmouth Ave. It will mark the first veterans' village of its kind in Ontario and is Kingston's first tiny house development.
The development will house up to 25 veterans in homes constructed from perfricated modular housing. Providing a transitional home for each veteran, the self-contained 300-square-foot units will feature a kitchen, living room, bathroom, and sleeping area. According to Homes for Heroes, all units will be arranged in a park-like setting and face inward to facilitate interaction and peer-to-peer support. 
Furthermore, each village will incorporate a central resource centre, counselling office, community garden, and other amenities. 
"Together with Veterans Affairs Canada, our team of service providers implement specialized social, physical, emotional and employment support to integrate veterans-in-need back into their communities," reads the Homes for Heroes website. While the foundation acknowledges that it may take many months or even years, the idea is that residency in the village will be temporary, with the goal of having each veteran leave and re-enter mainstream society employed, stable and self-sufficient.
While the Kingston tiny homes project is to be the first in Ontario for the Homes for Heroes Foundation, two other villages are currently underway in Edmonton and Calgary.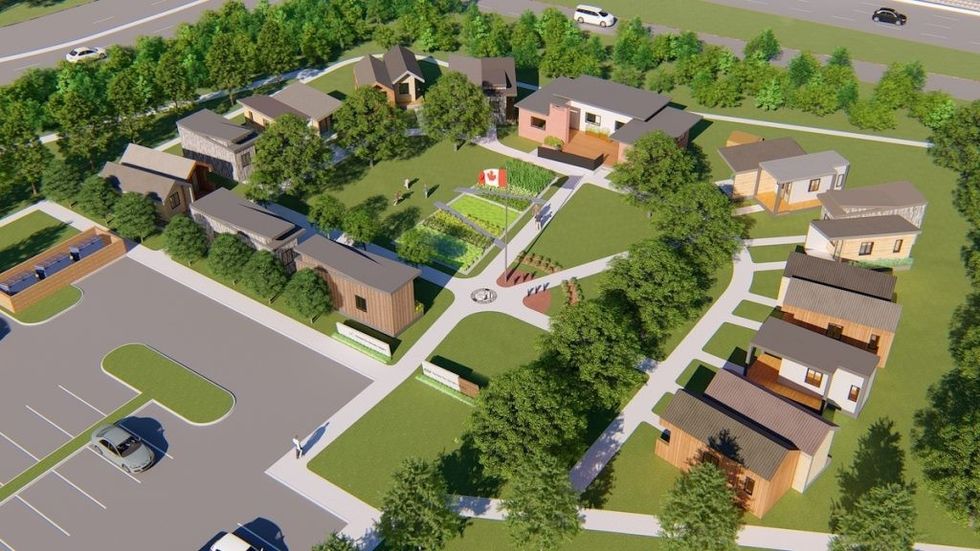 Homes for Heroes' Upcoming Kingston community
Minister of municipal affairs and housing minister Steve Clark recently turned to the much-used ministerial zoning order to fast-track planning of the important development. Of course, Kingston's affordable housing shortage -- and resulting homeless crisis -- is not unique. Homelessness has only gotten worse in cities across the country since the onset of the pandemic.
Hopefully, the small spaces will have a big impact and we will see more Homes for Heroes villages materialize throughout Canada, especially in hard-hit communities (Toronto, we're looking at you). 
Affordable Housing