---
Amid yesterday's frigid November weather and post-weekend gloom, Toronto-based condominium developer Camrost Felcorp unveiled a shiny new public sculpture in front of the prestigious Yorkville Private Estates.
Bronze, eight feet tall, and valued at "well over" $750,000, Figure Catching a Fly (2019) will be a permanent fixture of the Estates, animating a public parkette on Avenue Road, between Yorkville Avenue and Cumberland Avenue -- not to mention the monotonous grey concrete that's all too hallmark of downtown Toronto.
According to a news release, the installation, created by internationally-acclaimed Montreal-born artist David Altmejd, will serve to "anchor the public space in front of the new residential building" and "help define a neighbourhood renowned for its influence on the city's arts and cultural scene."
"Altmejd's bronze statue, standing more than eight feet in height, fancifully updates the traditional bronze figurative monument," the release goes on to say. "Clad in billowing, flowing robes, the sculpture's striding female figure arrives like a deity, simultaneously gesturing downward to earth and skyward triumphantly. With arresting appeal, Almejd's animated bronze figure conjures the history of the Yorkville neighbourhood that in the 1960s became Toronto's epicenter of fashion, fine art, and nightlife, signalling the city's sophistication and cultural aspirations."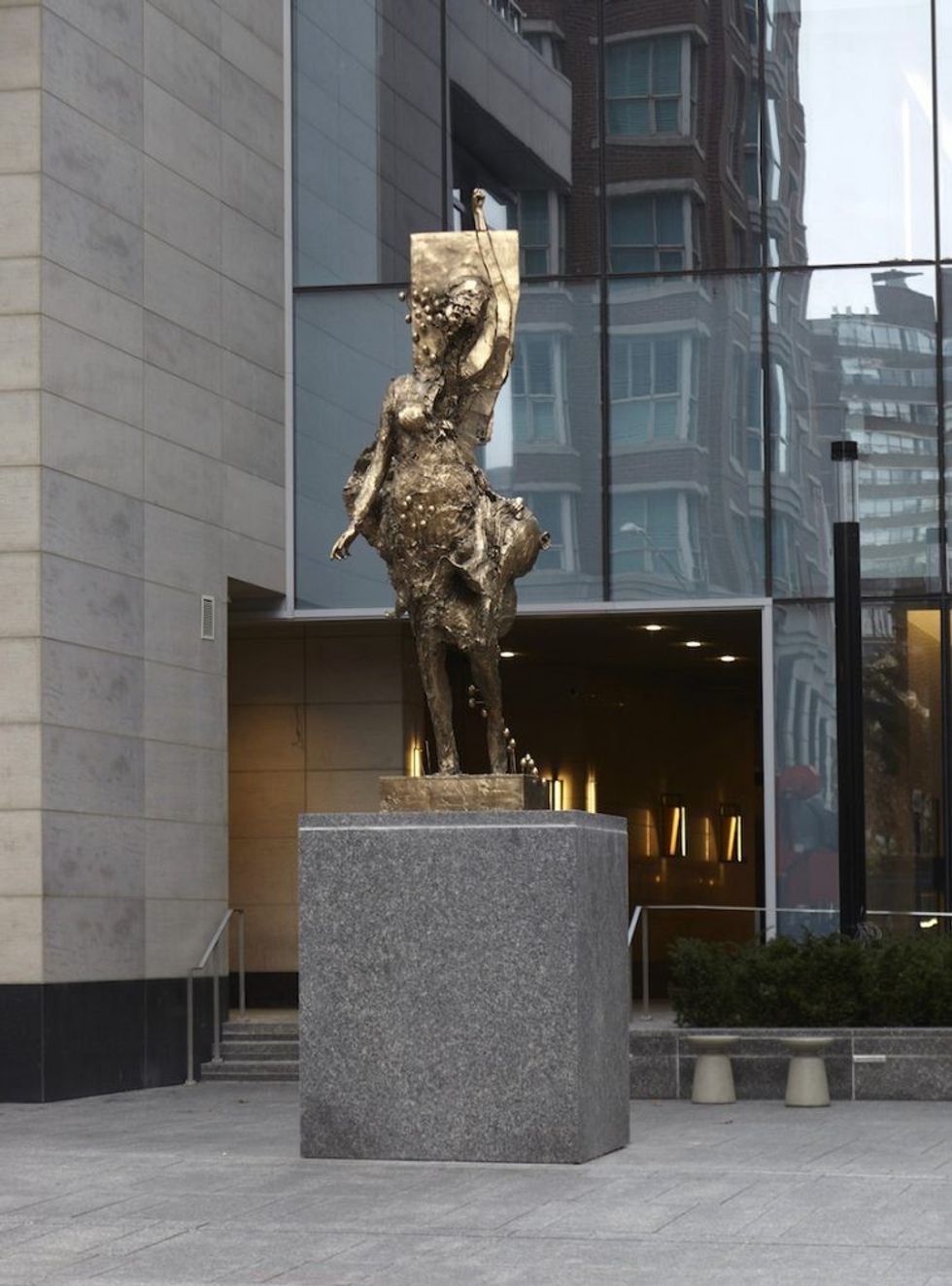 Camrost Felcorp
In keeping with their long-standing commitment to public art, Camrost Felcorp commissioned the sculpture from Altmejd in 2017. Altmejd, known to be one of the leading figurative artists of his generation, completed an MFA at Columbia University and participated in the 2004 Whitney Biennale, thereafter rising to prominence. He also represented Canada at the Venice Biennale in 2007, where he presented The Index -- a monumental installation that was later acquired by the Art Gallery of Ontario.
Altmejd's sculpture for Camrost Felcorp is representative of his unique artistic style; the Los Angeles-based sculpter is internationally recognized for blending surreal and classical bodily attributes in his work.
Representatives of Camrost Felcorp will hold an official unveiling ceremony featuring Altmejd in the coming months.
Toronto