I spend most weekends driving around Toronto looking for a reasonably priced, beautiful new home. Typically, I spend the remainder of the week amazed at my naïveté.
Reasonably priced, beautiful new homes are not in great supply in these parts.
---
So imagine my surprise last Saturday when I saw a number of such builds, available for purchase in the tony Mount Pleasant and Eglinton area. Beautifully appointed Tudor and Victorian houses nestled up to low-rise apartments.
They looked like they were designed in Seville.
Each place was unique, but all had roomy living and dining room spaces that gave way to light-filled bedrooms with exquisite detailing and custom finishings.
A buyer's dream. Especially for the buyer who seems to always come up short …
Here are some highlights:

In a stately, centre hall design house, this main room boasts intricate inlaid floors, stained-glass windows and coffered, overlaid ceilings.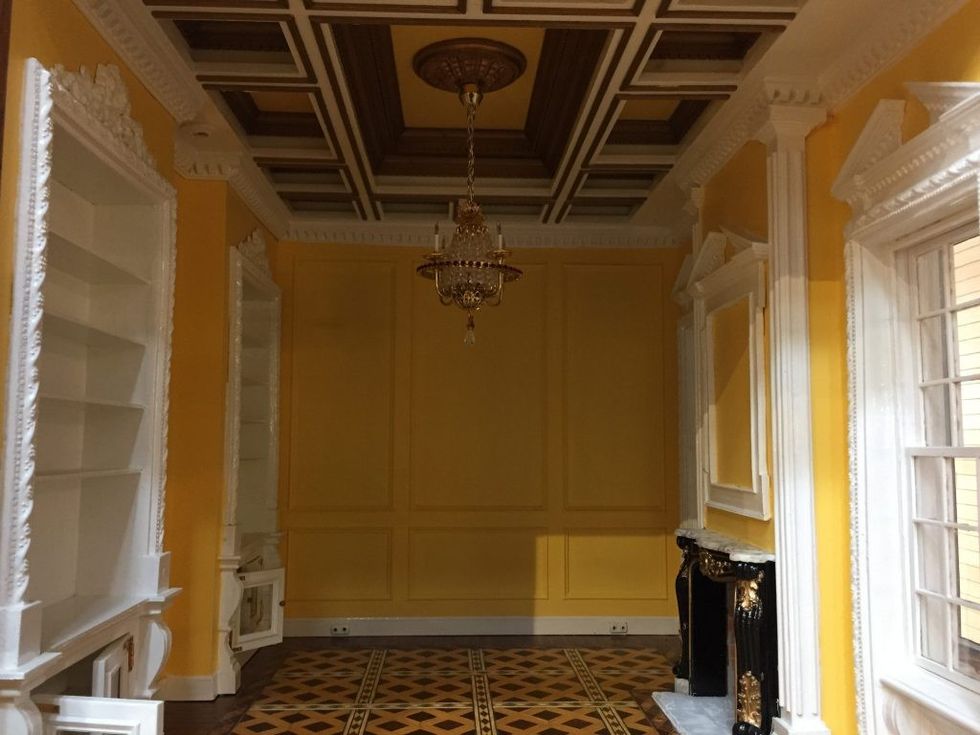 A decorator's dream house at 612 Mt. Pleasant, includes stunning spaces like this sitting room, replete with marble built-ins, ornate fireplace and bespoke chandelier.

This old-word charmer of a build features hand-wrought stone and latticework, with fully furnished apartments offering unparallelled views.

A bedroom in this Tudor cottage-style house had a number of distinctive touches, including locally-sourced wood, quaint wallpaper and a giant-sized Ziploc bag.
These are just a few of the inspired home designs from The Little Dollhouse Company, in the Mount Pleasant and Eglinton area.
With 5000 feet of showroom and workshop space, The Little Dollhouse Company is one of the largest and longest standing dollhouse stores in the world.
From the 85 stunning dollhouses on display to the remarkable supply of miniaturist accessories and building kits, TLDC is a one-stop-shop for enthusiasts and first-timers alike.
"A dollhouse is not just of interest to young people, but to the young-of-heart," says owner Maria Fowler.
"It's a model of our life — in miniature. But our houses are not just recreations of modern life. We also build to honour the past, and many of our customers are drawn to us for nostalgic reasons — recognizing pieces of furniture or decor from their own childhood homes."
There really is no end to the variety and magnificent detail in what can be found at The Little Dollhouse Company.
From miniature patio furnishings to doilies and breakfast items, the work is museum quality and much of it done in-house by Fowler's gifted husband John. The shop has made its reputation on an extensive supply, but it further distinguishes itself by being able to build to specification.
"My husband and I used to be in the computer support business, and the customers were always unhappy for some reason or another. But this ... This is a totally happy business. Everybody has time when they come here," says Fowler.
"You don't need this stuff — you buy it because it makes you happy!"
For those of us unhappy with what we see in the housing market, the Little Dollhouse Company provides a welcome respite and a chance to build and enjoy the house of our dreams.
Toronto Condos & Homes