"One of the best things we ever did was buy when we thought things were unaffordable," says Jessica Moorhouse of her first home purchase. 
---
"If you're consumed by the doom and gloom headlines about the impossibility of buying real estate, you'll be too scared to even try."
The Toronto-based money expert, speaker, and accredited financial counsellor and her husband recently sold their two-bedroom Bloordale Village stacked townhome and purchased a detached house across town, off the Danforth. Homeownership was always a goal for the 30-something couple, who are originally from Vancouver. They purchased the west end townhouse in the summer of 2016 for $462,500, after revisiting the home-hunting world following an unsuccessful search in 2014. 
"For me, part of it was that I had just tuned 30 and was having a bit of a life crisis," says Moorhouse. "I was still working my corporate job in marketing at a big law firm downtown and -- like most millennials -- I had all these expectations about how I thought my life should look by 30. But, then I turned 30 and nothing had really remarkably changed." 
As Moorhouse acknowledges, her story isn't unique. It's been ingrained into society for decades that the ultimate "Canadian Dream" involves owning a home (however, 40+ seems to be the new 30 in terms of realistic timelines these days).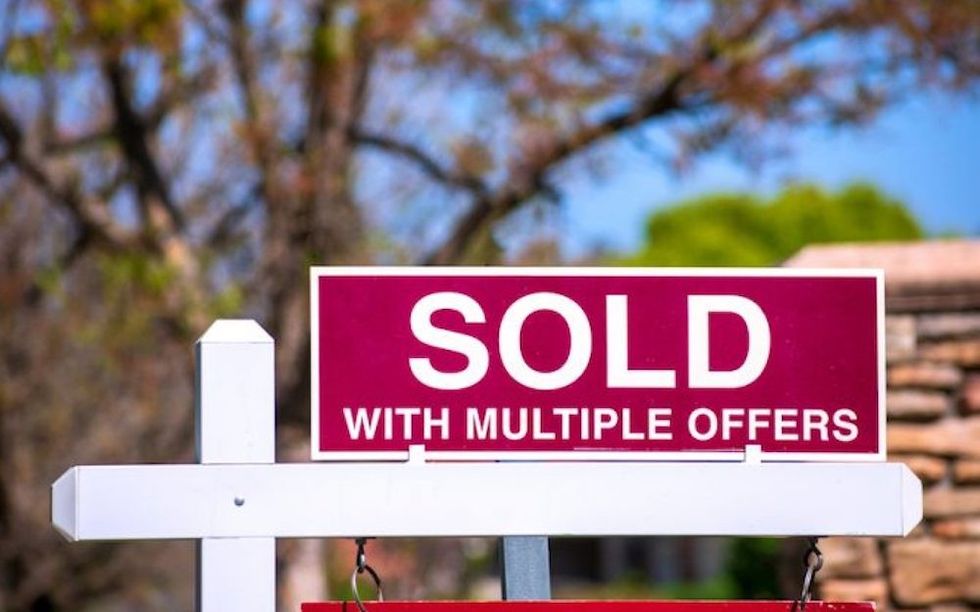 "When we look at life checkmarks, homeownership has always been a big goal," says Moorhouse. "Especially as someone who started writing about personal finances -- first as a blog -- back in 2011. I had been writing about home ownership for so long, and I thought, 'well, I don't even own a home and I talk about this all the time.'"
What's not lost on Moorhouse, however, is the frustrating reality that record-breaking home prices have rendered homeownership increasingly out of the question for many of today's 30-somethings -- whether they're affected by the daunting headlines or not. In fact, more than one-third of Canadians under the age of 40 had already given up on the dream of homeownership the last time we checked.
But -- before any judgement is passed or assumptions made -- let it be known that Moorhouse spent her 20s (when many of us were partying) always working multiple jobs in attempt to accumulate savings for her first home. 
"I have always had a side job because I've always been into personal finance," says Moorhouse. "For three years in Vancouver, I worked for a newspaper in sales and marketing and the pay wasn't exceptionally high. So, I had to have a second job and worked as a teleprompter operator for a news station on the evenings and weekends." Even at her high-paying corporate job in Toronto, Moorhouse worked on the side as a freelance writer and content creator.
While home prices across the country remain incredibly out of whack with income levels, the reality is that there's still no shortage of homebuyers in their 30s in Canada. For some millennials -- those who banked enough cash for a down payment (perhaps while living with the parents throughout their 20s), those who earn top-level salaries, and those who receive generous down payment gifts from family -- the prospect of homeownership in their 30s is indeed a reality.
But that doesn't mean it's not a daunting one. 
Find the Right Mortgage Professional
"I did so much research to ensure we didn't make any mistakes," says Moorhouse of her first home purchase. "What I felt -- and so do many first-time homeowners -- is that the biggest hurdle or struggle is the anxiety that you'll make a mistake. It is ultimately the biggest purchase of your life; it seems like the scariest thing ever." 
Between finding a right fit in a mortgage professional, the best mortgage terms, and a home actually within budget (the trickiest part for many), there are a variety of factors to consider. 
"A lot of first-time homebuyers aren't armed with enough proper information," says Moorhouse. "It seems really daunting and a lot of people don't talk about the money parts and the mortgage parts -- the really important parts. Everyone likes to focus on the homebuying."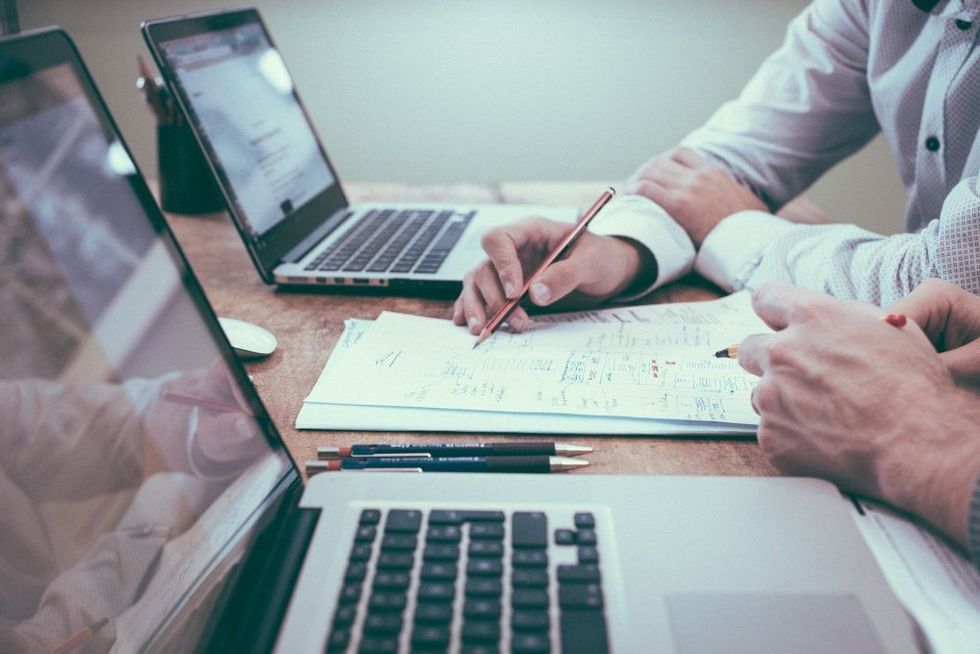 The two most important things are the right mindset and the right home-buying team, says Moorhouse. "First and foremost, this doesn't mean finding the right realtor off the bat; it's about finding the right mortgage professional to provide the information that so many of us need," she says.  
According to Moorhouse, a lot of first-time homebuyers think the only places to get mortgages are the big financial institutions that their parents recommend. "I see that a lot," she says. "It's really important to know your options, and that may mean a different lender than your day-to-day bank. I have never had the same lender as my bank. The reason is better service. I'm a big fan of credit unions for best customer service and the best rates. Some people don't even know that credit unions exist. I recommend shopping around."
Although there are some efficient mortgage calculators out there, it's important to work with someone that you trust and who will tell you what you can actually afford -- including costs that many people may forget about, like closing costs and land transfer costs. "It's about really running the numbers by someone who is in tune with the market but also listens and understands you," says Moorhouse. 
The couple used the same mortgage broker the second time around. "He really fit the bill when it came to listening to us, being transparent, and going through various scenarios, and never tried to push us to a bigger mortgage than we'd feel comfortable with," says Moorhouse. "With how expensive things now are, having someone like that on your team is really important."
When you find good people, it's important to keep them in the picture long-term, stresses Moorhouse. "What's been great is that we've touched base with our mortgage professional every few years to check-in and reassess our situation," says Moorhouse. "Six months before we were going to renew our mortgage term, we consulted with him to determine the best path moving forward in terms of the best lenders and interest rates."
Going through the process a second time five years later -- though it was their first time selling a property -- was easier and less stressful (despite the red-hot market), says Moorhouse. Of course that's not to say it's a stress-free experience, she says, especially with so many moving parts involved.
The couple purchased their new East York home for a figure between $1.2 and $1.4M and take possession in early January 2022. It's a home they plan on living in for the long-term.
Your First Purchase Doesn't Have to Be Your "Forever Home"
Pointing to a recent survey by credit union Alterna Savings that found that more than half of respondents felt that a lack of affordable options was their single biggest hurdle as a first-time homebuyer, Moorhouse advises first-time buyers not to necessarily focus on finding that perfect forever home. "As expensive as things are, the market shouldn't deter you from trying to own. Maybe this means shifting expectations the first time around like we did," she says. For some, this could mean a one-bedroom condo as opposed to a single-family home.
"The first time around, we felt pressure to buy a house even though we weren't necessarily financially comfortable with the prices at the time and our income levels," admits Moorhouse. "So, I'm glad we got a smaller, less expensive home. Even though a detached home would have been worth so much more now, you need to stick to what you're comfortable with and your own values and goals." 
The key, says Moorhouse, is to be sure you're ok with living in a home for at least five years in order to get a positive return on your investment. After five years, the couple's townhome sold for $840,000 -- a difference of $377,500. 
"Usually at that five-year period, your life needs and wants change and it calls for a re-evaluation of living spaces," says Moorhouse. In the five years since her first home purchase, Moorhouse has left her corporate job, become a successful entrepreneur, and seen her income increase dramatically. Her husband saw his career in the music industry follow the same path.
"We have a different affordability now," she says. "That came into play in looking for houses and dealing with the crazy market of bidding wars." 
It was also a factor on the mortgage front. The first time, said Moorhouse, she went with a fixed-rate mortgage out of fear. "This time around, people were saying the same thing -- that interest rates were going to go up -- but we worked through various scenarios with our mortgage professional and decided to go variable for our second home," she says. 
In addition to having more financial freedom, Moorhouse's departure from her corporate job meant that it was no longer essential to be located close to transit and to the downtown core. With both she and her husband working from home, they craved more space -- perhaps on a quieter street. "Another reason for moving to the east end is what you can get for your money," she says of their new home.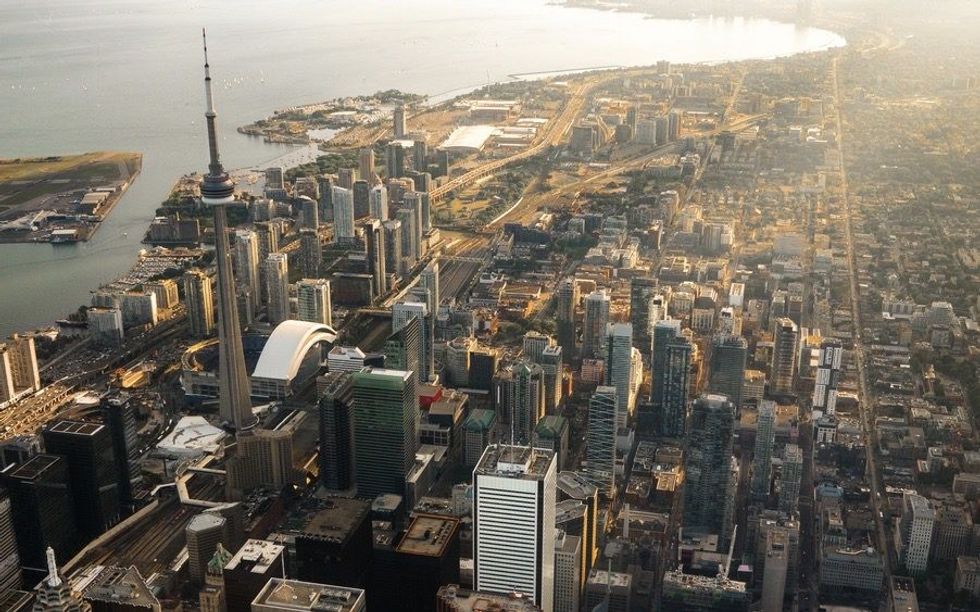 Aerial view of Toronto city
A positive for many discouraged home-seekers is that we live at a time when it's never been easier to pursue that side hustle -- especially now that it's possible to work from anywhere in many industries. "There's never been a better time to find a source of income," says Moorhouse. "It's incredible the opportunities you can find online."
Admittedly, even with a side gig, saving enough for a down payment in today's market won't happen overnight -- something we're reminded of with each new housing stat or study. "I used to get affected by the narrative and the doom and gloom headlines, repeatedly telling myself it was impossible to buy a home," admits Moorhouse.
But -- if you take a page from Moorhouse's book (or blog) -- it's about finding solutions, not complaining about lack of affordability.
"People have been talking about the unaffordability of housing in cities like Toronto and Vancouver for as long as I have been an adult," says Moorhouse. "For the past 15 years, that's all I've heard. And they keep going up. People are always predicting a housing crash, but we have yet to see that. Not to say that won't happen in the future."
But even if real estate is in a bubble and that bubble burst, Moorhouse has no regrets about her new home. "That's always my fear -- buying this big expensive house, then the bubble bursts and the value goes down -- but I don't care, because we're going to be in this house for as long as we're in the city. It's a long-term thing."
Real Estate News