Toronto
Real Estate News
After Years of Saving, My Partner and I Are No Closer to Being First-Time Home Buyers
We've all seen it. The Instagram post, innocuous enough at first glance, prominently featuring a front porch or perhaps a bundle of keys dangling from an open front door. Which is weird, because you don't follow any home design accounts (or janitors, for that matter).
Oh, boy. It can't be — alas, it is. Yet another new homeowner is blowing up your feed.
#FirstTimeBuyers #GotTheKeys #PoppingChampagne #ThisOnesAFixerUpper screams the overexcited caption, before a slew of loved ones congratulate them in the comments section. "Can't wait for a visit," informs an impatient aunt. "So well deserved!," beams a bestie.
My comment, if I dared to post it, would simply say, "SERIOUSLY?!" or perhaps more incredulously, "How on earth did you afford that?" (give or take a string of expletives).
READ: Saving to Buy a Home in Toronto Has Officially Become a Life Sentence
It's not that I'm not happy for people. I am (mostly). It's just that, several years into saving, I'm starting to lose patience. And, as frustrating as it is to see yet another of your peers get a foothold on the property ladder, they're not the enemy — Toronto's housing market is.
According to a Housing Affordability Report report released earlier this year, you would need an annual household income of at least $178,499 to be able to afford a "representative home" in Toronto. Let's rewind. We're not talking about the Bridal Path, here. These are first-time, starter homes that would, in all likelihood, need a good deal of TLC, an injection of yet more dollars and involve Googling things like 'How do you replace an electrical outlet?' (and subsequently 'How many electrical shocks is TOO many electric shocks?').
My husband and I — while not exactly CEOs or oil tycoons — find ourselves in a comfortable position financially. Sure, we're parents to a puppy with a terribly banal appetite for bones, but our incomes are largely disposable and we're pretty responsible with the way we spend our cash. And yet, after several years of saving, we still find ourselves living and working on top of each other in our rented downtown apartment.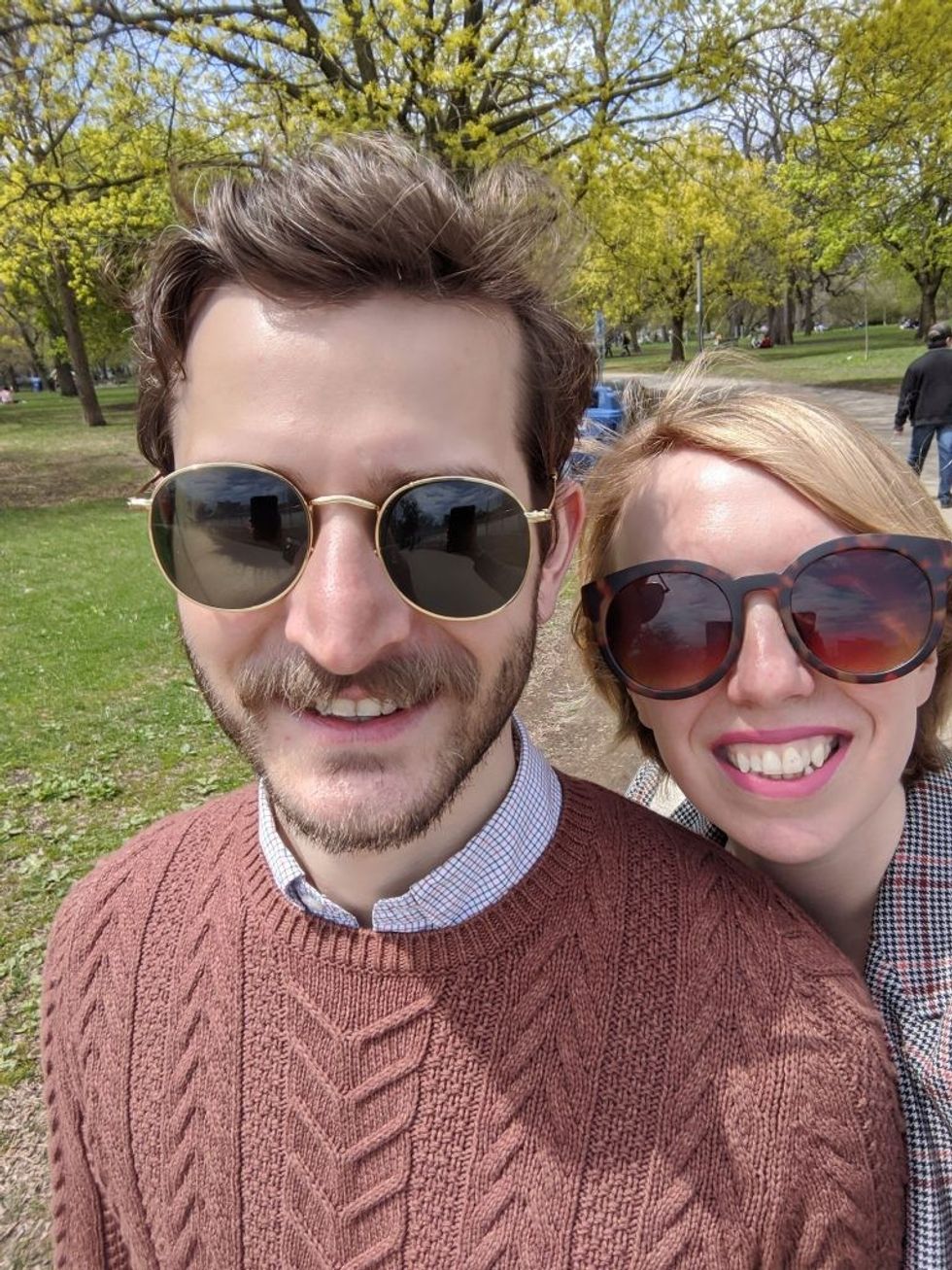 Like the stages of grief, we cycle through various coping mechanisms. Our first instinct is that we must not be trying hard enough. We'll just batten down the hatches and tighten up our spending. Pandemic? Fantastic! Our only outgoings for the majority of 2020 were flour (sourdough is fun!) and gin (sourdough is hard), so it should have been easy. With vacations out of the window and not even avocado toast to spend our millennial money on, we'd be homeowners in no time.
READ: Buyers Now Need at Least $1M to Buy a Detached Home in 97% of the GTA
Unfortunately, it wasn't exactly a novel idea. By June 2020, records were starting to be broken for home sales in the Greater Toronto Area and a year-long streak for the too-hot-to-handle real estate market that is only just showing signs of kind of, sort of, slowing down had already begun. Even now that we've gotten close to saving something vaguely resembling the type of down payment needed in this wild city, the prospect of gazumping lurks just over the horizon. By now, we've all heard countless stories of nice — but not $1.6 million nice — semi-detached homes and bungalows going for upwards of $500,000 over the asking price.
In what world are we looking at homes for an already substantial $800,000, knowing they will likely net out at more than a million after the inevitable bidding war? Not to mention that homes over a million in Toronto necessitate a minimum 20% down payment — so if you thought you had your finances sorted, it still might be time to give your rich uncle a call.
Well, who the hell needs stupid Toronto? We could live anywhere in this work-from-home economy! Like Prince Edward County — although, that would be awfully barren in the dead of winter and I don't loooove driving. Remote lakeside property in Muskoka, then? Oh wait, that's even more expensive than Toronto. Okay, so let's head west and live out our mountain dreams. There's just one slight hitch, remote work might not last forever and I've kind of made a career out of writing about Toronto….
READ: Federal Parties Hurry to Address Housing Issues, But Miss Root Cause
So, unlike every other person and their dog, we haven't upped sticks and headed outside of the 416. For all its faults, Toronto is still where we want to be. While I realize that a whining millennial couple hoping to buy a million-dollar home in Toronto won't be at the front of the line for any tiny violin concerts, there are still a sizeable chunk of voters who are desperate to see reform in this wild west.
The election this year will see all political parties vying to address the housing crisis, so how should first-time home buyers cast their ballot? Every party seems to be tackling the foreign buyers debate — the Liberals and the Conservatives would like to impose a ban on new foreign ownership for two years, while the NDP seek to add a tax to buyers from outside Canada. While this may help to a lesser extent, using the outsider as the scapegoat is a clever trick that sidelines the greedy landlords, banks, and other homegrown villains that have more than played their part in the (un)affordable housing crisis.
For me, the Liberal platform's tax-free First Home Savings Account, combined with the criminalization of blind bidding, presents the fairest chance for first-time buyers looking to finally set foot on the first rung of the property ladder. Whether these policies become a reality remains to be seen.
But if the next election after this Monday's rolls around and I'm still watching the results from my 700 square-foot apartment, screw it — I'm moving to Newfoundland.