---
As 40- to 60-storey development applications are common amid rapid densification, the mid-rise building is simultaneously having a major moment in Toronto -- one that will likely stick around. 
There's good reason for the popularity of mid-rises in the city, especially when more people are being priced out of the largely unattainable single-family home market and, subsequently, redefining both their home ownership goals and their lifestyles.
Typically, mid-rises aren't taller than the width of the right of way (the road and sidewalk) of the street they front on, and are generally no higher than 12 storeys. 
These building types evoke a sense of closeness between residents while boasting the space and resources for impressive amenities and communal areas. Some of the city's most anticipated new mid-rise developments come with a jam-packed suite of amenities typically reserved for soaring condos.
READ: Breathe It In: Fresh Air Abounds At This Master-Planned Community
"Mid-rise buildings can represent smart density without the feeling of being crowded in with a bunch of towers," says Mike Lock, an associate at TACT Architecture Inc. "We are seeing many applications across the city where towers are bunched together and you end up with a situation [where] you're high up, but may not even have much of a view outside. The best parts of a tower were historically a view; sometimes, you don't get that anymore. With mid-rise, you still get density and amenities, but you get a lot more light and sky views."
Lock calls the buzzed-about upcoming Birchley Park development -- one of the latest projects designed by TACT -- a "special" mid-rise. "It's not an infill on a tiny site on one of the avenues in Toronto; we actually have a very large site by Toronto standards," says Lock. "Because of that, we're able to do some really unique things."
The 19-acre master-planned community from Diamond Kilmer Developments will be conveniently nestled between the vibrance of The Danforth, the charm of Birch Cliff, and the picturesque bluffs of The Beaches.
The development brings all the benefits of mid-rise living together in the perfect package -- one that facilitates both a deep sense of community and a four-season approach to a balanced, wellness-focused lifestyle, via impressive amenities.
With a total of 665 suites across two mid-rise condos -- which reach their highest point at 12 storeys -- and back-to-back townhomes, the development will represent a "community within a community," offering residents the very best of year-round wellness living in one of Toronto's most desirable neighbourhoods. 
Once residents move in, they'll immediately feel a sense of community, says Daniela Palmieri, VP of Marketing and Sales for Diamond Kilmer Developments. 
"On the periphery, you'll find taller towers, but this really blends into the community nicely," says Palmieri. "It's a low-rise, residential neighbourhood and being right on Victoria Park -- just north of Gerrard and south of the Danforth -- it has a dynamic feeling to it. But because we have 19 acres, we are able to create something that feels more residential. It has the benefit of being close to all the things that make it very pedestrian and bike friendly. You're able to walk to schools, walk to transit, and shops."
The overall feel of Birchley Park is, decidedly, not like your typical Toronto condo. 
"When most people think of condo living, they instinctively envision really tall condo towers in the downtown core," says Palmieri. "There is a lot of that in the city, and a place for it. But here the plan was to address the missing middle by adding gentle density.  There was a lot of planning and careful thought that went into getting to where we are today. In terms of who Diamond Kilmer is, our first master-planned community was a mid-rise building in the city and close to transit … so this checks all the same boxes; it's nice to be so close to the downtown core but still removed from it. It's nice to have one foot in and one foot out, representing a mix of urban and suburban."
READ:New Master-Planned Community Puts Amenities Into (Four-Season) Focus
Palmieri notes a shift in consumer behaviour, away from the towering, super-tall condos to buildings with more of a boutique feel, facilitating that sense of community. Fitting exactly that bill, the star of the show at Birchley Park is a central courtyard. The development will also bring a new public park.
"We have ground-level suites that either feed out directly to the new streets we're creating," says Palmieri, "[or] internally, we have courtyard suites that have direct access from the ground level."
"There's also 22 stacked townhomes. Those units have direct access right out onto the street. You have a feeling of community compared to a tall tower, where you're exiting through [the] lobby or the underground parking. There are multiple connections, because it's such a large parcel of land that we're building on. People can enter and exit the development from different access points, which makes it convenient."
Lock says the courtyard anchoring residences is one of the project's most unique features.
"You get this mid-rise living, but you also get these amazing amenities within the courtyard that are sheltered from the wind and designed for all-season use," he says. "It still gets a lot of sunlight because we've kept the south side of the building low, and you have these amazing amenities because there are enough units to support it." 
As for those amenities, think: an outdoor swim spa, fire pits, hammocks, an outdoor fitness area, play places, and BBQs. In short, they cater to a variety of lifestyles and demographics.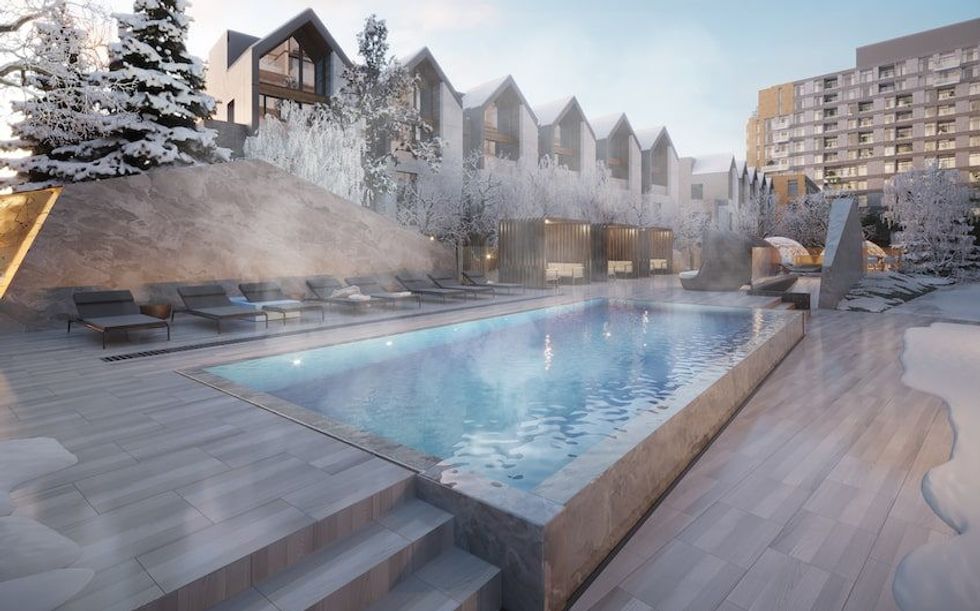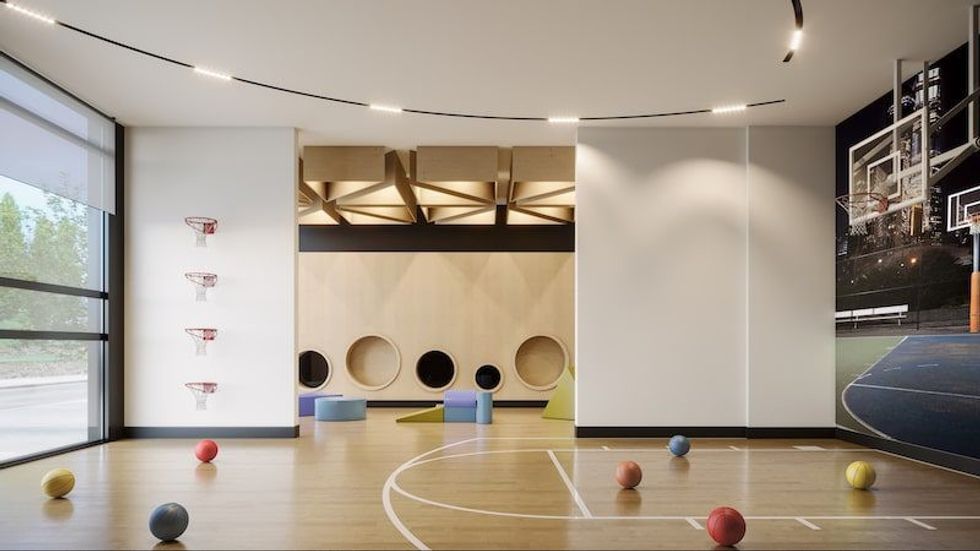 Birchley Park (rendering)
"Most of our projects are typically designed for younger people -- young professionals," says Lock. "The bulk of the units are smaller, but Birchley Park allows for young families as well. We have an assortment of townhomes on the south side, and we have three-bedroom units on the ground level that open up to play spaces in the middle courtyard. Families don't have to worry about cars or crossing the street." 
Palmieri also highlights how Birchley Park's a perfect fit for residents of all demographics.
"From a mid-rise perspective, it feels like that perfect transition for someone who is coming from a low-rise home -- whether they're a first-time buyer who is moving out of their parents' home -- or someone looking to downsize. It has more of a street presence," says Palmieri. "It is still a building, so there are stairs and elevators, but it's not as many stairs, nor [is it] a long elevator ride home.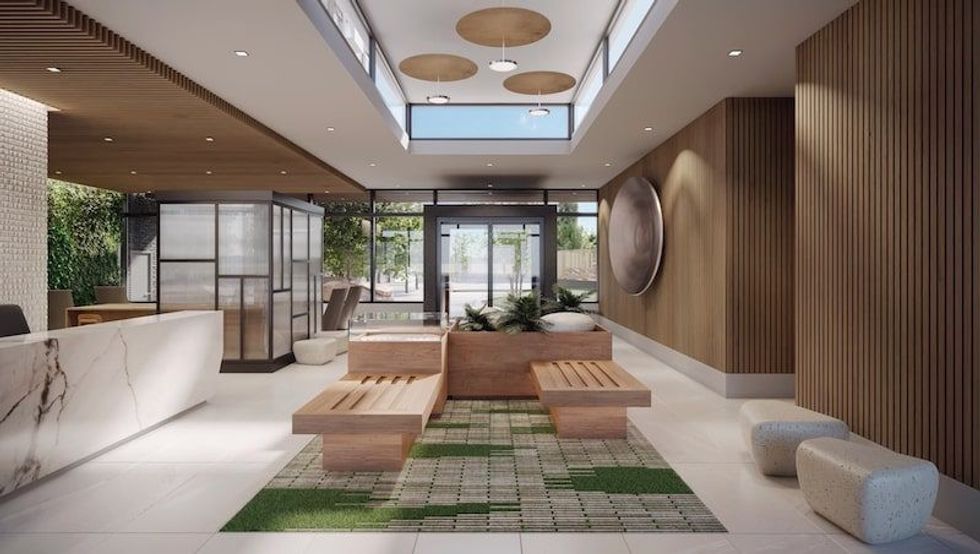 Birchley Park (rendering)
Palmieri also mentions how the architecture blends with the established neighbourhood via natural elements that will withstand the test of time. "TACT designed something that fits well within the community," she says. "With tall towers, you have the challenge of making whatever is at-grade pedestrian friendly, and they usually end up being these glass boxes that continue up into the sky. Here, we really have a continuation from the ground floor up."
Overall, the project is designed to evoke TACT's vision of warm modernism, says Lock. "It's modern, with clean and simple lines everywhere," he says. "It's also done in a warm and inviting way, with big space cut out and warm wood materials, masonry that people can identify with. It's not just window, wall, and spandrel everywhere."
READ:Upcoming Master-Planned Community Boasts One of Toronto's Best Locations
While Lock says the city will see more of them, he points out there aren't many Toronto sites that are suitable for mid-rise like the plot where Birchley Park is rising.
"We will likely see more mid-rises along avenues, especially on transit networks," he says. "Densifying avenues -- I'm thinking, for example, Danforth -- is going to become more important in the years to come."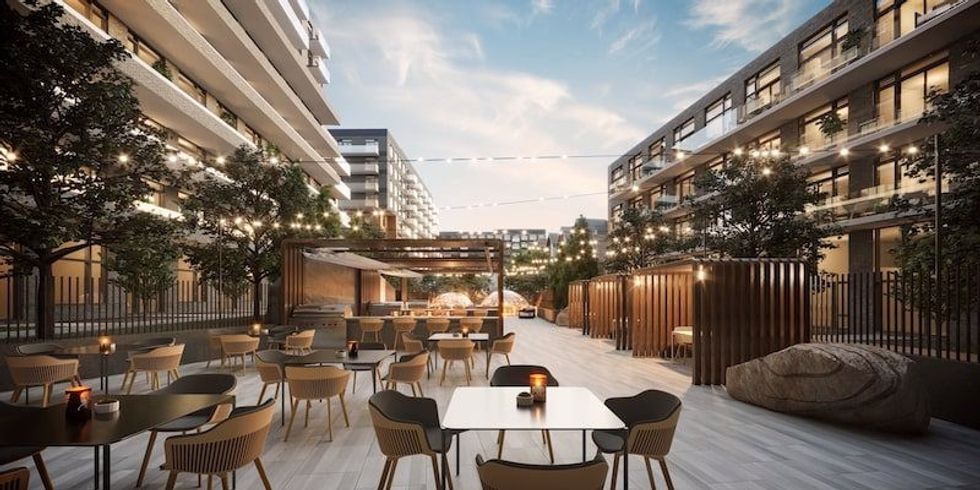 Birchley Park (rendering)
Mid-rise buildings are typically better received by a neighbourhood, compared to towering condos -- especially if you're one of the first developers to revitalize the community.
"If it was a 40-storey tower, it would feel like it was coming out of left field, and I think there would have been some concern about that," says Palmieri.  "The tallest portion is at Victoria Park, which is a busier street, but then it tapers down and allows for better views for everyone as you enter the development. There's stepping and terracing. There's a lot of planning and consideration that happens when architects, and landscaping, and planners are coming together, to think about what's best for both the development and the community."
---
This article was produced in partnership with STOREYS Custom Studio.
Future Developments