---
The sun is finally shining in Toronto, and now more than ever, urban dwellers are craving access to nature and fresh air.
While the pandemic highlighted the importance of connections to nature, cities like Toronto are becoming so dense that access to precious urban green space is no match for the rapidly growing population. 
Green spaces have been correlated with everything from reduced anxiety, to lower levels of loneliness -- and urbanites realize that. For many in the market for a new home, access to private outdoor space has gone from a nice-to-have to a must-have. 
Birchley Park, a highly anticipated master-planned community coming to Toronto's east end, prioritizes meaningful access to outdoor space for its residents. Described as a "community within a community," the upcoming 19-acre Diamond Kilmer Developments project is nestled between Danforth Village and the Beaches at 411 Victoria Park Avenue, and will feature 665 suites across two mid-rise condos and back-to-back townhomes.  
With its prime location close to the beloved Toronto Beaches and the stunning Scarborough Bluffs, residents don't have to venture far to access quality outdoor space -- some of the city's best, in fact. But they also don't have to leave home to find it. The development will boast extensive parkland, including a central courtyard complete with an outdoor gym, BBQs, and al fresco dining areas, as well as a 5.5-acre adjacent public park.
Furthermore, most suites at Birchley Park have balconies, patios, or terraces, making the coveted development an attractive one for investors and end-users alike.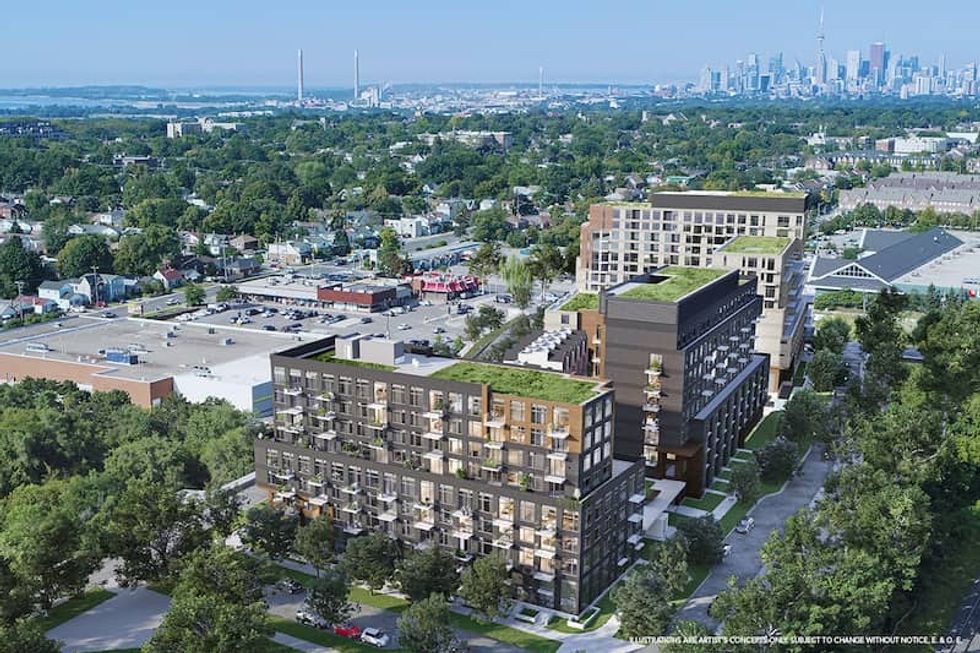 Birchley Park rendering
"While we have sprawling shared outdoor amenities and the public park, the fact that most of the units offer private outdoor balconies, terraces, and patios for their friends and families to enjoy offers an extra bonus that you don't necessarily get with most projects, especially the closer you get to the downtown core," says Daniela Palmieri, Vice President of Marketing and Sales at Diamond Kilmer Developments.
"There are developments that have now eliminated all outdoor space for various reasons. But we look at it from the holistic perspective of trying to make the building and the project as efficient and cost effective as possible for that end price-point, and to offer something that is realistic to the way residents want to use their space."
This range of outdoor spaces provides an urban-yet-residential feel, with more greenery than you'll find within the core (where trees and grass aren't exactly in abundance).
READ: Upcoming Master-Planned Community Boasts One of Toronto's Best Locations
"There [are] quite a bit of end users who we see living in this project -- whether they're coming from the local area or a little bit further out and trying to get closer to the core -- and it's important to have a transition that feels a little more residential and private to them without going overboard," says Palmieri. "There are some terraces and patios which are quite expansive, but it's about making sure the outdoor spaces are well-balanced to the suites and to the project, recognizing that people will be able to enjoy all the outdoors within the project and the public park steps from the condo."
Some of the units will overlook the breezy residential central courtyard, while others will feature walk-outs to it, says Palmieri. "There's a central space that's green with grass, where people can take their yoga practice, throw the ball around, or sit and read in one of the hammocks, which are a great touch," she explains. "But the private space offered in the units offers that coveted degree of privacy when you want your own space, and not [to] co-mingle with other residents. Maybe you want to quietly enjoy your coffee and morning news and don't want to go down to one of the communal spaces. The option is yours." 
As for the public park, details are still being ironed out with the City of Toronto, but it will likely feature a water play area, play structures, and an off-leash dog park. "It will really be a community park that has a bit of everything," says Palmieri.  "When we designed our space, we looked to find a balance in our amenity offerings. For example, we have a kids' zone and indoor half-court basketball court within our project that can be used year-round. But, if you want fresh air, you can walk down to the public park and let the kids (and dogs) run freely." 
The fresh air fix is just one of the wellness-focused offerings at Birchley Park; residents can also enjoy a year-round swim spa, sauna, and indoor gym.
So, if you're in the market to swap the sights and sounds of Toronto's core for the fresh air, trees, and chirping birds, Birchley Park could just be what you're looking for.
Click here to learn more.
---
This article was produced in partnership with STOREYS Custom Studio.
Future Developments