Looking to escape the hustle and bustle of the downtown core, to lay roots where you can still easily reach all the city has to offer? 
---
Birchley Park, a new 19-acre master-planned community rising in the east end via Diamond Kilmer Developments, may be just what you're looking for.
Conveniently nestled between the vibrance of The Danforth, the charm of Birch Cliff, and the picturesque bluffs of The Beaches, the project will be a "community within a community," offering residents the very best of four-season wellness living, in one of the city's most desirable areas. 
"Birchley Park will be coming to a community that's already established, and will further add to the fabric of the community," says Daniela Palmieri, VP of Marketing and Sales for Diamond Kilmer Developments.
The second project for Diamond Kilmer, a formal partnership between long-time collaborators DiamondCorp and Kilmer Group, Birchley Park will total 665 suites across two mid-rise condos and back-to-back townhomes. Spread over 19-acres, the site will also feature retail at grade, plus extensive parkland, both as part of the central courtyard and the adjacent public park.
"The first mid-rise phase is 375 suites, the second phase will have 268 suites, and then there are 22 back-to-back townhomes," explains Palmieri.
Most of the residential suites will feature either balconies, patios, or terraces, and all will have access to an extensive suite of almost 30,000 sq. ft of private, four-season, indoor and outdoor amenities. The site's 5.5-acre public park will extend the already robust amenity offering residents have to choose from.
Four-Season Wellness Living
In planning Birchley Park, Diamond Kilmer recognized how – especially as we emerge from the events of recent years – people have been taking their health and wellness more seriously. So, they highlighted that lifestyle element when selecting which amenities to bring to the project.
"We live in Canada, winter is a reality... we want to embrace that. And so the idea of our four-season "LiveWell" program was important," says Palmieri.
To encourage residents to embrace all seasons in the Great White North, Birchley Park will have a year-round swim spa, fireside terraces plus a central courtyard with an outdoor gym, BBQs, and al fresco dining areas.
"The central courtyard is really important, for residents to be able to take things outside and breathe the fresh air. We also have some flex space in the middle of the courtyard, with hammocks, [for] if someone wants to curl up with a book or do some outdoor yoga while the kids run around," says Palmieri.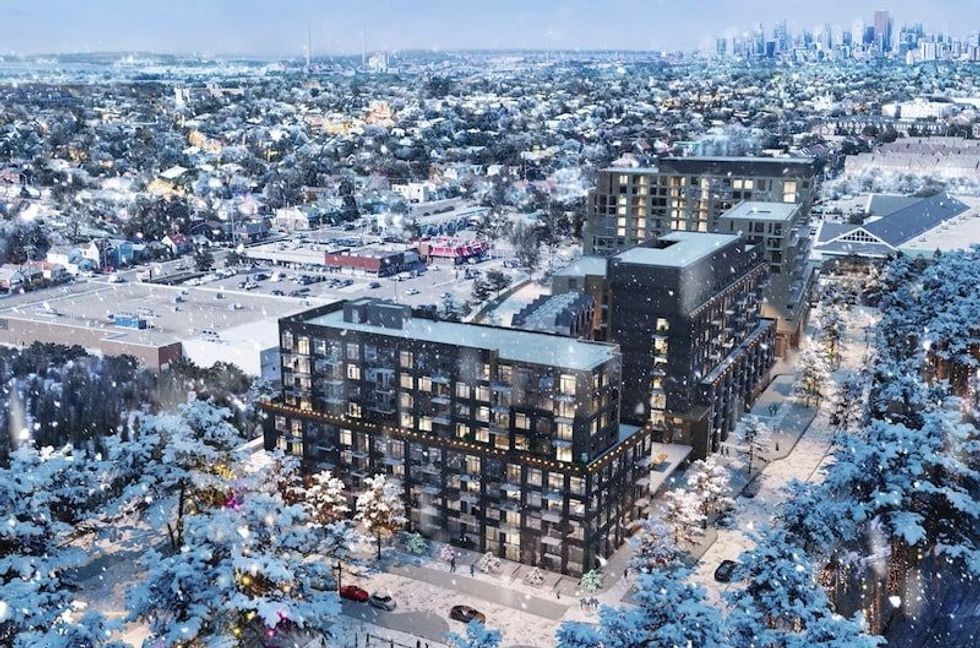 Birchley Park rendering
Indoors, residents can look forward to a gym, a sauna, cabana lounge, event lounges, a catering kitchen, zen garden, and co-working spaces.
"Co-working has become a really big part of most people's lives, whether you're working full-time from home or whether you're doing it part-time; having a space outside of your own four walls that you can go to and still feel like you're part of a community, [without needing to go to] Starbucks," explains Palmieri, "-- which, literally, is right across the street," she adds.
LiveWell Health and Wellness Program
And it's not just the amenities that embrace health – the development itself is built upon a foundation of community wellness and green intentions, with those elements woven through its design and internal systems forming part of the project's "LiveWell" health and wellness program.
First, Diamond Kilmer is pursuing LEED certification for the project, which is a wellness win in and of itself. But further, they're incorporating a geo-exchange system, which will be available to the condos. 
Geo-exchange is a clean, renewable energy system which draws moderate heat from the ground and is used to heat and cool the building. Not only does it reduce the need for fossil fuels, but this system also produces almost no air emissions, while still offering all of the same comforts of a traditional condominium. Think: year-round, in-suite temperature control, plus the added benefit of cleaner air and a reduced carbon footprint.
The LiveWell program operates via a smart home system, and features a range of offerings, including smart thermostats, smart parcel storage, smart building entry, EV charging stations, and high-speed internet. And, through the Birchley resident app, users can also book amenities, the elevator, track parcel deliveries, and access a virtual bulletin board.
Location, Location, Location
On top of all the intention behind the project's wellness impact, the development's enviable location puts everything one could need (or want) within reach. While Birchley Park is ideal for anyone seeking a health-focused lifestyle, the development will also attract empty nesters ready to unload the upkeep of a single-family home, young families who are interested in condo living with great amenities, and even move-across buyers who want to be close to downtown, without having to live in the bustling core.
Still, accessing downtown (and beyond) is easy: Birchley Park is a six-minute walk to the Victoria Park Subway and just a few minutes more to the Danforth GO station.
The retail stores, restaurants, and cafes found along Kingston Road and the Danforth will give residents an authentic taste of Toronto, while the abundance of parkland and beaches at Kingston Road Village provide residents a chance to immerse themselves in the city's natural environments.
"Intersection Between Urban and Suburban Living, on a Large Scale."
"When you look at this site specifically – how often do you get 19-acres in an urban context?" asks Ty Diamond, President of Diamond Kilmer Developments. "This was an opportunity for us to do something here that was tremendously unique."
At Birchley Park, residents will get to enjoy the conveniences of city living, plus direct access to remarkable on-site and natural amenities, right at their doorstep.
"You get some of those natural amenity benefits that you wouldn't normally see within the 416, [while you can also] go out and get your groceries on foot, or do your daily quality-of-life activities without a car," says Diamond. "So really, this is that intersection between urban and suburban living, on a large scale." 
Click here to learn more about Birchley Park, set to launch this spring.
Cover image:Birchley Park rendering
---
This article was produced in partnership with STOREYS Custom Studio.
Future Developments