---
In a city characterized by its rapidly increasing density and relatively limited green space, not all Toronto neighbourhoods are equal when it comes to quality of life. 
Toronto residents increasingly crave convenience and access to efficient (key word) transportation -- and that's certainly not going to change in the years to come. What's more, in the wake of the pandemic, access to nature and quality outdoor space became bigger priorities for many urbanites. 
Birchley Park, an upcoming 19-acre master-planned community at 411 Victoria Park Avenue, shines on the location front, offering the best of all worlds for the modern city-dweller. Nestled between the charm of the vibrant and restaurant-packed Danforth Village and the postcard-worthy Scarborough Bluffs or The Beaches, it offers all the key pillars for a well-balanced lifestyle.
"The Beaches neighbourhood is very picturesque," says Daniela Palmieri, Vice President of Marketing and Sales at Diamond Kilmer Developments. "It's very low-rise (centric). There is more development that's coming to market in the coming years, but we're one of the first and we're a mid-rise community, which we really like. With our sites, we focus on how people want to live and how [they interact] with the surrounding neighbourhoods. It's a community within a community." 
Thanks to its location, cars -- and pricey parking spots -- are not needed. Birchley Park is a six-minute walk to the Victoria Park Subway, and just a few minutes more to the Danforth GO station, allowing for simple local trips as well as those that cross regional borders. 
"One of the most important things is that it's so close to transit, and everyday errands can be done on foot, which is great from a sustainability standpoint," says Palmieri. "Our health and wellness angle isn't something we're using as a post-pandemic hook. It's something that we really took to heart. The site will have a geoexchange (geothermal) system, and will be built with sustainable materials, but it also reflects the reality that cars and an abundance of parking spots are no longer essential -- especially in this neighbourhood. Adding a parking spot isn't terribly affordable in this city."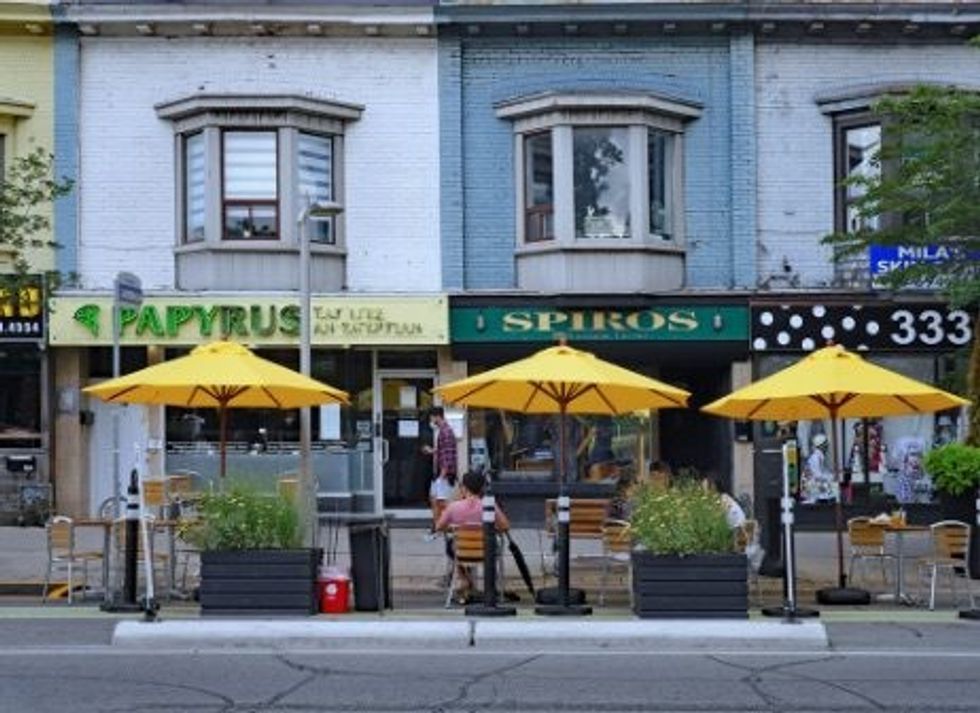 Danforth Avenue
Birchley Park's restaurant regulars will appreciate the community's close proximity to the bustling Danforth Village and "Greektown'. The iconic Toronto neighbourhood is packed with character-rich restaurants of all varieties – including those that serve up some of the best Greek food in the city. It's the largest Greek neighbourhood in North America, after all. A stroll down the Danforth Avenue strip could include stops for ice cream, fresh flowers, a beer, or a meal worth recommending to friends. The nearby Kingston Road also offers family-run retail, restaurants, and cafes. 
"When you do need the big box stores -- Lowe's, Staples and Canadian Tire -- they're also within reach," says Palmieri.
South of Birchley Park sits the crown jewel of Toronto's east end: the picture-perfect Beaches. With its bike path, boardwalk, volleyball nets, and swimming pool, the beach offers endless ways to make the most of summer days. The beach offers seemingly endless options to cater to an active lifestyle, with morning canoers and kayakers a common sight from its sandy shore. In the winter, the beach is a preferred spot for cold plungers, and houses the popular annual Winter Stations art installations.
Meanwhile, those in the market for a dramatic change of scenery -- one that feels more like the Caribbean than Toronto -- will find it at the stunning Scarborough Bluffs. The spot stretches along 15 kilometres of Lake Ontario, with its stunningly rare turquoise waters visible from many vantage points. Here, visitors can also enjoy lush hiking trails, a stretch of sandy beach, and plenty of picnic spots.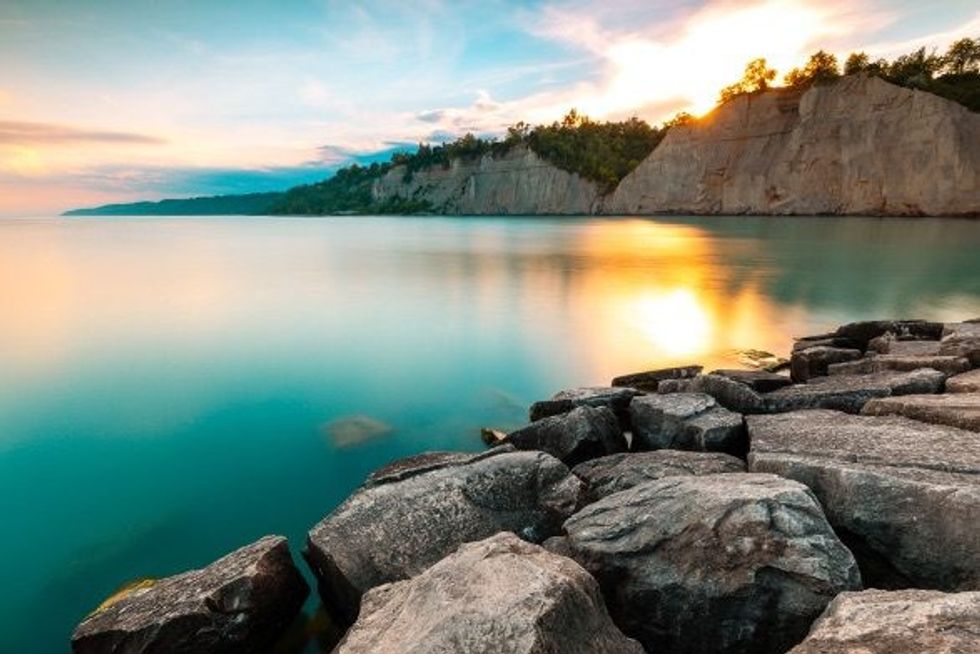 Scarborough Bluffs
While the surrounding neighbourhood is packed with amenities and activities, residents don't have to leave Birchley Park to find shopping, fitness, and four-season wellness. Elevating its wellness offerings to reflect the changing times, Diamond Kilmer has designed Birchley Park with offerings like a year-round swim spa, fireside terraces plus a central courtyard with an outdoor gym, BBQs, and al fresco dining areas. There's even a 5.5 acre public park. Indoors, residents can enjoy a gym, a sauna, a cabana lounge, event lounges, a catering kitchen, a zen garden, a half-court basketball court, and co-working spaces.
Ideal for anyone seeking a well-rounded lifestyle, the development will attract empty nesters ready to unload the upkeep of a single-family home, young families, and even move-across buyers who are ready for some peace and quiet, while holding onto easy access to the city core. And for the downtown office workers or late-night revellers, those downtown lights are never too far away.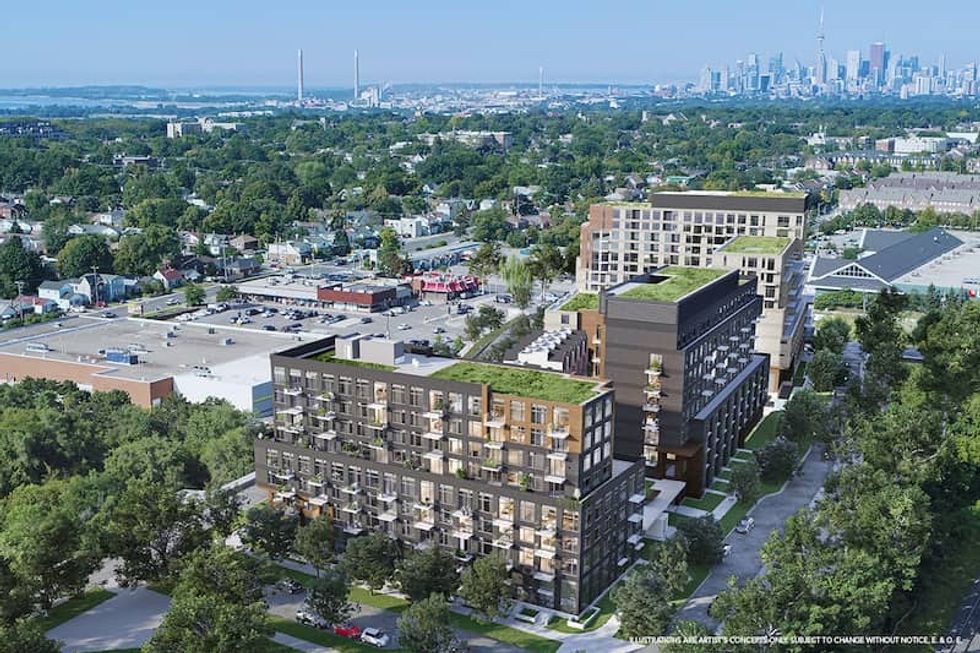 Birchley Park rendering
"You're not far from the water, not far from transit, and not far from the highway when you do need to get out of town," says Palmieri. "It's just a really well-connected development."
Click here to learn more about Birchley Park, set to launch this spring.
Cover image: Louis Li Photography and Shutterstock
---
This article was produced in partnership with STOREYS Custom Studio.
Future Developments