---
A slew of thoughtful amenities are the name of the game in Toronto's most anticipated new residential projects. 
At the buzzed-about Birchley Park master-planned community -- a Diamond Kilmer development that will be nestled between the vibrancy of The Danforth, the charm of Birch Cliff, and the picture-perfect bluffs of The Beaches -- residents will enjoy everything from a year-round swim spa and cozy fireside terraces, to a private central courtyard with hammocks and an outdoor gym (plus plenty more).
The sprawling 19-acre community will include a total of 1,050 suites across five development blocks, including mid-rise and back-to-back townhomes, with the first phase featuring 375 suites. The site will also incorporate retail at grade and an adjacent 5.5-acre public park. 
When it comes to the development's varied amenities, two common themes resonate: four-season wellness and family-focused living.
READ: Breathe It In: Fresh Air Abounds At This Master-Planned Community
"Because of the scale of the project, we were able to deliver a tremendously unique amenity package that goes above and beyond what you'd typically find in a new community," says Ty Diamond, President of Diamond Kilmer. "The way we look to deliver that is through a real focus on indoor/outdoor living, a connection to nature, and a connection to health and wellness."
The indoor/outdoor element is reflected throughout the development to allow four-season use of the amenities. Diamond highlights Birchley Park's indoor gym, which is juxtaposed with the outdoor fitness space in the courtyard. "There's also an indoor yoga studio, and outdoor space that can be programmed as such," he says. "There's an outdoor swim spa and an indoor sauna; there's indoor party areas with common outdoor terraces; we have an indoor catering kitchen and outdoor barbecues; and there's also a programmed indoor kids' zone and plenty of outdoor space for kids to enjoy."
You get the idea.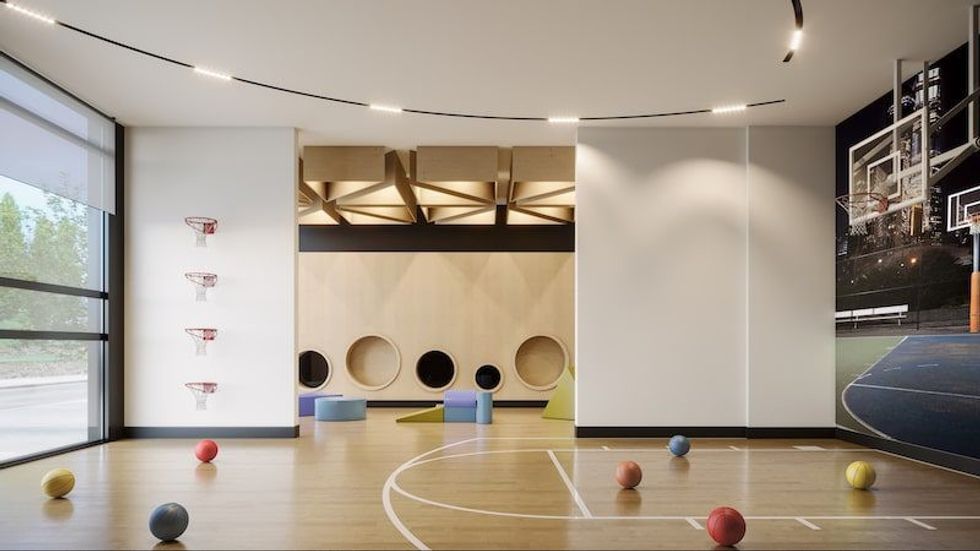 Birchley Park Kids' Gym rendering
For Diamond, the star of the show is the development's central courtyard, which houses an assortment of these amenities. "The courtyard is where we're delivering all of the outdoor amenity programs, but also flexible green space all within a central location that facilitates a sense of community," he explains. "You have these different complimentary outdoor amenities convenient to everyone's living space."
At a time when more children are growing up in condos, Diamond says that -- in addition to health and wellness -- the amenity programming specifically caters to family living and children. "This means things like an indoor half-court basketball court, a gaming room, and play spaces," he says. "We are proud to deliver really sizeable indoor and outdoor components for kids of all ages to enjoy. You can literally walk out your front door and access these amenities." 
Diamond also highlights the 5.5-acre public park that both residents of Birchley Park and the surrounding community can enjoy. "The design process for the park is ongoing, but we are really excited about some of the features we'll see there," says Diamond. "This includes accessible paths, a water play area, play structures, a dog off-leash area, and naturalized planting. It will be one of the city's newest destination parks."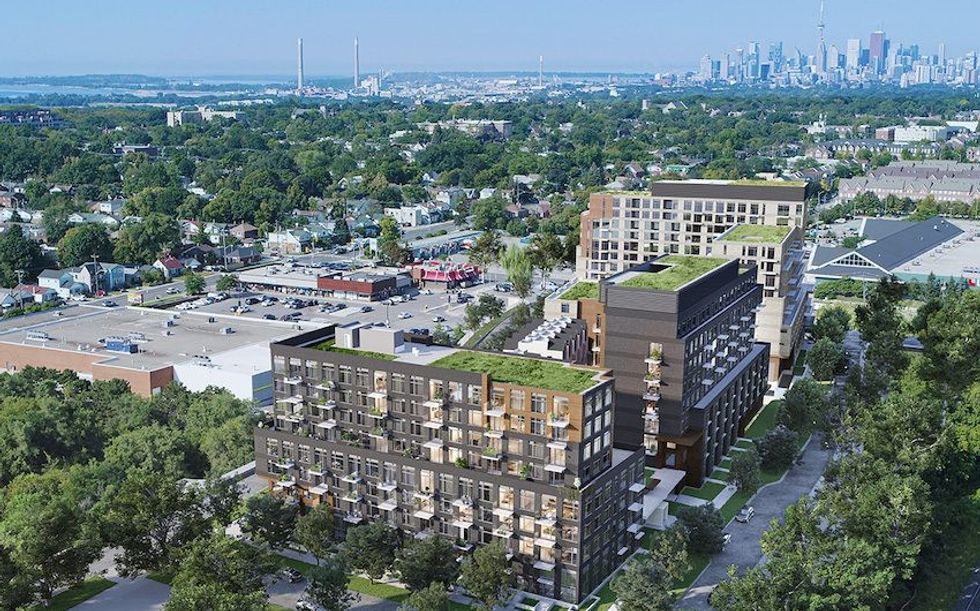 Birchley Park Exterior rendering
Diamond Kilmer turned to The Patton Design Studio, of Toronto, to ensure the look and feel of the amenity spaces evoked a sense of both connectivity and overall wellness.
"It's sort of a minimalist look, with muted tones and organic elements," says Liz Smit, a designer at The Patton Design Studio. "We've also layered on the texture aspect as well, with textured walls and textured tiles. Everything is very tone-on-tone for the most part. There's some contrast, but it's a subtle contrast. So, it's a very zen and spa-like Scandinavian feel to the look and feel of the building's amenities."
READ: Upcoming Master-Planned Community Boasts One of Toronto's Best Locations
Smit says the lobby will feature a zen garden as a focal point, in addition to those textured walls. "The tech lounge off the lobby area creates a zone where someone could go and work on a laptop or just read," she says. "It features a 'green' wall, so it's about bringing the outdoors in and incorporating a wellness aspect."
And it doesn't stop there. "The cabana lounge and fitness/yoga/meditation area is all connected to the sauna, which is directly connected to the outdoors and linked to the outdoor programming," Smit says. "We have some playful elements; we're featuring some copper penny rounds in the cabana lounge to give it a fun aspect, but also tie into the layering of materials. For a natural tone-on-tone element, we are featuring these hanging cabana pods that people can lounge in. It's all connected: you can exercise, sauna, use the outdoor facilities, and lounge all in one space."
Smit also highlights the development's pet spa – something that's become a must-have for many Toronto pet owners. In the development's first phase, the facility's event lounges are connected to use together or separately and are adjacent to the outdoor amenity space. 
"It's multi-functional and programmed really well," says Smit. "There will be really fun, feel-good spaces for residents to use."
While Birchley Park's suite of amenities offer no reason to leave home, if residents should be so inclined, the development also shines on the location front, with many restaurants, shops, parks, and community spaces all within walking distance. Furthermore, it's a six-minute walk to the Victoria Park TTC station and just a few minutes more to the Danforth GO station. Of course, the sights and sounds of the downtown core are just a short drive away.
But, with amenities like this, we wouldn't blame you if you shamelessly want to spend most of your time at home.
Click here to learn more about Birchley Park.
---
This article was produced in partnership with STOREYS Custom Studio.
Future Developments