---
After seeing 76 presale project launches in 2022, Metro Vancouver can expect to see 95 in 2023, according to a forecast by MLA Canada, a Vancouver-based real estate services and sales firm.
According to its 2023 Intel Report, MLA Canada says most of the presale launches we saw in Metro Vancouver last year were predominantly in the Burnaby and Coquitlam submarkets, which have the appeal of being well-serviced by transit connections to Downtown Vancouver.
"The presale market saw a wave of activity over the first quarter of 2022 as developers responded to heightened demand from buyers wishing to lock in home purchases before rates rose," MLA Canada said. "Many purchasers were swept up in the feeling that 'now' was the time to buy and, in large part from low resale supply, turned to the presale market."
As a result, MLA Canada says nearly half of all presale sales in 2022 occurred in just Q1 alone.
Once the Bank of Canada started what would eventually become a series of eight interest rate increases (and counting), presale launches started to slow down, with developers and those looking to buy both taking a further step back in the second half of the year to reassess.
MLA Canada says that developers wanted to make sure that they would achieve strong early absorptions before entering the market, while prospective buyers were also more selective. There were still successful projects, however, with same-month absorptions at over 40% in October and December, which MLA Canada describes as "relatively elevated" and were higher than most of Spring and Summer 2022.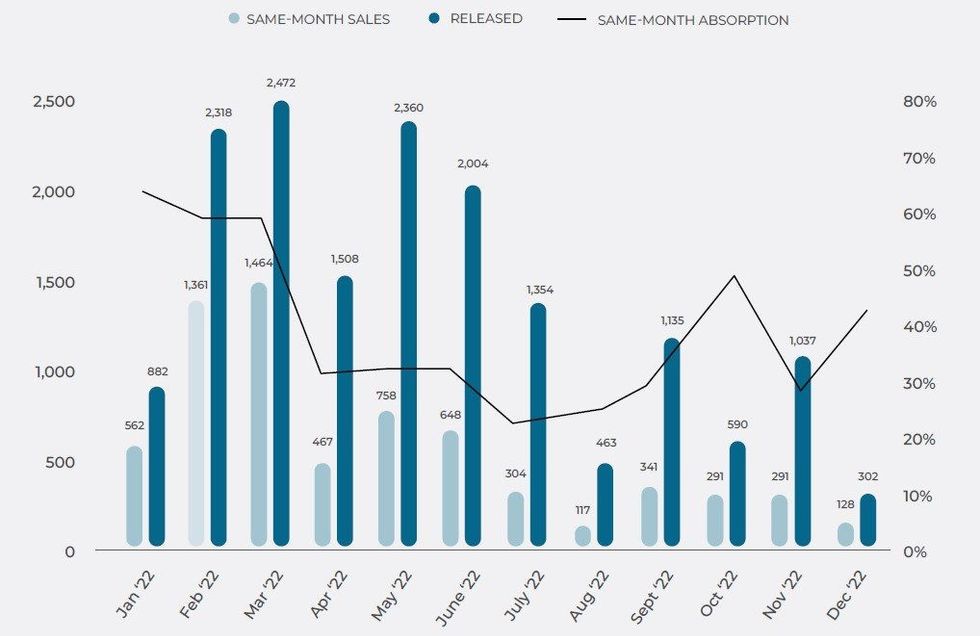 Metro Vancouver presale activity in 2022. (MLA Canada)
That careful consideration means launches that were put on hold will likely enter the market this year, which is why MLA Canada is forecasting 95 presale program launches this year, with an estimated total of 11,000 units, 45% of which are projected to be absorbed by year's end.
"For developers, 2023 will be a year of constant adjustment, refinement, and reaction as they continue to navigate price discovery and test the true depth of the buyer pool," MLA Canada says.
Of those 11,000 units, there will be an estimated 4,300 units in concrete buildings (high-rises), 4,950 in wood-frame buildings (low to mid-rises, primarily), and 1,750 townhouses.
Cameron McNeill, Executive Director of MLA Canada, says that we can expect an "overall slower market" for presales in 2023, but that there will still be "increasing pressure" on the Metro Vancouver market as a result of immigration. "All this stacks up for another aggressive swing to a strong market in the foreseeable future," McNeill says.
At the "This Year in Real Estate" event hosted by REW on Thursday, February 23, MLA Canada President Ryan Lalonde also said that he's expecting escalated prices by the end of the year. Lalonde also said that Coquitlam and submarkets in the Fraser Valley will likely be some of the hotter presale markets this year.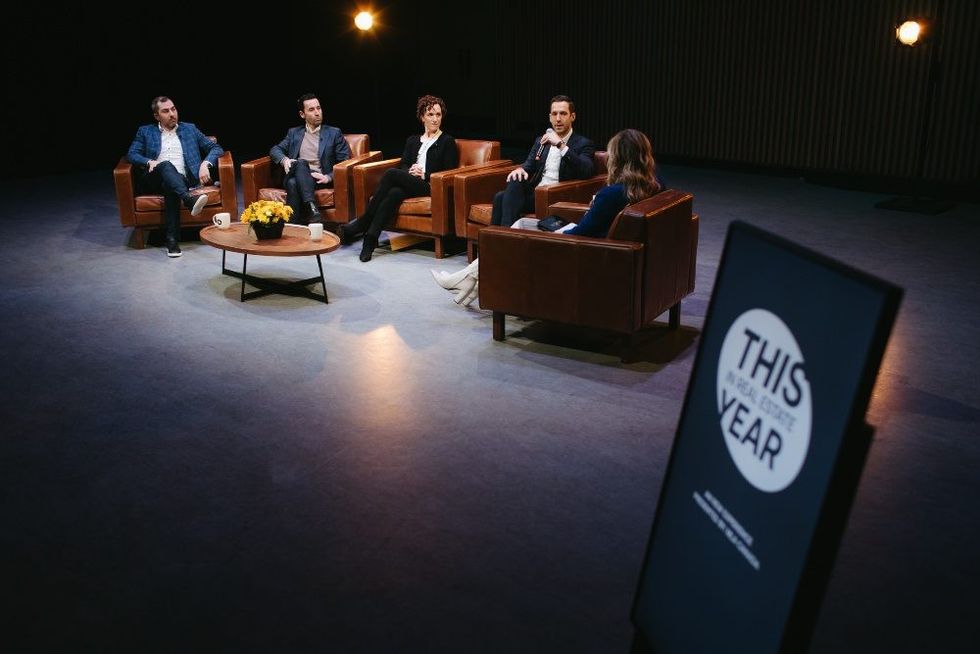 From left to right: Steve Saretsky, Kevin Johnston, Rebekah Young, Ryan Lalonde, and Monika Rau. (REW)
Also speaking at the event were real estate specialist Steve Saretsky, Strand COO Kevin Johnston, and Scotiabank VP of Inclusion and Resilience Economics Rebekah Young, all of whom spoke about how they see the real estate market playing out the rest of the year, from their respective vantage points.
Speaking on the resale market, Saretsky said he believes 2023 will likely be a year where everyone tries to "figure out the macro" of the market forces. With housing increasingly out of reach for many in Metro Vancouver and the demand for single-detached homes among young families remaining strong, he sees that resulting in entry-level homes becoming a hot commodity.
From the developers' point of view, Johnston described the current state of affairs for builders as a "whipsaw" where profit margins have been tightening and developers have to be more careful and more selective with purchasing and holding land, among other things. On presales, Johnston agreed that prices will likely increase this year, but also noted that project delays remain a possibility.
On the economics of it all, Young said the real estate world is impatiently waiting for the Bank of Canada's supposed pause. From her view, she's expecting a 0.25% rate cut before the end of the year, and predicts that we'll see a "soft-ish" landing.
"There is no question that 2022 was a deeply challenging year for investors -- marked by breakneck price appreciation in the first half and rising fear in the second," MLA Canada concluded in its 2023 forecast. "While markets worldwide are seeing changes, the size and severity of those fluctuations will vary at the mercy of localized fundamentals. Vancouver boasts some of the best underlying market factors of any Canadian city, and those fundamentals will determine how long this shift will last and how quickly the market will recover."
Real Estate News