---
BC Housing says the amount of registered new homes is a leading indicator of housing and economic activity, and if that's the case, then Surrey is without a doubt the area of Metro Vancouver seeing the most action.
According to the organization's data for August, Surrey saw a total of 1,603 new homes registered. That number was multitudes more than the cities that rounded out the top three, which were North Vancouver (598) and Vancouver (376).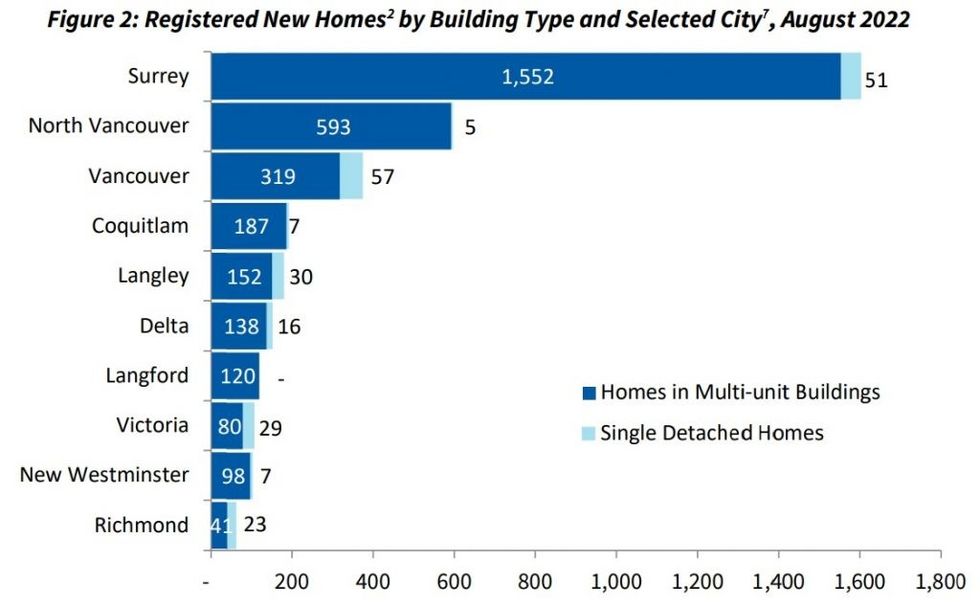 Image: BC Housing
Of the 1,603 new homes that were registered in Surrey, 1,552 were homes in multi-unit buildings, which were the majority in all regions across Metro Vancouver, with no region registering more than 57 single detached homes in August.
All in all, 4,260 new homes were registered in BC in August, a 17.0% decrease compared with August 2021. However, for the year, total new homes registered is still up 12.9% from 2021. Of significance is that registrations for multi-unit homes has increased by 22.2% this year, but registrations for single detached homes has simultaneously decreased by 17.0%, a sign that Metro Vancouver's emphasis on "transit-oriented communities" and increasing density is perhaps translating into actions.
READ: Transit-Oriented Design and Vancouver's Affordable Housing Problem
Of equal importance to the housing crisis is the supply of purpose-built rentals, another area of emphasis in Metro Vancouver. According to BC Housing's data, 10,863 purpose-built rental units were registered between January and August this year, an increase of 29.3% from the same period last year.
Rental units represented about 32.6% of all multi-unit registrations so far this year, and 23.1% (986) for August.
A total of 14 rental buildings were registered in August. Five were buildings with over 100 units, with the largest being a 133-unit building in Vancouver. Four were buildings with between 51 and 100 units, one was with between five and 50 units, and the remaining were triplexes and quadplexes.
From the perspective of units, North Vancouver saw the most new rental units registered in August, with 371 units, followed by Vancouver at 217 and Delta at 130.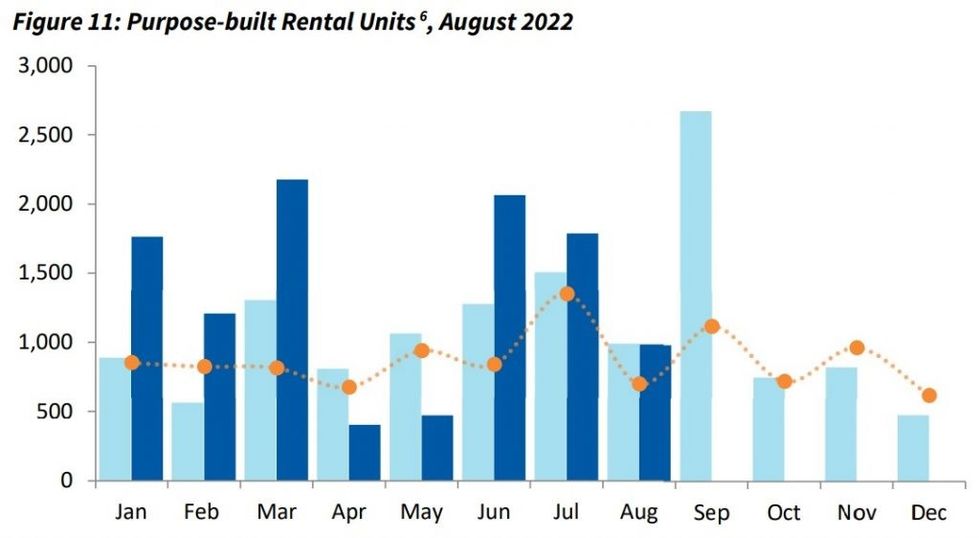 Image: BC Housing
Vancouver has a clear lack of affordable housing. To alleviate this, the City of Vancouver has incentivized the development of purpose-built rental units by speeding up the processes for rental buildings at or below six storeys. The the thinking is that instead of constructing a few skyscrapers that take close to a decade to complete, creating numerous buildings of medium density would ensure units come to market faster.
READ: New Main St. Building To Add To Vancouver's Affordable Rental Supply
Although Surrey did not see as many rental units registered in August as other regions, there is strong reason to believe that Surrey will see its supply significantly increase in the near future.
The wide margin of registered new homes in August between Surrey and other regions indicates that Surrey has an increasing amount of allure. The landmark King George Hub officially opened last week, and although portions of the massive project have not completed, we know there are nearly 800 rental units on the way already, with more growth in the area expected as result of the convenience of the hub.
Vancouver's rental market has been particularly tough, perhaps more so for students than anybody else. Surrey is, of course, home to several post-secondary institutions, including Simon Fraser University's Surrey campus, Kwantlen Polytechnic University, and Sprott Shaw College, so increasing the supply of rental units in the city makes a lot of sense, and projects like GEC Living's Education Mega Centre -- are 49-storey building that can accommodate nearly 1,000 students -- are indeed on the way. Let's just hope they come fast enough.
Vancouver