Owning a slice of picturesque waterfront property along Lake Ontario would be a dream for most buyers. But how about owning the actual water itself?
It may seem like a lofty dream, the kind that could never actually come true — Canadian bodies of water are typically owned by the Crown, after all — but a new listing in Pickering is proving that for a buyer with some very deep pockets, anything is possible.
---
Frenchman's Bay, a 133-acre bay located just up the Lake Ontario coastline from Scarborough's Rouge Beach, was listed for sale earlier this month, bringing a truly one-of-a-kind offering to the market.
"I honestly believe there's nothing like it in all of North America," said listing agent Jim Kelly.
The listing includes not only the bay itself, but 34 acres of Lake Ontario, and a banquet facility located at 600 Liverpool Road. The sellers — Pickering Harbour Company — are asking $60M.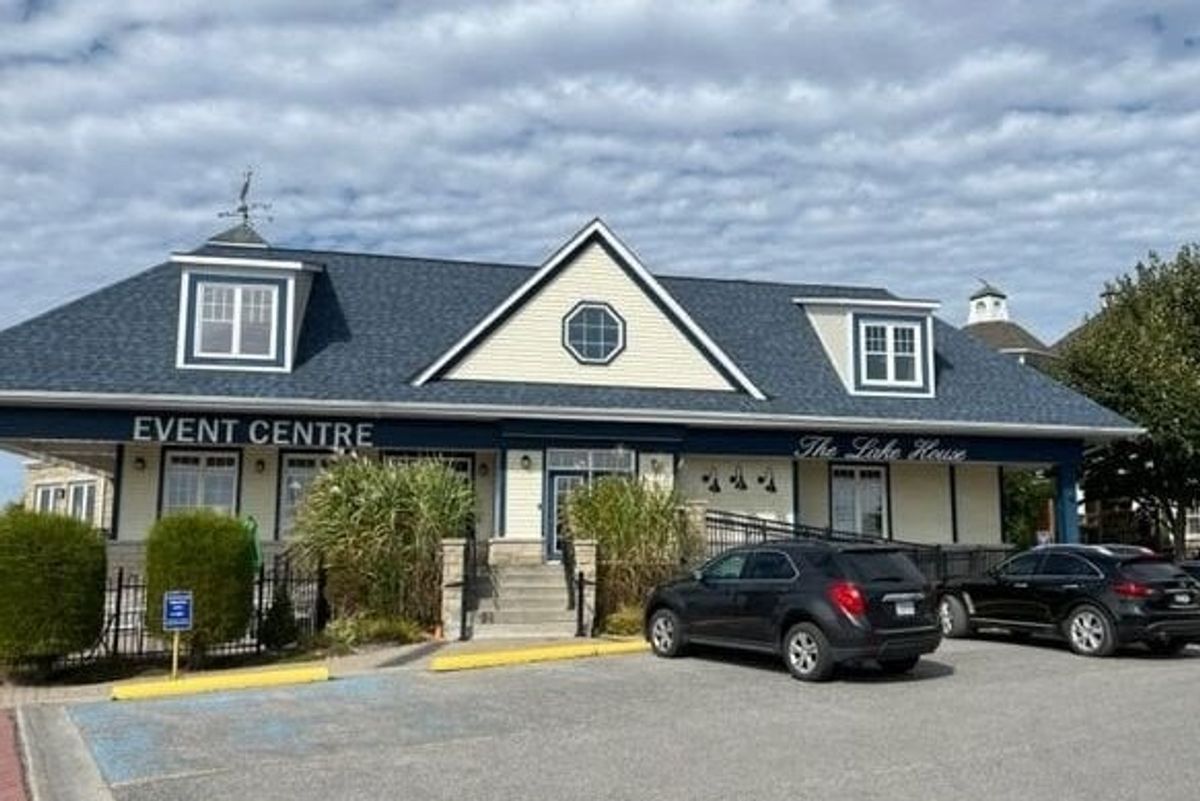 The Banquet Hall at 600 Liverpool Road.(RE/MAX Hallmark First Group Realty Ltd.)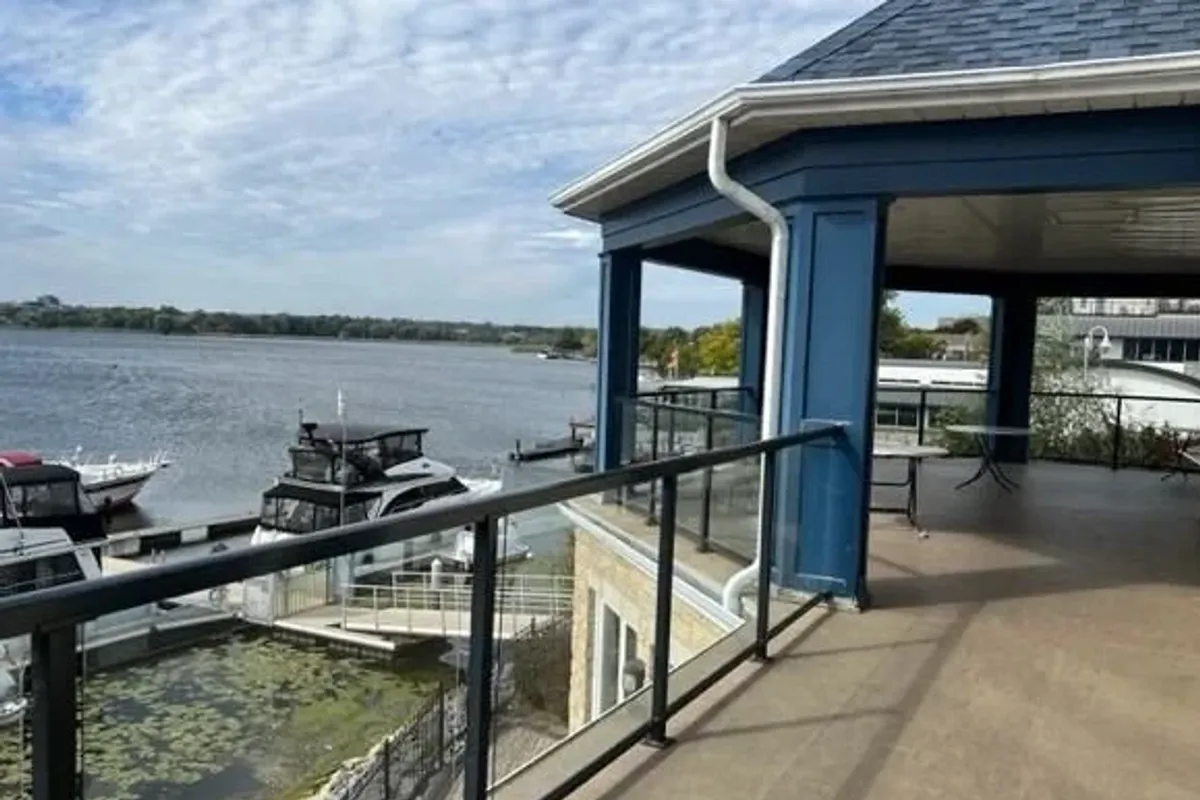 A view of Frenchman's Bay.(RE/MAX Hallmark First Group Realty Ltd.)
Kelly describes the listing as a "once-in-a-lifetime opportunity," and with this being the first time the bay will have changed hands in 170 years, he's certainly right. It's also an opportunity that the future buyer can thank a former Queen of England for.
Back in 1853 — 14 years before Canadian Confederation — Queen Victoria gave royal assent to an act incorporating Pickering Harbour Company, thereby giving the company the deed to Frenchman's Bay, which included ownership of the land underneath and out into Lake Ontario. Because of this, Pickering Harbour Company were given the right to charge for entrance into their waterway. Although the charter has received some challenges over the years, it remains in place to this day.
As unusual as that may be, perhaps the most unexpected part of the listing is that the waterways are actually zoned for residential use, meaning they're ripe for a developer to come in and build a collection of floating homes.
"There is certainly a concept of high-end luxury floating homes in Rotterdam, Amsterdam, etc. — it's very big in different parts of the world," Kelly said. "You can have a high-end, 1,500-sq.-ft, two-storey, rooftop deck, and your own boat dock."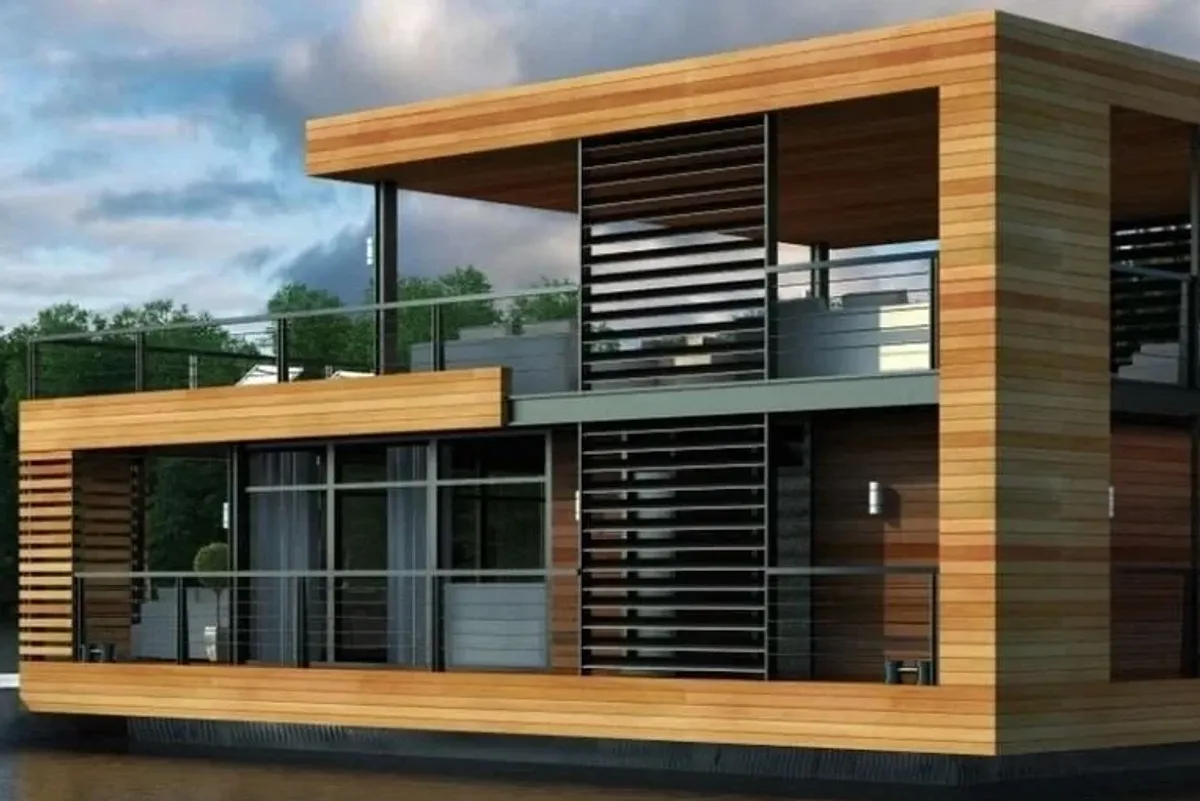 A conceptual drawing of the type of home that could be considered for Frenchman's Bay.(RE/MAX Hallmark First Group Realty Ltd.)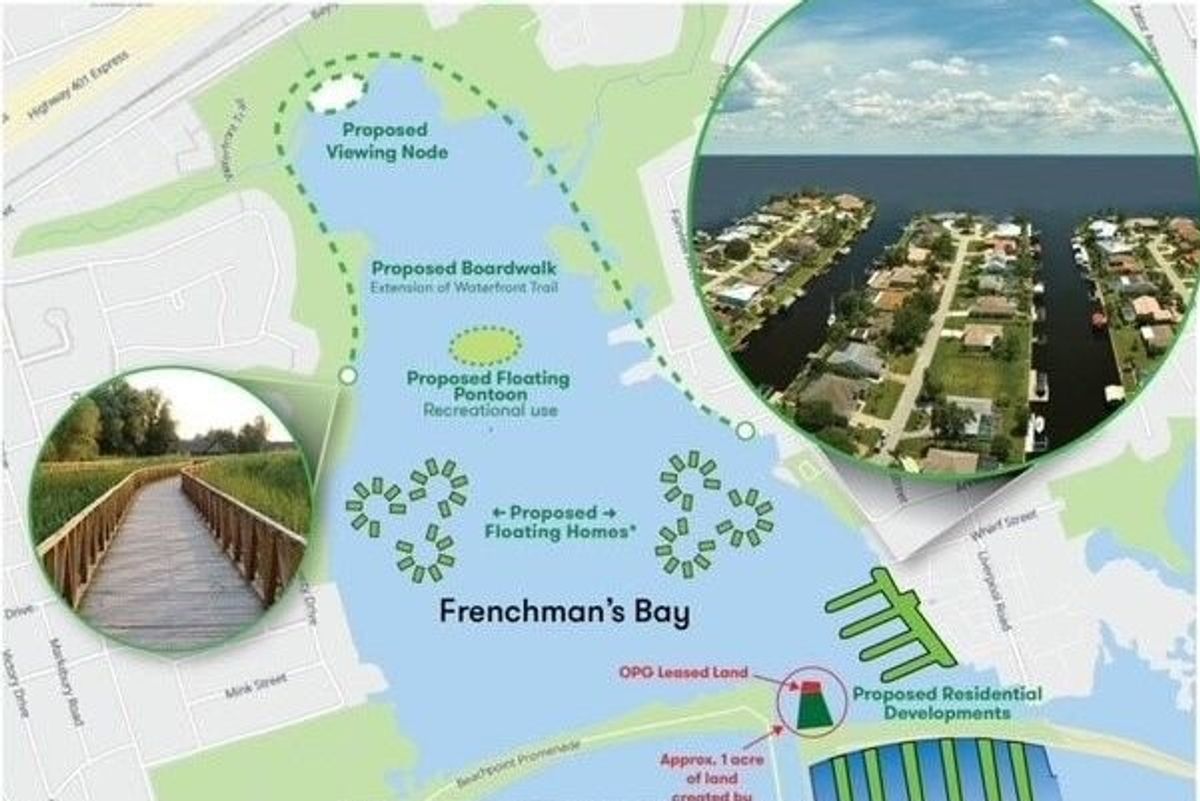 Kelly points to other famous waterfront developments, like Dubai's Palm Islands and The World Islands — both residential projects constructed on top of waterways that have attracted a slew of affluent buyers. But for a somewhat similar (though not nearly as extensive) example closer to home, there's Friday Harbour Resort on Lake Simcoe, a resort community with homes that extend out onto the water.
"If you looked at Friday Harbour, the development they have up there, you could probably build five times that size and still leave the water space for sports and recreational activities," Kelly said.
Also for sale in a different, but related, listing is the neighbouring 591 Liverpool Road. This property, which spans just under six acres, is a commercial parcel that houses the bay's marina service, which been in operation since 1972 and is open year-round for boaters to store (or live on) their vessels. Kelly notes that it's a very viable business that could (and maybe should) be kept. It's asking $20M.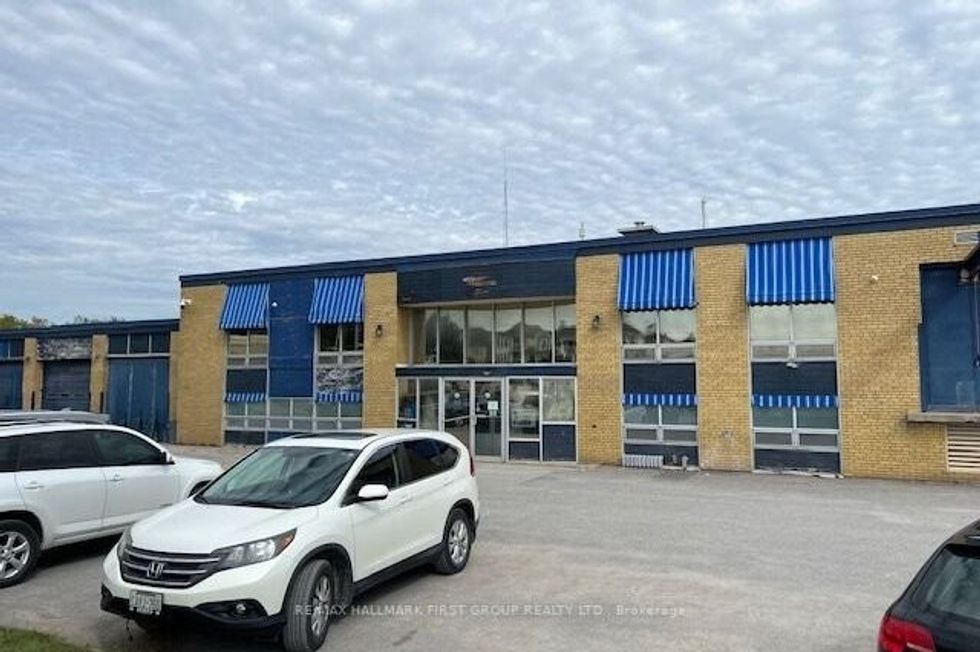 The marina at 591 Liverpool Road.(RE/MAX Hallmark First Group Realty Ltd.)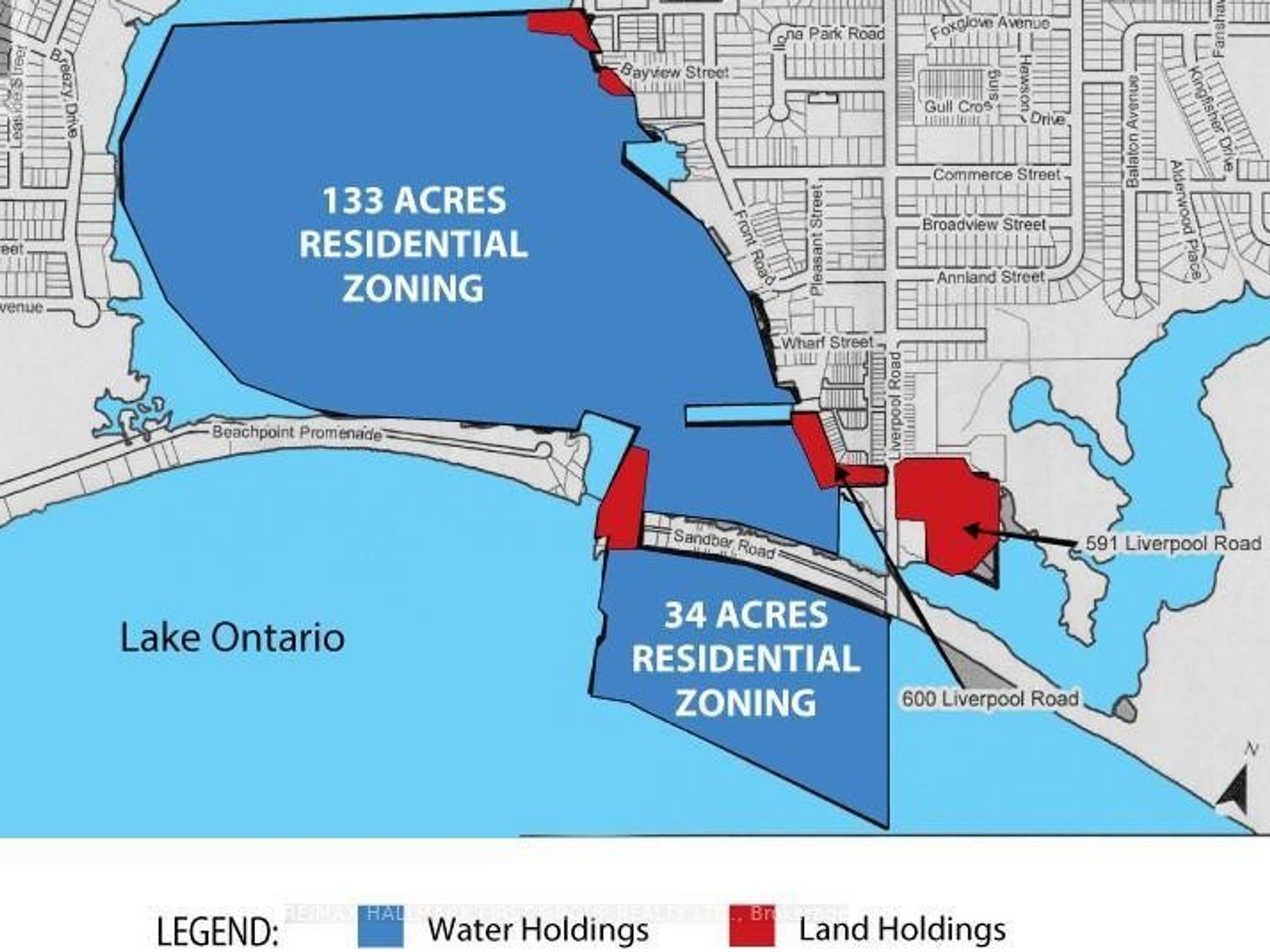 An overview of 600 and 591 Liverpool Road.(RE/MAX Hallmark First Group Realty Ltd.)
Kelly says his phone has been ringing since listing the properties for sale just over a week ago, with interest locally and around the globe. It's caught the eye of both developers and the City of Pickering itself, though no deals have been finalized as of yet.
Whoever ends up purchasing the lands, Kelly says it's vitally important to consider what the highest and best use of the space could be. He sees this as an unprecedented opportunity to add unmeasured value to Pickering, whether that be through building a multi-level garage on shore for parking — something he says the city desperately needs — or creating destination recreational facilities, a concert venue, or new homes.
"It's an opportunity for somebody to really have a look at it and say 'Okay, how do we make this an international tourist destination?'" Kelly said. "Because you've got a casino here in Pickering, you've got golf courses all over the place, you've got probably one of the best waterfronts in all of Canada — why can't it be like Marina del Rey in California?"
Marina del Rey, a small seaside community in Los Angeles County, has become a popular tourist destination in recent years, home to North America's largest man-made small-craft harbour, one that's bustling with water activities from paddle boarding to yacht cruises.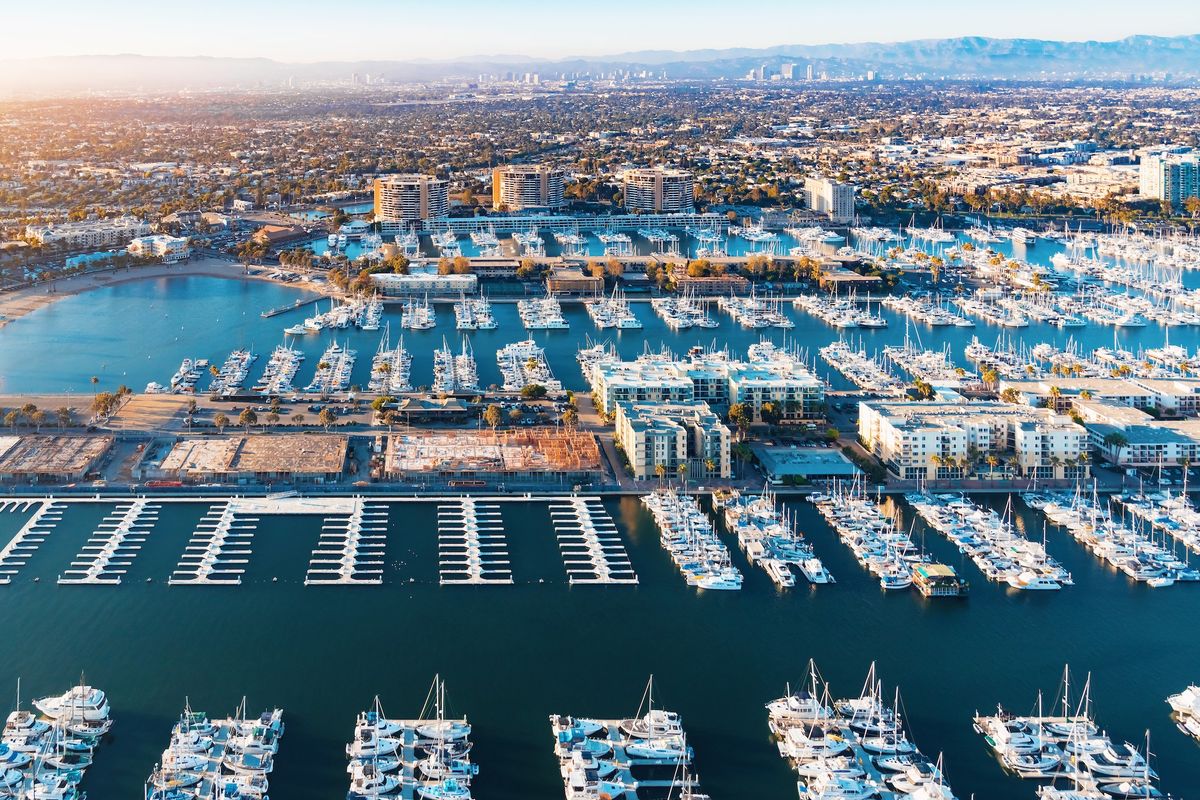 The Marina del Rey harbour. (Shutterstock)
It's difficult to think about waterfront development of this scale along Lake Ontario without the ongoing Ontario Place revitalization coming to mind — one that has given several acres of public park land to Vienna-based firm Therme Group for development. Although their planned construction of a large spa and waterpark at the downtown Toronto park has drawn the ire of many local residents, there is one major difference with Frenchman's Bay — the Pickering waterway is already private property and has been for as long as anyone has been alive.
Any changes that would open it up and draw people in would likely be welcomed by many — and the possibilities are seemingly endless.
"You're limited by your imagination. If you open your mind and let that expand to see how can we make this the best possible bay for all of us citizens, not just in Pickering but around the world, there's no reason why we can't do it."
Real Estate News