The private developer gearing up to build a sprawling spa and waterpark at Ontario Place revealed updated plans for the site that would see a smaller building structure and more public parkland.
At a media briefing held Tuesday morning, Vienna-based firm Therme Group unveiled their new design, drafted in response to overwhelming public criticism of existing plans which would have seen the construction of an imposing 22,000-sq.-m glass structure, with daily access priced around $40 per person.
---
Therme says it will now deliver a year-round, family-friendly destination with a smaller building footprint and more public parkland. The building footprint has been reduced in size by 25% and, rather than one large structure, will now be divided up into several smaller pavilions — something the company says will create a "campus-style" layout.
There will also be a new welcome pavilion — a re-designed entry to the West Island that "provides a grand arrival experience for the public, and immediate entry to expanded parkland," Therme says. Although the welcome pavilion will be free and open to all, spa and waterpark pricing will still start at $40.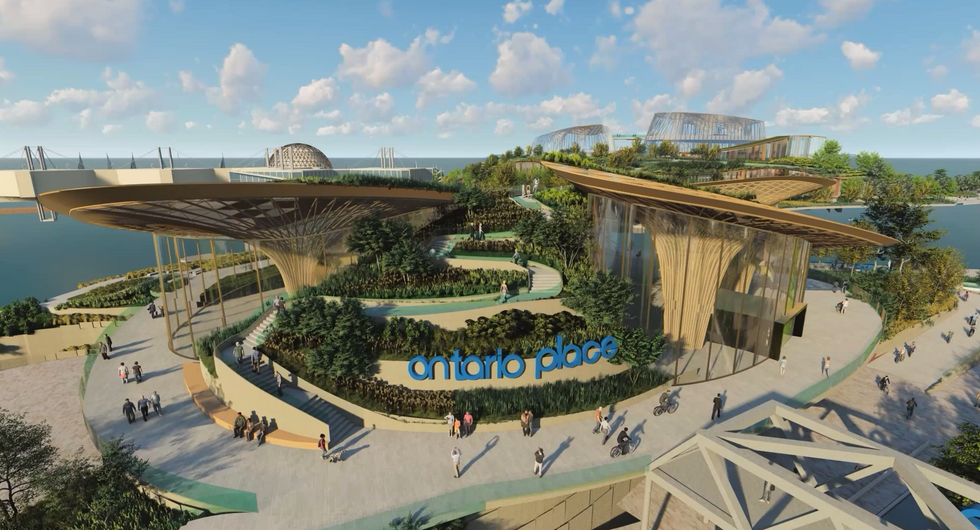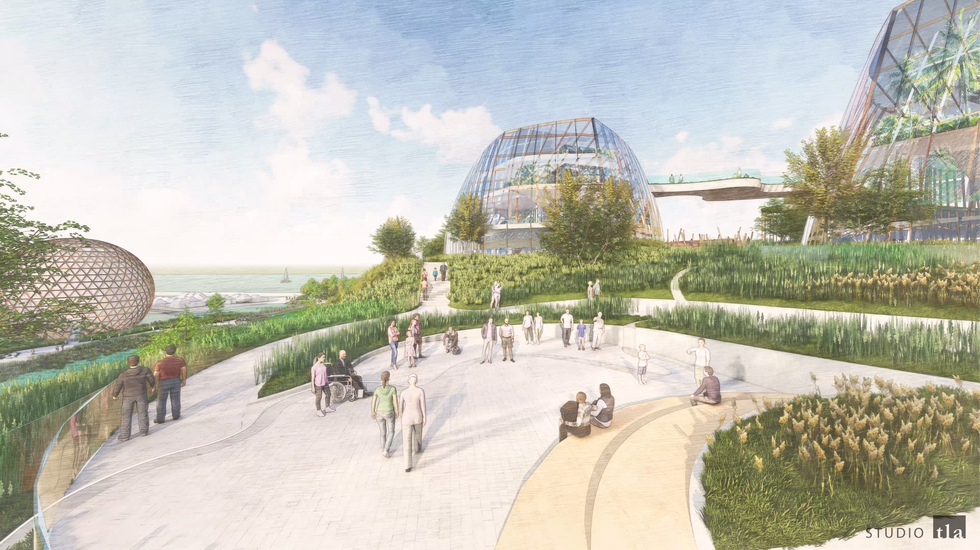 As for the public parkland, there will now be nearly 16 acres, up from the 12 acres called for in the prior iteration of development plans. To do this, the buildings themselves will see their roofs turned into 3.4 acres of public green space, with views of Lake Ontario, the marina, and the Cinesphere.
Additionally, a series of design changes to the public realm are intended to improve the visitor experience. The pedestrian bridge connecting Lakeshore Boulevard West to the West Island has been redesigned as a public pathway with more green space. This pathway, Therme says, was designed to "recreate the path of the Credit River, to honour its significance to [the Mississaugas of the Credit First Nation (MCFN)], who have lived and continue to live on the north shore of Lake Ontario."
The path will also feature a new programming space for MCFN to use in traditional ceremonies and activities, including new fire pits that can also be used by the general public.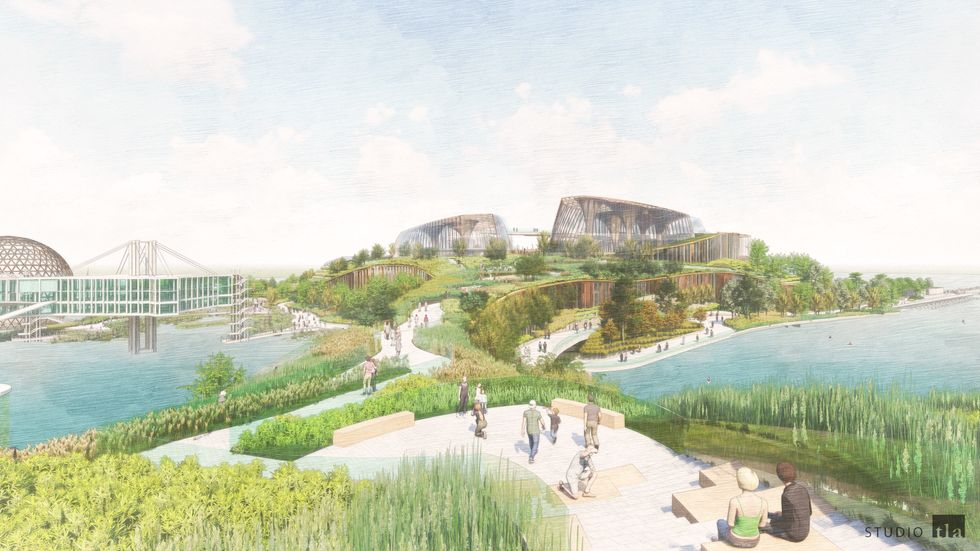 Various public walkways on the island have been widened to accommodate more food concession areas, and the island's southeastern area has been redesigned to feature a larger gathering space that is more protected.

The planned public beach has not undergone any major changes, and will measure roughly one acre in size with a public boardwalk running through it. A reef system will be constructed in the water to not only benefit aquatic life, but to protect the beach itself.
A new gathering area adjacent to the beach will accommodate 3,000 people or more. Therme says the plan is to have the space be a destination with a water feature, a winter skating rink, and amphitheatre seating.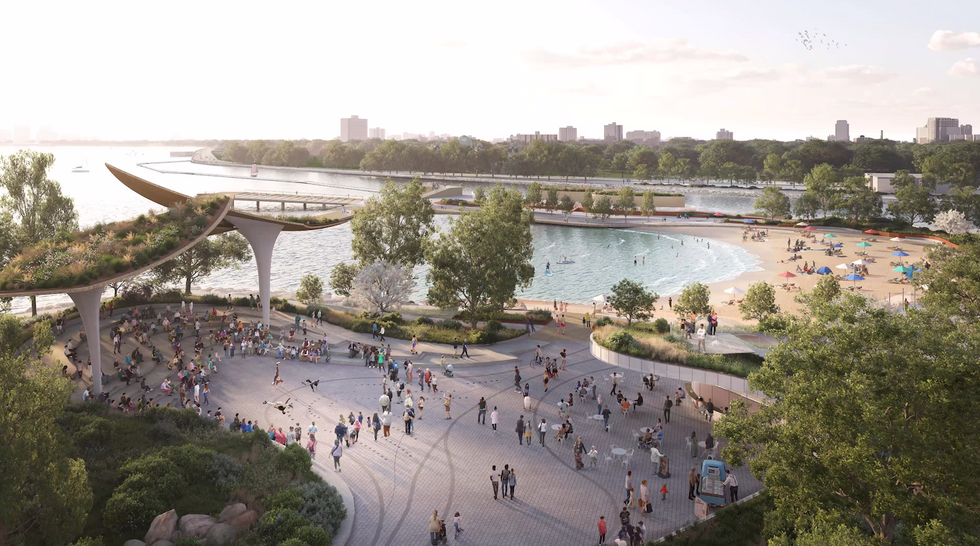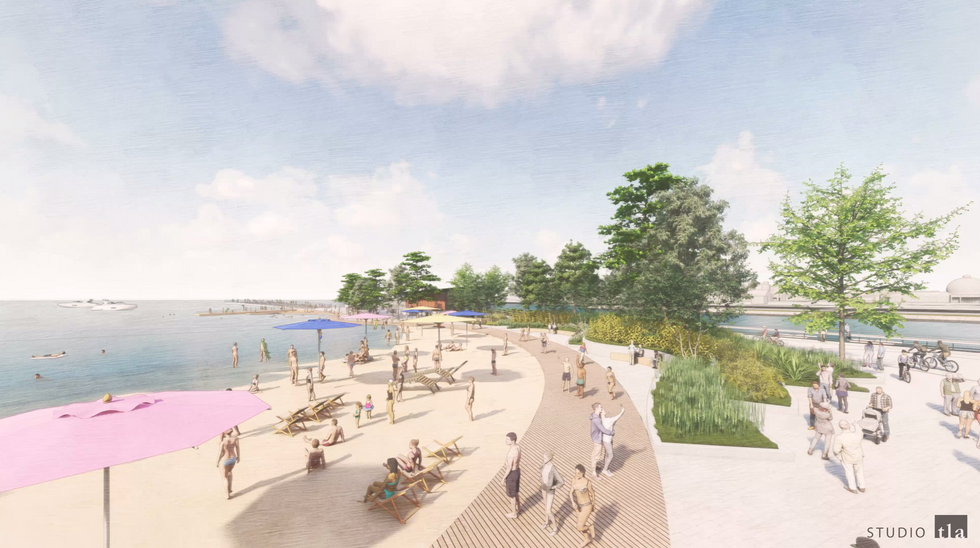 Therme made its design changes following consultation with MCFN, in addition to reviewing feedback from public meetings, community engagement, and City of Toronto planning staff. The changes appear to address a number of the most common complaints — save for those that there should be no private spa at all — about wanting a smaller, shorter building and more public space.
This marks the second time that Therme has updated its plans in response to public criticism. In November, the company submitted its official development application to the City of Toronto with several tweaks to its original $350M plan, upping the amount of public park space and adding in a man-made wetland area.
The newest iteration will still need to receive approval from the City of Toronto. Gary McCluskie, principal at Diamond Schmitt Architects, who's leading the design of the project, says the plans will likely continue to evolve as they receive more feedback.
Real Estate News