---
A developer is eyeing Ladner Village for a new six-storey, mixed-use building that would create a new retail hub for local residents.
Proposed for 4989 Bridge Street -- less than a block away from Ladner Lions Park -- the site is currently occupied by a few single-storey commercial spaces, including a Dunbar Lumber Ladner Warehouse. The application is seeking to consolidate the lots on 4905, 4909, and 4915 Elliot Street, as well as rezone the property and close a lane that currently runs through the site from Bridge Street to Trenant Street.
The proposal calls for a six-storey building with approximately 13,756 sq. ft of commercial space on the ground floor, and 129 residential units on the top four floors. A 218-space parking lot would span the first and second floors.
The application was originally submitted in September 2021, according to a Council Report, and required an amendment to the Official Community Plan at the time, but that requirement was eliminated in December 2021 after the City amended the Ladner Area Plan.
The amendment allowed for six-storey buildings in Ladner Village, should they be terraced and stepped back to reduce massing and shading impacts, as well as include affordable housing options. According to the City, the applicant -- Headwater Living, has revised their proposal to address the former, with details about the latter to come.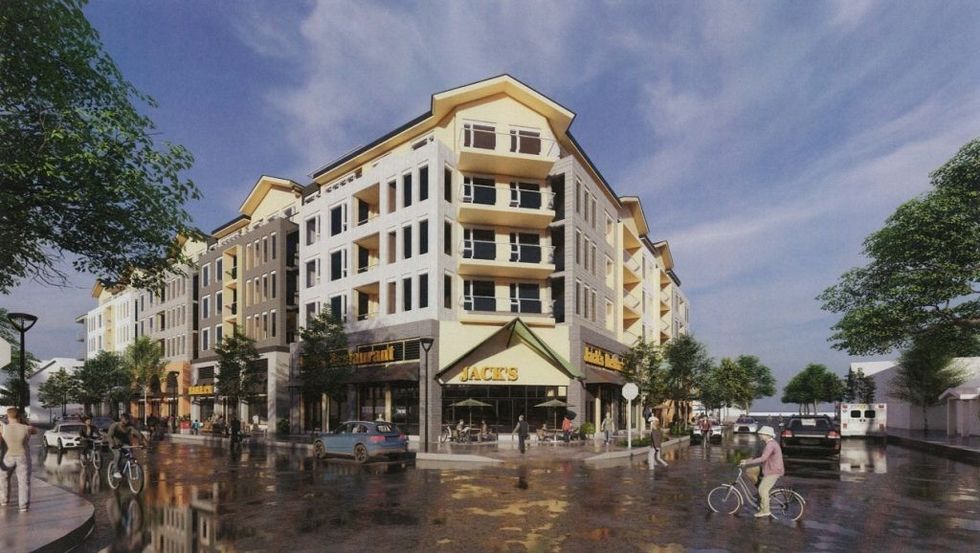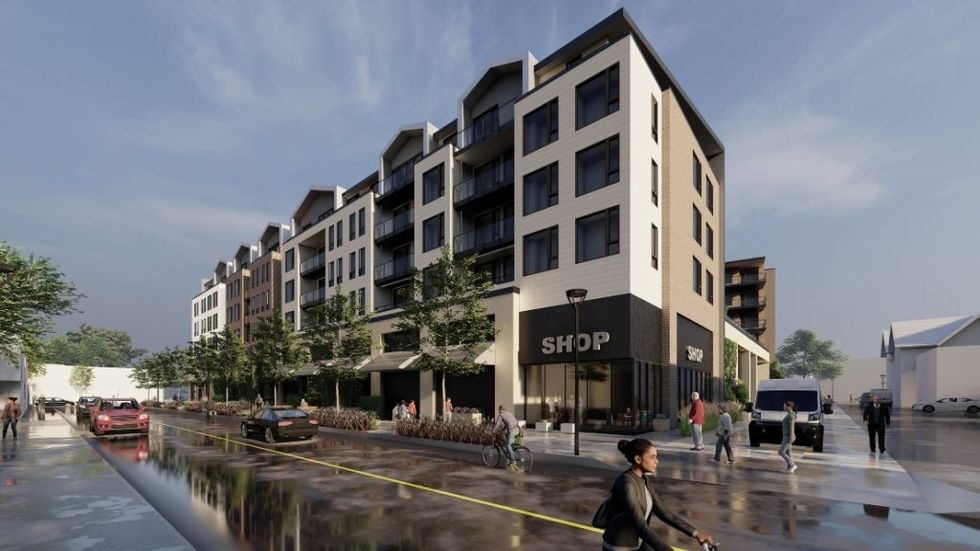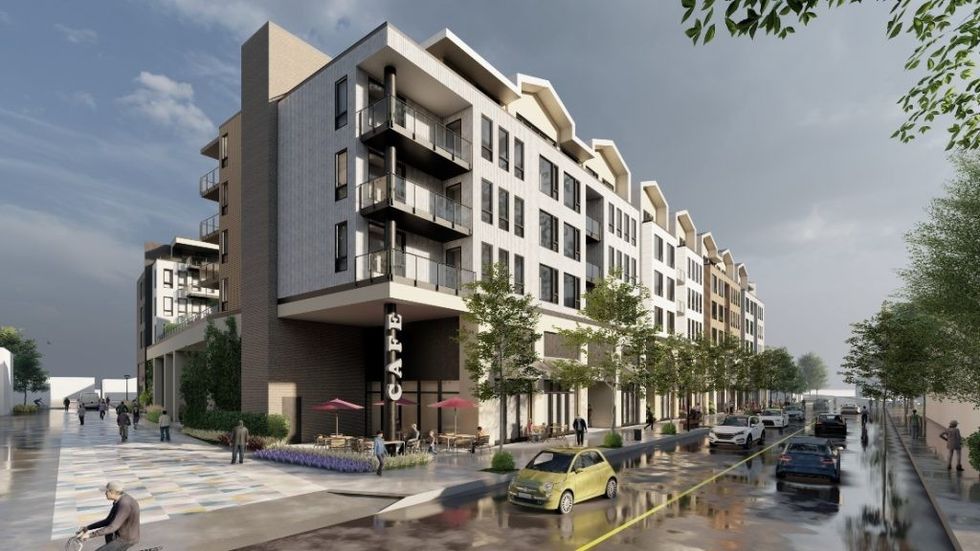 Renderings. (Headwater Living / MCMP Architects)
Of the 129 residential units, four would be studio units, 26 would be one-bedroom units, 88 would be two-bedroom units, and 11 would be three-bedroom units.
The building is designed with a large courtyard on the third level, which would serve as an outdoor amenity space for residents. Plazas with outdoor patio space would also be scattered along the ground floor commercial space.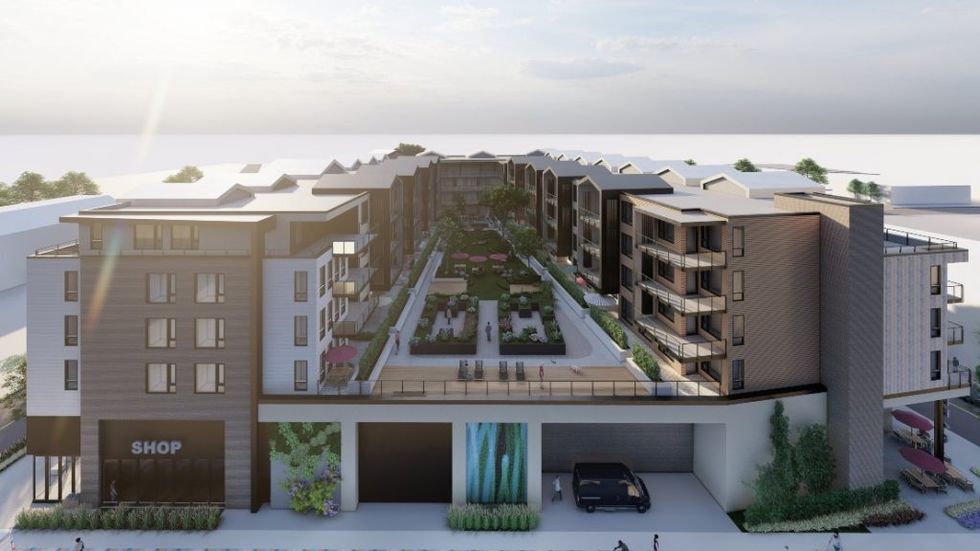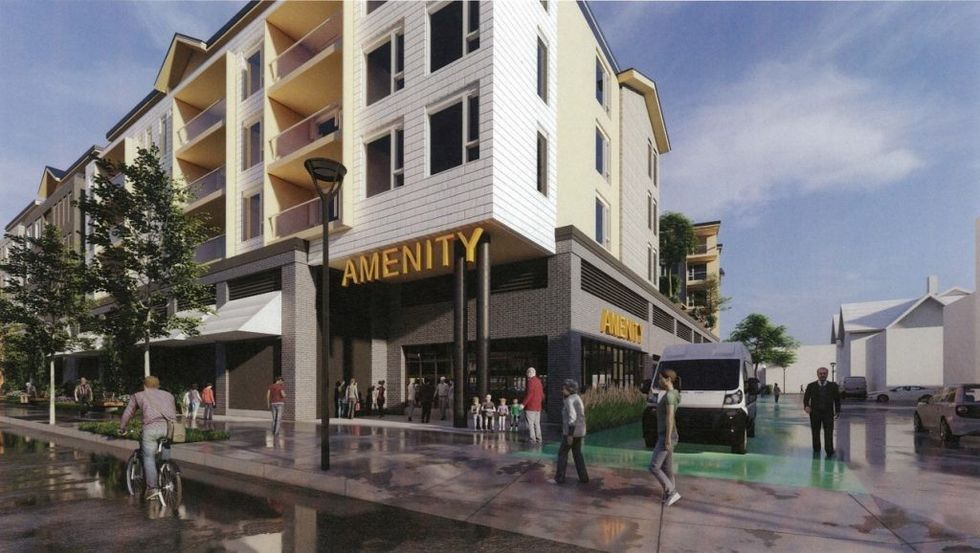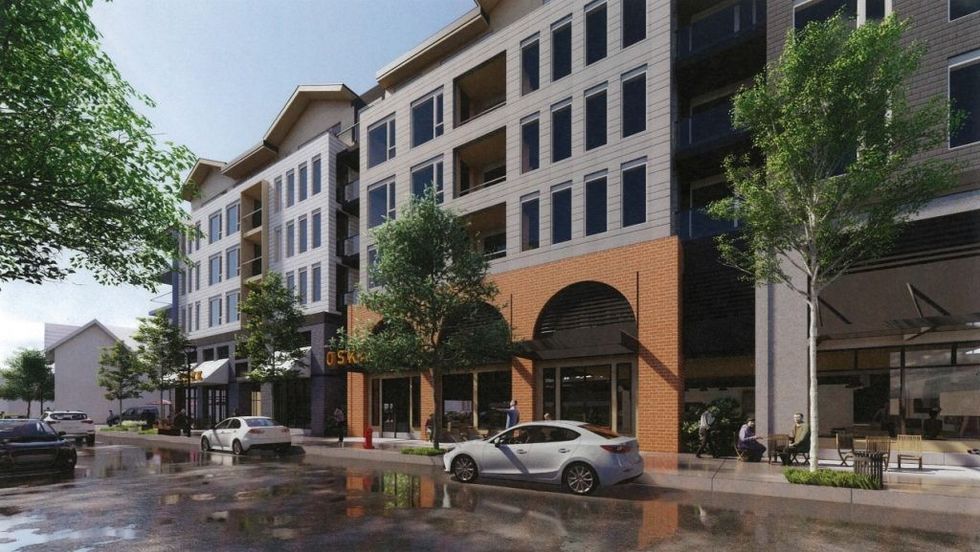 Renderings. (Headwater Living / MCMP Architects)
The building is designed by MCMP Architects, who note in the project briefing that the top floor of the building has been set back, resulting in the building appearing to be four storeys from some perspectives.
In this revised proposal, the architects also say that the façades of the building now consist of a variety of massing and materials in order to break down the building into smaller sections.
READ: The Oval: New 3-Building Hotel and Residential Project Approved in Richmond
The building would be "clad in a warm fibre cement-textured finish that references traditional shingle cladding found in the Village" and "gives a modern nod to the adjacent half-timber and stucco Tudor style heritage building," the planning documents describe. The building's numerous peaked roofs also reference the heritage of Ladner Village.
Since the rezoning proposal is now consistent with the Official Community Plan, no public hearing is required, but public information meetings will be held on Wednesday, January 11 and Tuesday, January 17 at the Ladner Community Centre. The City is also accepting public comment on the project online from now until Sunday, January 22.
Future Developments