A sinuous sail, a salmon-inspired expanse, or a living pathway may soon grace Toronto's waterfront.
These creations are some of the five shortlisted designs for the Keating Channel Pedestrian Bridge revealed during a virtual presentation on September 28.
---
The designs were guided by six project goals, including the creation of a beautiful and distinctive gateway to the waterfront, incorporating a living landscape, and creating with Indigenous voice and agency. The designs should also foster a space for all people, embody sustainable strategies and innovation, and create a safe and direct connection across the Keating Channel.
Whichever iteration is chosen, the Keating Channel Pedestrian Bridge will rise above its namesake waterway and link the forthcoming Quayside neighbourhood with Villers Island and its expanded network of parks.
Toronto residents are invited to share their feedback on the designs until October 5.
Maamawi' Bridge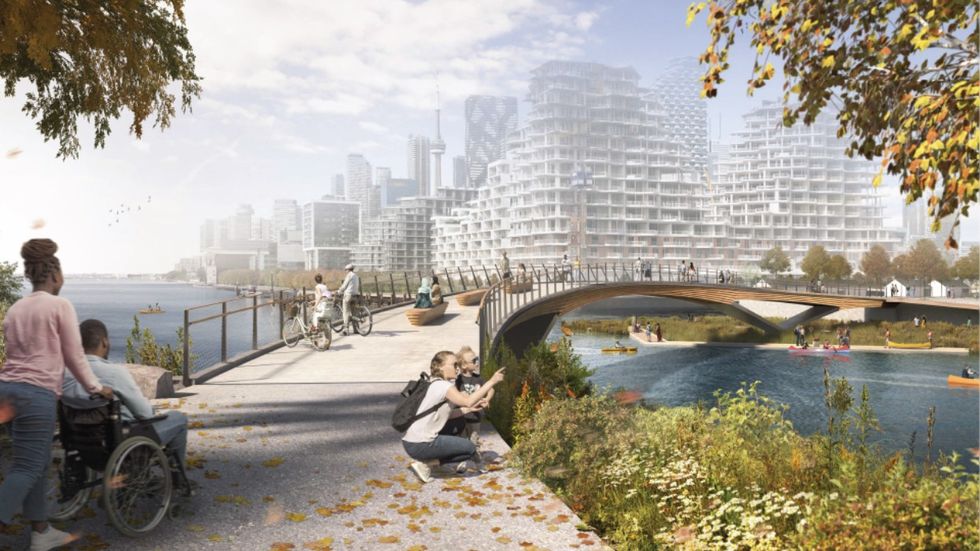 Lead Firm: Entuitive
Engineer: Schlaich Bergermann Partner
Architect: Grimshaw Architects
Architect & Indigenous Consultant: Two Row Architect
Landscape Architect: O2 Planning + Design with Michael Van Valkenburgh Associates
Designed as an inversion of the existing Port Lands bridges, Maamawi' Bridge's curved appearance will offer spectacular views of the lake. Comprised mainly of timber, the bridge will offer space for Indigenous artists to showcase their work and includes myriad biodiverse elements, including bat boxes and fish hotels.
Nda-Nwendaaganag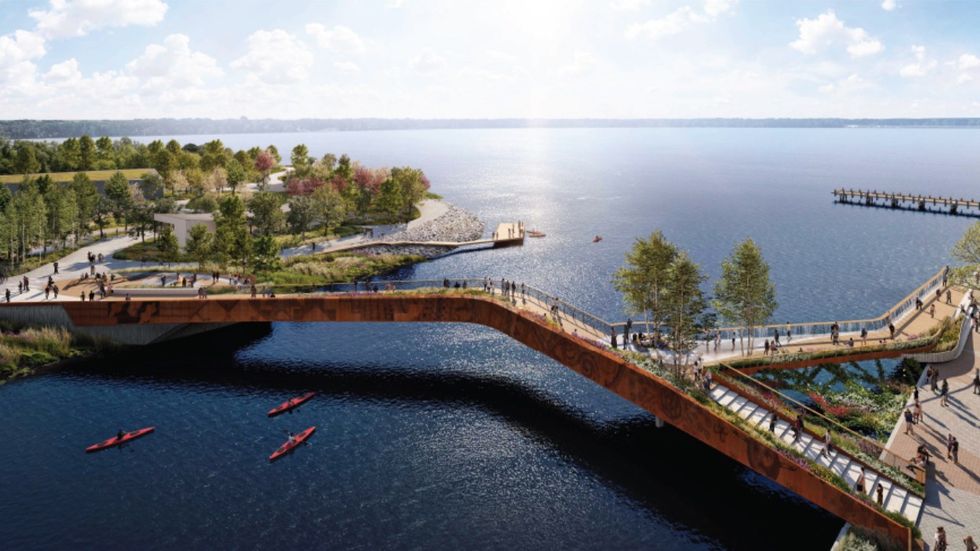 Lead Firm: EXP
Engineer: Buro Happold
Architect: INFORM Studio
Indigenous Consultant: 4 Directions
Landscape Architect: Sprucelab
Billed as a "living bridge," Nda-Nwendaaganag will include a green wall, extensive meadow plantings, and a trio of trebling aspen planted directly into the structural supports. A weathered steel curtain will wrap across the eastern wall and showcase Indigenous patterns, and a Medicine Wheel fire pit will anchor a large gathering area at one end of the bridge.
The Salmon Run
Lead Firm: Henning Larsen
Engineer: Ramboll
Architect: Henning Larsen
Indigenous Consultant: Two Row Architect
Landscape Architect: Henning Larsen
The red ichthyoidal expanse will snake across the channel below a steel, fin-like structure. A floating landscape will be incorporated beneath the bridge, enhancing the urban ecology of the area. The design focuses on weathering climate extremes, and materials, including steel and asphalt, were selected based on their long shelf life.
The Harbour Eye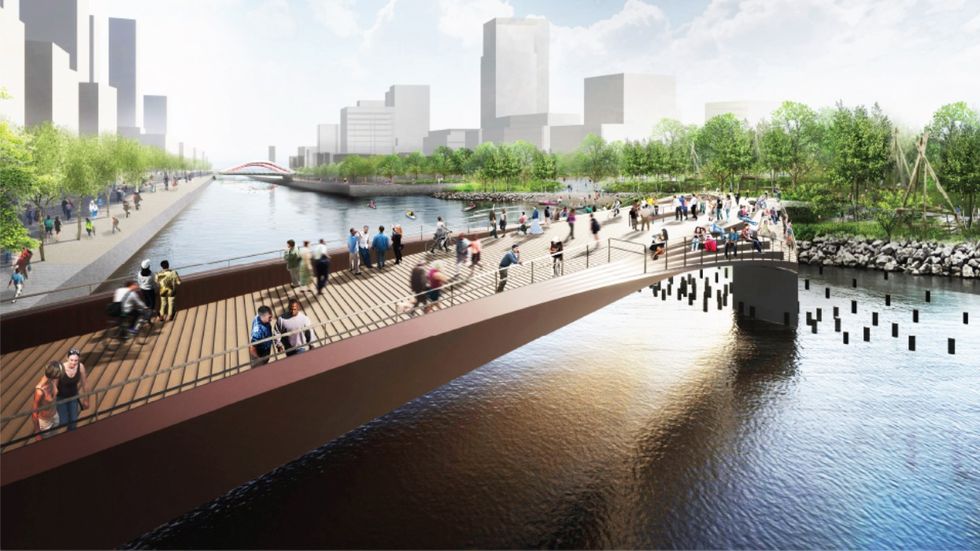 Lead Firm: RJC Engineers
Engineer: Anta Ingeneria Civil
Architect: Smoke Architecture Inc.
Indigenous Consultant: MinoKamik
Landscape Architect: Michael Van Valkenburgh Associates
Centred around an oculus, The Harbour Eye seeks to connect the living watery world below with our terrestrial plane, while reflecting the celestial expanse above. Indigenous art will be showcased on the vaulted steel underside of the bridge, and a timber pile field beneath the structure will help to create a rich aquatic habitat by slowing the water's flow.
Equinox Bridge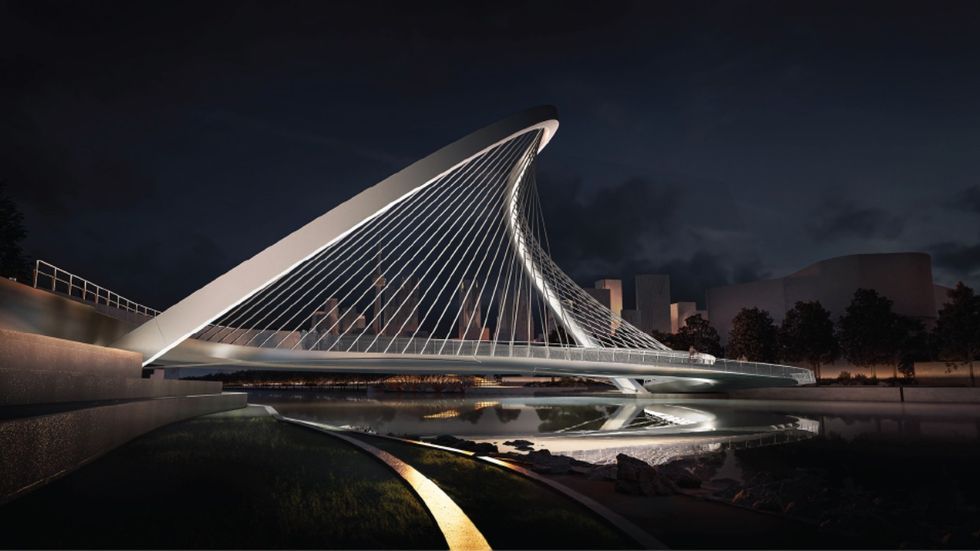 Lead Firm: Zeidler Architecture Inc.
Engineer: Arup
Architect: WilkinsonEyre
Indigenous Consultant: Two Row Architect
Landscape Architect: PLANT Architect Inc.
The sinuous Equinox Bridge sits beneath a twisting sail, the curves of which align with the solstice suns. Indigenous designs and star constellations will be projected onto the deck's surface at night, which also includes timber slat seating and wedge wire observation areas.
Urban Living