Kawartha Lakes
Kawarthas
Kawartha's June Realty Activity Increased by Single Sale Year-Over-Year
Real estate activity in Kawartha Lakes held steady through the month of June, with homes sold increasing year-over-year by just 0.6%, according to the Canadian Real Estate Association (CREA).
And that slight uptick can be credited to one single sale, the data shows.
Totalling 164 units, last months sales came in 10.4% above the region's five-year average, and 0.2% above the 10-year average for the month of June.
So far through 2021, home sales have reached a record total of 934 units — an increase of 68.3% from the same period in 2020.
READ: Muskoka Waterfront Sales Slow in June, But Decline 'Greatly Exaggerated'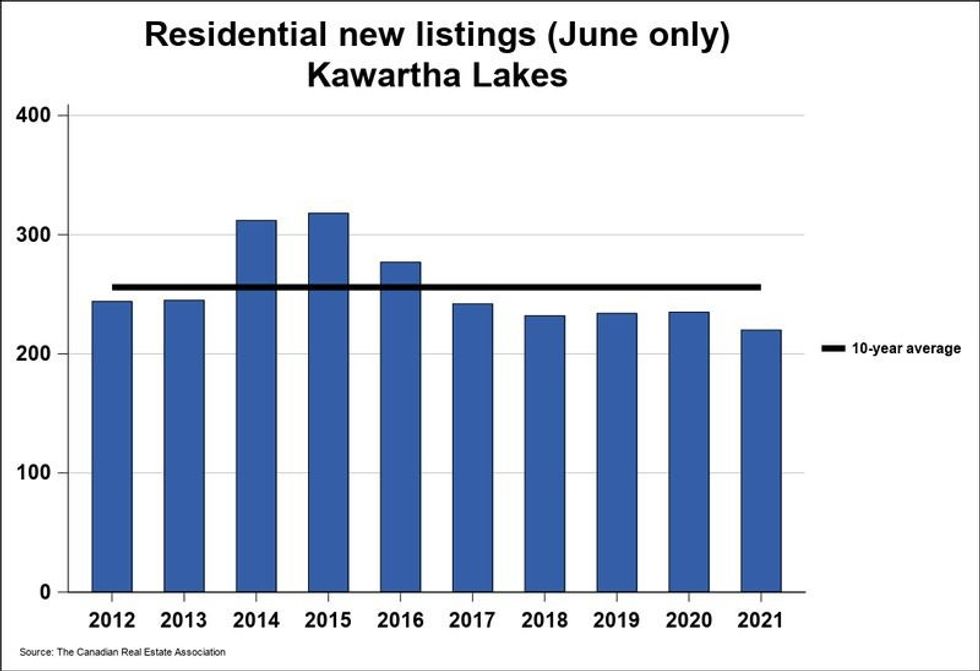 From the same month last year, new listings were down by a count of 15, or 6.4%, totalling 220 new residential listings last month.
CREA reports this is the lowest number June has seen added in more than 15 years. The total hovers 5.4% below the five-year average, and 14% below the 10-year average for the month.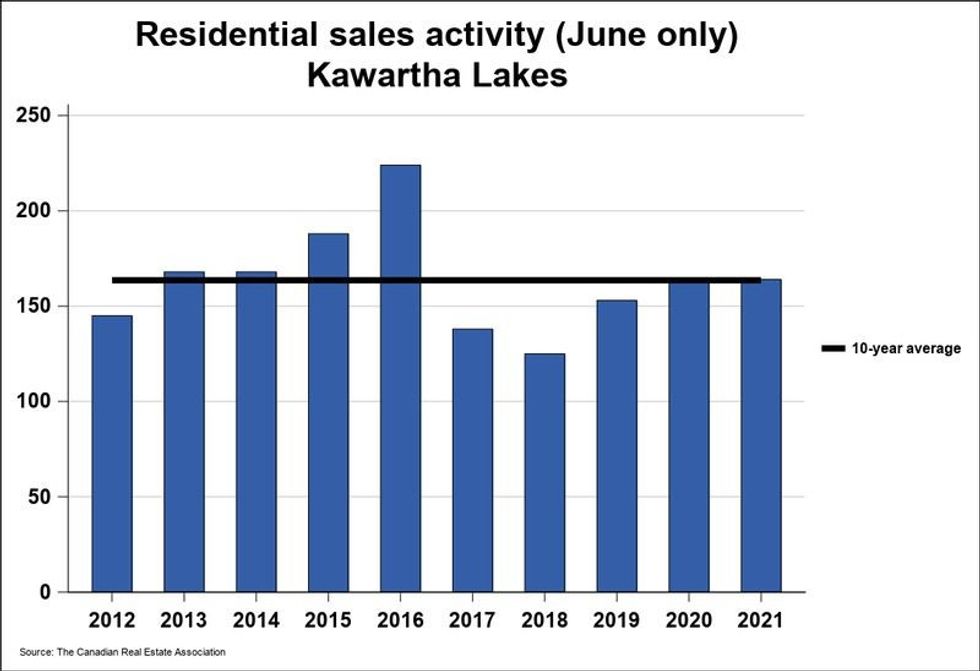 At the end of June, active residential listings numbered 167 units, down 43.4% year-over-year.
Again, CREA says this is a long-time low; June reportedly hasn't seen such a small count in more than 30 years.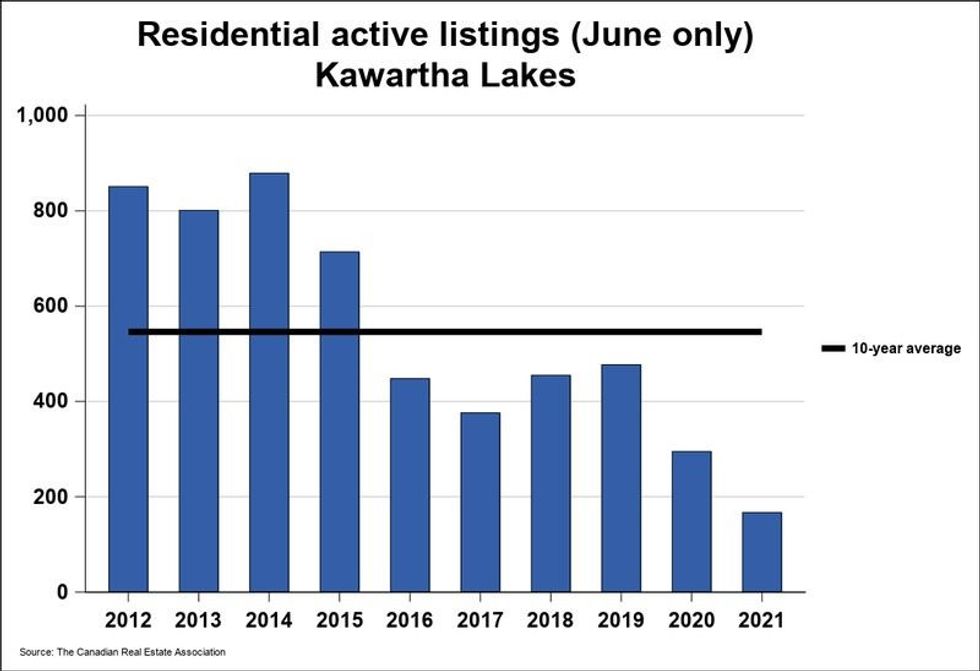 Months of inventory — or the number of months it would take to sell current inventories at the current rate of sales activity — numbered just 1 at the end of last month, down from the 1.8 months recorded last year, and from the long-run June average of 3.4 months.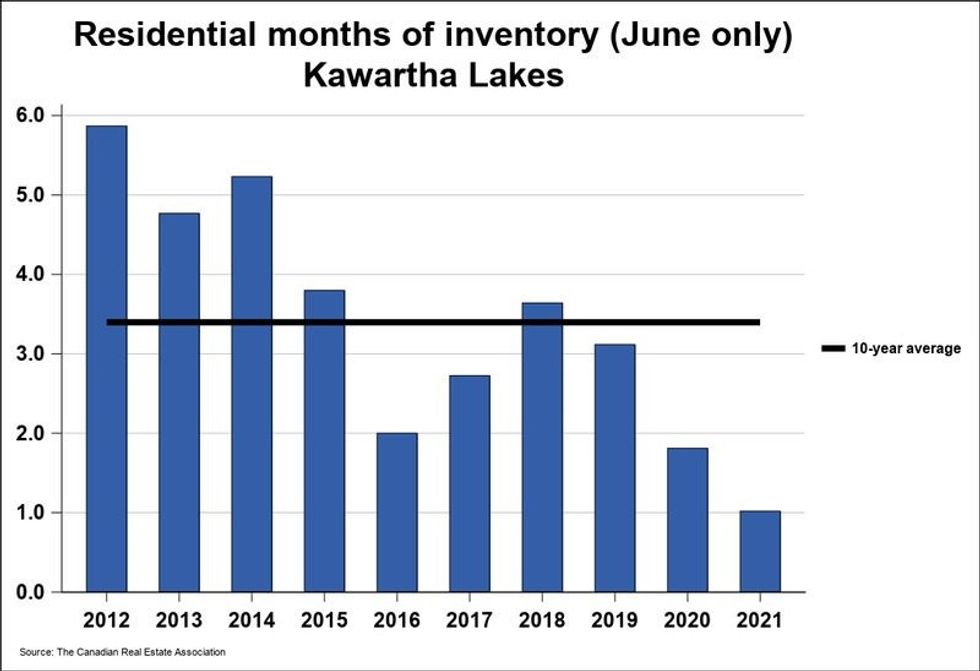 Meanwhile, the MLS Home Price Index (HPI), which tracks price trends far more accurately than is possible using average or median price measures, showed the overall MLS HPI composite/single-family benchmark price jumped 44.4% year-over-year, reaching $621,000 in June.
The dollar value of all home sales last month was recorded at a new record of $112.6 million, up 32.8% from the same month last year.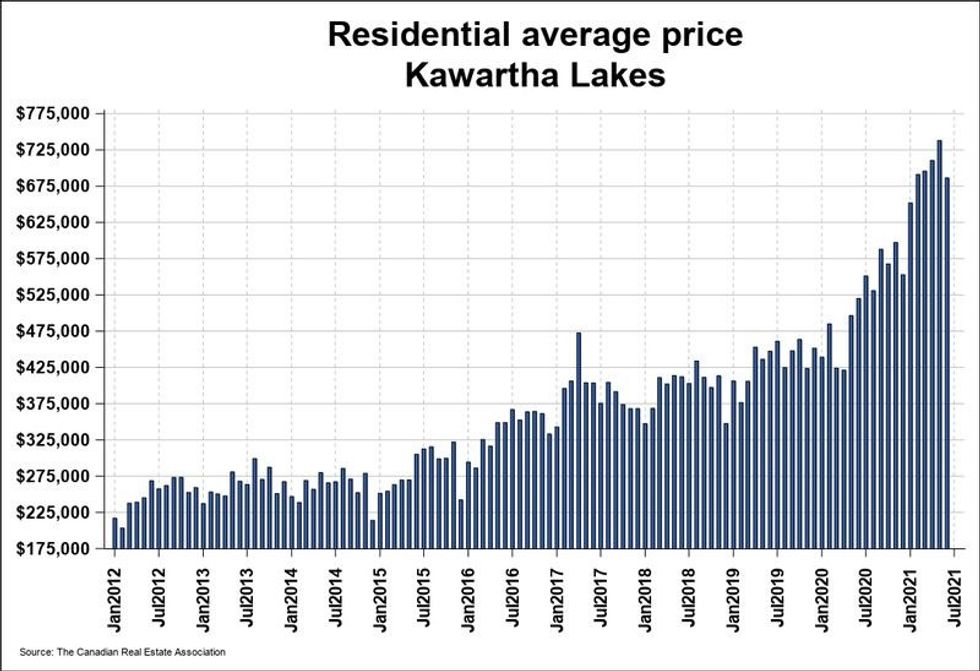 Meanwhile, CREA reports that in neighbouring Muskoka region, the month of June saw a "steep decline" in waterfront property sales, while agents in the area say that, in realty, the lowering isn't as intense as the numbers might lead you to believe.
"While both property types have seen similar trends in new supply coming onto the market and a continued decline in overall available listings due to an elevated level of demand, it appears that the majority of the buying frenzy for waterfront homes may now be in the rearview mirror," said Chuck Murney, President of the Lakelands Association of Realtors.
But Maryrose Coleman of both Muskoka District Rentals and Sotheby's International Realty Canada says June's numbers — and the claims that stem from them — present a more dramatic situation than what agents are actually seeing in the region right now.
"The rumours of the death of the waterfront market are greatly exaggerated," Coleman says. "We have seen a softening, or a slowing, but it's too early to tell if this is a typical summer market easing — as there has been very little product available — or if we are actually starting to see the market ease or even turn."
She notes that ultimately, the length of a listing's life on the market is much less about location than it is about cost.
"Demand is still strong for well priced properties. Aspirationally [sic] priced waterfront properties are sitting for longer. I expect this to continue through the summer, and by fall we will have a cleaner picture of the market trends."