The Joseph Richard Group, which owns a wide assortment of pubs, restaurants, and other hospitality-oriented business entities, has filed for creditor protection under the Companies' Creditors Arrangement Act (CCAA), according to Supreme Court of British Columbia documents obtained by STOREYS.
---
Joseph Richard Hospitality Group Ltd. was founded by André Joseph Bourque and Ryan Richard Moreno and owns controlling shares in companies that operate the following hospitality establishments in the Lower Mainland:
The Henry, on 5708 176 Street in Surrey
S&L Kitchen & Bar South Surrey, on 16051 24 Avenue in Surrey
S&L Kitchen & Bar Langley, on 8399 200 Street in Langley
S&L Kitchen & Bar Abbotsford, on 2070 Sumas Way #200 in Abbotsford
Livelyhood, on 3224 St Johns Street in Port Moody
Oak & Thorne, on 20173 88 Avenue in Langley
Whiskey Charlie, a cafe on 18799 Airport Way #1007 in Pitt Meadows
Blank Canvas Catering, a catering and private dining company
Tavern On The Green, a pub within the Ledgeview Golf Course in Abbotsford
The Italian Osteria & Cheesebar, on 20330 88 Avenue in Langley
Townhall Abbotsford, on 33720 South Fraser Way in Abbotsford
Townhall Chilliwack, on 6640 Vedder Road in Chilliwack
Townhall Maple Ridge, on 20690 Lougheed Highway in Maple Ridge
Townhall Langley, on 19640 64 Avenue in Langley
Joseph Richard Hospitality Group Ltd. also owns controlling shares in the following planned hospitality establishments, which have yet to open:
Clover 67 Private Dining Room
The Phat Bird Public House
Monkey See Tiki Bar
JRG Foodhall, which is developing the food hall in The Post in Vancouver
The Clover 67 Private Dining Room and The Phat Bird Public House are set for the Clover Building in Surrey and the Rooster Building in Pitt Meadows, respectively, which are also owned by Joseph Richard Hospitality Group Ltd. The former houses the current head office of Joseph Richard Group and the latter is a strata development, according to court documents.
In addition, Joseph Richard Hospitality Group Ltd. also owns controlling shares in companies that operate the following beverage entities:
The Clover Station Liquor Store, in Surrey
The Glass House Estate Winery, in Langley
The Queen's Liquor Store, in New Westminster
Furthermore, Joseph Richard Hospitality Group Ltd. also owns a controlling share in Steveston Hospitality Services Ltd., which operates the Steveston Hotel and Cafe, the Steveston Hotel Liquor Store, and the Buck & Ear bar, all of which are in Richmond.
Joseph Richard Hospitality Group Ltd. also owns 10 holding companies that do not have any active projects, as well as four holding companies that operated four hospitality establishments that have closed in recent years: the Edith & Arthur Neighbourhood Public House in Surrey, the Study Public House pub in Simon Fraser University's Burnaby campus, the Oceanside Public House in White Rock, and the Sudo Asian Kitchen restaurant in langley.

The Henry, on 5708 176 Street in Surrey. (Joseph Richard Group)
Financial Difficulties
Like practically all hospitality businesses, Joseph Richard Group's establishments were forced to close in March 2020 as a result of the COVID-19 pandemic, before beginning to gradually re-open throughout later 2020, 2021, and 2022.
As a direct result of the pandemic, the aforementioned Edith & Arthur Public House and the Study Public House closed permanently, and the Monkey See Tiki Bar and Sudo Asian Kitchen were unable to complete construction and open as the company had planned.
In an affidavit dated July 17, André Joseph Bourque said that the company made a variety of attempts to adapt to the pandemic. Those efforts included starting a liquor delivery service through their liquor stores, working with Wine Vikings to start a wine subscription service, preparing and selling meal kits, providing a grocery delivery service, providing healthcare workers with meals and a discount program for their families, as well as using the real estate properties they own to hold plant sales -- an effort that was featured in Forbes.
Prior to the pandemic, Borque says Joseph Richard Group employeed about 1,000 people across its various businesses. That number is now down to 830, of which 84 are salaried management positions.
Bourque says that operations improved in Spring 2022 with the help of government subsidies, but says the hospitality sector has still not fully recovered from the impacts of the pandemic, and now faces further challenges, including but not limited to: increases in minimum wage, labour shortages, a higher employer health tax, additional sick days, supply chain issues, high food and supply costs, increased property taxes, and increases in the federal tax on liquor.
"Business appears to be returning to close to 2019 revenue levels, but there has been margin compression due to increased labour and operational costs resulting in much less profitable businesses," Bourque swore. "Further, the businesses have experienced significant losses over the three years and have had to service these expenses in addition to additional bank debt."
Joseph Richard Hospitality Group's primary secured lender is Edmonton-based Canadian Western Bank, to whom Joseph Richard Hospitality Group now owes a total of $13.6M, consisting of one term loan and two project loans.
JRG Cloverdale Holdings Ltd. and 1164312 BC Ltd. -- which own the Clover Building and Rooster Building -- also owe Canadian Western Bank a total of $15.2M.
Following the onset of the pandemic, Joseph Richard Group also entered into another loan agreement with Canadian Western Bank are part of its Business Credit Availability Program for $5.6M.
In total, Bourque and Moreno -- who met in elementary school and opened their first establishment in 2009 -- now owe Canadian Western Bank a total of $34.4M, as well as $2.3M to the Bank of Montreal.
Joseph Richard Hospitality Group is also "facing increasing pressure from the government in respect to overdue PST and GST payments," with the company being told by the BC Ministry of Finance in mid-June that the government could "initiate enforcement steps."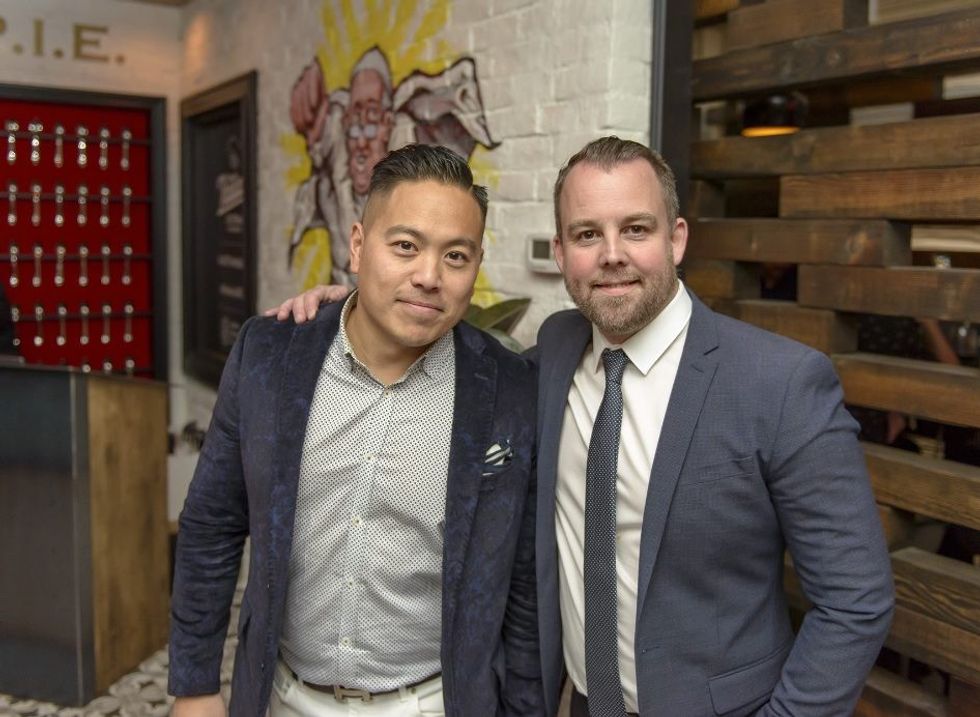 Ryan Richard Moreno (left) and André Joseph Bourque (right). (Joseph Richard Group)
Creditor Protection
Joseph Richard Group is now seeking to secure breathing room in order to develop and plan with creditors on how to move forward, such as restructuring their debt to Canadian Western Bank, reducing the amount owing, and lengthening the amortization period in order to reduce the monthly carrying costs of the debt.
There is no intention to liquidate the established businesses, as liquidation "would recover less than the full value of their indebtness, and other secured and unsecured creditors would recover nothing," according to the Petition to the Court. However, there are indications that certain businesses and assets may be sold off, specifically the projects that have not been completed.
READ: Donnelly Group, Owner of 11 Vancouver Bars, Files For Creditor Protection
The situation is similar to what occurred with Donnelly Group -- who owns 11 bars in Vancouver, filed for creditor protection in May, and reached a restructuring plan with their creditors this week -- except that Joseph Richard Group operates a larger amount of businesses.
On Monday, July 17, the Supreme Court of British Columbia granted the petition seeking creditor protection, and have set the comeback hearing for July 26, at which Joseph Richard Group will seek a further stay of proceedings as they work towards developing a restructuring plan.
STOREYS has reached out to Joseph Richard Group for comment but they have not responded as of publication.
Retail