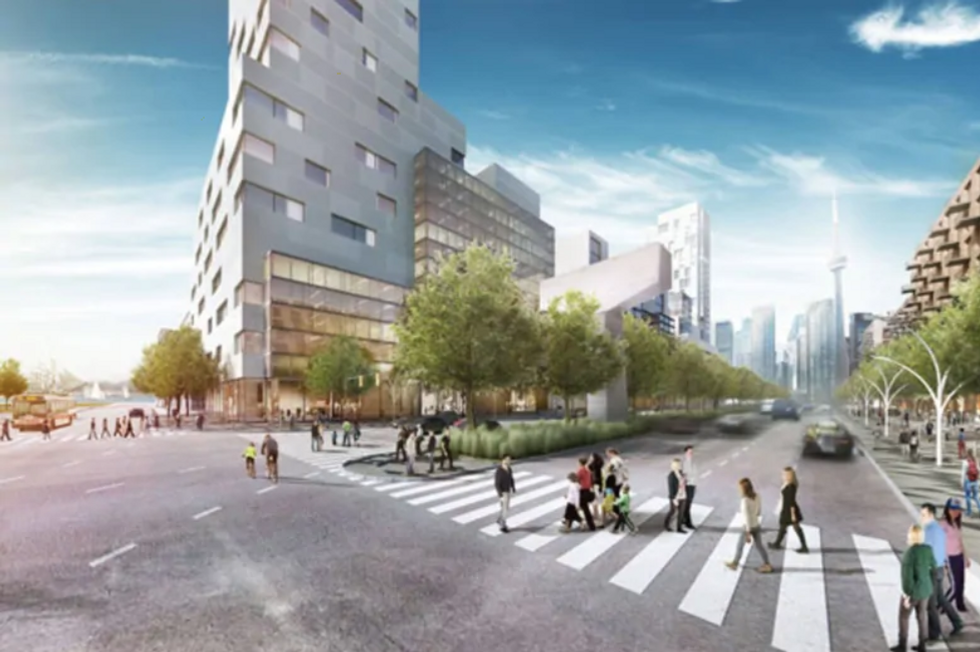 Jennifer Keesmaat's proposed grand boulevard. (Rendering courtesy of Jennifer Keesmaat)
The Gardiner Expressway may not be a driver's dream, but how would you feel if you didn't have it? Or at least a chunk of it ...
---
Mayoral candidate Jennifer Keesmaat announced her plan to tear down an eastern portion of the Gardiner Expressway. In its place, she would have a boulevard built — a "grand boulevard" as she calls it.
Keesmaat says that would cost the city $500 million less than a project championed by Mayor John Tory, which was approved by council in 2015.
"We can build new communities with new jobs in retail and employment and affordable housing — places for people to live — by unlocking this land," she said at a news conference on Sunday.
Keesmaat said the $500 million in savings could be passed along to transit.
But, Tory says the current Gardiner Expressway plan was Keesmaat's in the first place. In response to her Gardiner announcement, Tory said the current hybrid Gardiner plan was actually endorsed by her on Twitter.
Here's Keesmaat's tweet from March 7, 2016:
In a news release, Tory called Keesmaat's plan a "risky and costly move that will further delay the redevelopment of the entire area."
He also questioned the cost of bringing her Gardiner plan to life, adding that the city awarded a $313 million contract in June to "rehabilitate" the Gardiner and its connection to the Don Valley Parkway.
Meanwhile, on Monday, a chunk of guardrail on Gardiner was torn off after a rollover crash. The single-vehicle collision involved a pickup truck and happened in the westbound lanes near Bathurst Street. No one was injured.
Maybe the driver just took Keesmaat's a little seriously — and literally.
Toronto