Investment in building construction edged up across Canada in August, putting an end to five straight months of decline.
According to new data from Statistics Canada, investment in overall building construction increased 1.1% to $17.9B in August, largely due to a rebounding residential sector.
---
Reversing the downward trajectory that began in February, investment in residential construction rose 1.6% on a monthly basis to $11.9B. The single-family home component increased 2.4% to $5.9B, while investment in multi-unit construction rose 0.9% to $6.0B.
The strengthening investment in residential construction coincides with a rising trend in housing starts, which have been on an upward trajectory since June, and comes despite falling home sales and a pair of back-to-back interest rate hikes.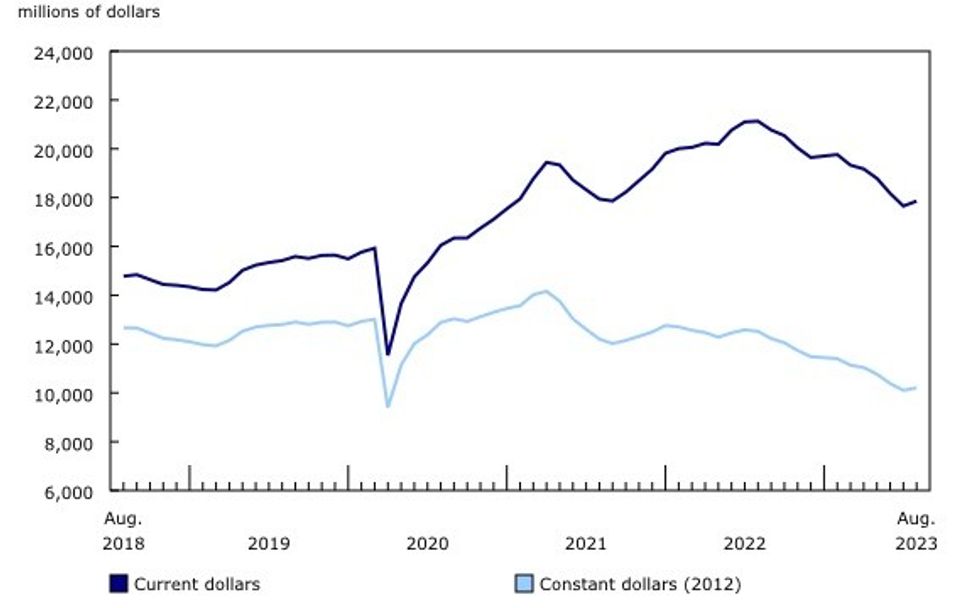 Investment in building construction, seasonally adjusted.(Statistics Canada)
Quebec led the growth in both multi-unit and single-family investment — the latter component registered a 10.6%, or $95M, increase, its largest monthly jump since March 2022. Overall, residential investment in the province rose 7.6% to $2.1B from July to August.
Meanwhile, British Columbia posted its eleventh consecutive monthly decline in the multi-unit component, with investment falling 3.2% to $1.3B. Total residential investment in the province dropped 2.4% month over month to $2.1B.
Overall, five other provinces saw total investment in residential building construction rise on a monthly basis in August, including Ontario (1.6% to $4.8B) and Alberta (1.4% to $1.5B), and six more experienced declines.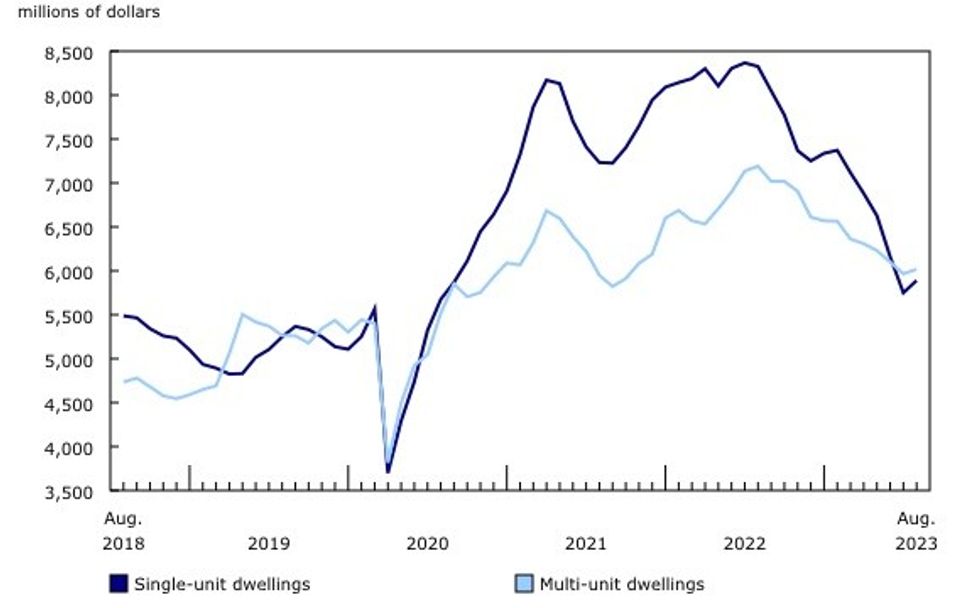 Investment in residential building construction, seasonally adjusted.(Statistics Canada)
While investment in the residential sector spiked, activity in the non-residential sector was relatively muted as the summer came to an end.
Although there were monthly gains in the industrial and institutional components, which edged up 1.1% and 0.7%, respectively, they were offset by a 0.5% dip in the commercial component.
As a result, total investment in non-residential construction increased just 0.1% from July to August, to $5.9B.
Real Estate News