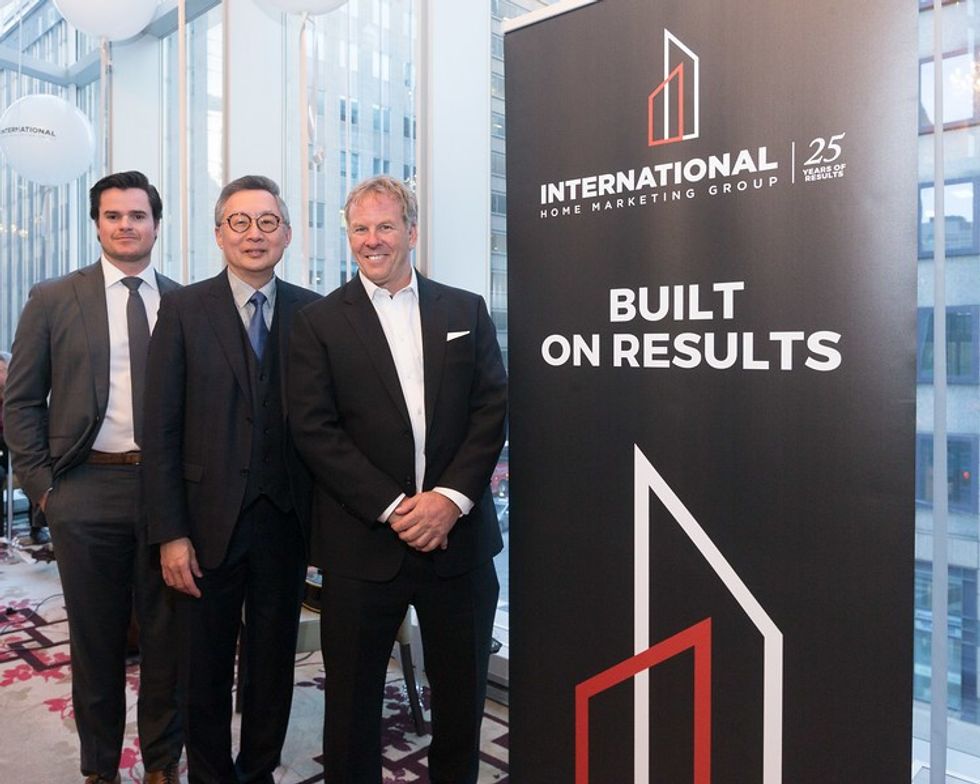 Left to right: Fraser Wilson, vice president, Elliott Taube, president, Stephen Wong, co-founder International Home Marketing Group.
---
A silver anniversary deserves a golden affair.
On Wednesday evening, invited guests attended a cocktail party hosted by International Home Marketing Group (IHMG) at Shangri-La Hotel, to celebrate the celebrated company's 25th year.
Many of the city's big developers were represented there, from PCL to Menkes to Liberty Developments and beyond. Some of the notable guests included Mark Reeve of Urban Capital, Alison O'Neil and Alex Leung of Great Gulf, and Maurice Wager of Collecdev.
Other notables in attendance were Nelly Zagdanski, Josh Zagdanski, Miguel Singer (all of the Madison Group that just did NOBU Residences Toronto) — and my personal favourite attendee with his added je-ne-sais-quoi, John-Anthony Losani of Losani Homes.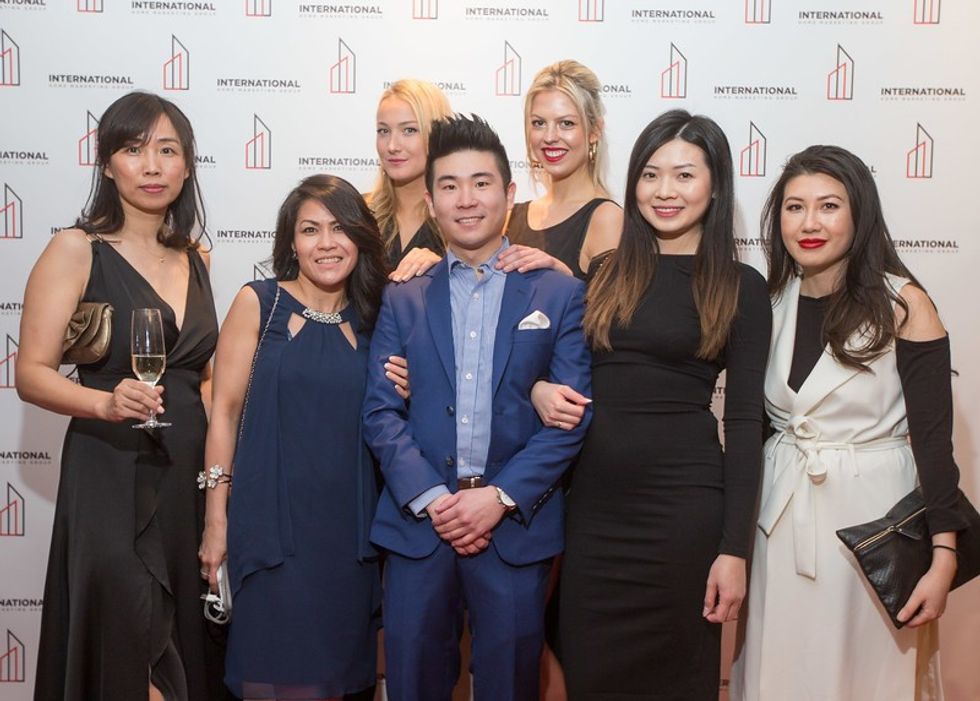 Part of the team from International Home Marketing Group, from left to right: Lily Hu, Rose Le, Michelle Derocher, Christina Bojeczko, Mikhail Lim (front), Shelly Sou, Cenny Ha 
As guests sauntered into the Museum Room on the hotel's third floor, they were offered a drink from a selection of red, white, bubbly or water. The sounds of a three-piece-band playing classic live jazz tunes took over, creating a lively vibe.
Air kisses were blown, guests made pleasantries, shook hands, talked shop and worked their way around the room filled with fellow respected real estate peers and their partners — whether business or romantic.
Unlike your usual to-be-expected soirée, those in attendance all seemed to personally know the team behind IHMG, with many overheard sharing their six-degrees-of-separation tales as if at a dear friend's milestone birthday.
With no dress code on the invite, the open-spaced room consisted of an array of guests in a diverse set of ensembles.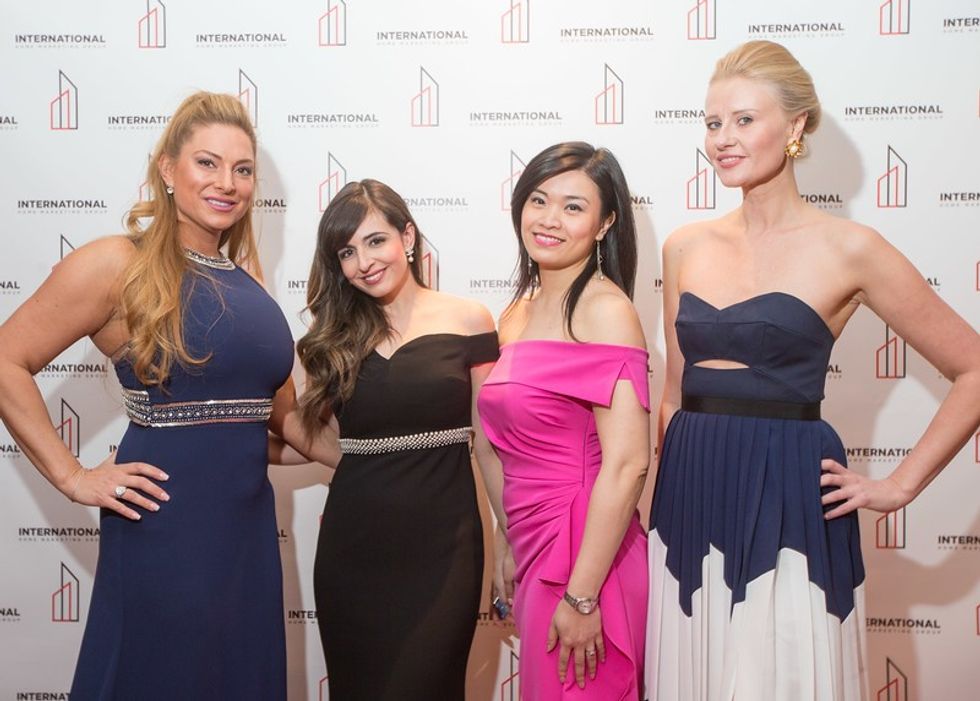 Left to right: Vanessa Bellemare, vice-president sales and marketing, Marianne Del Giudice, senior sales associate, Yanny Lee, senior sales associate, Lisa Chester, vice-president sales and marketing, International Home Marketing Group
Some came clad in eye-catching gowns, while others came coveting their go-to, straight-from-the-office, end-of-day, un-buttoned-collared looks. But despite the array of attire, everyone in attendance had an overall joyous vibe as they buzzed about the company to be honoured.
In all my years covering many an event, this might have been the first where attendees were all actually looking forward to — and were attentive to — the scheduled speeches. Guests listened with smiles on their faces — and a few with tears in their eyes — as opposed to trying to make eyes with a bartender or their handhelds.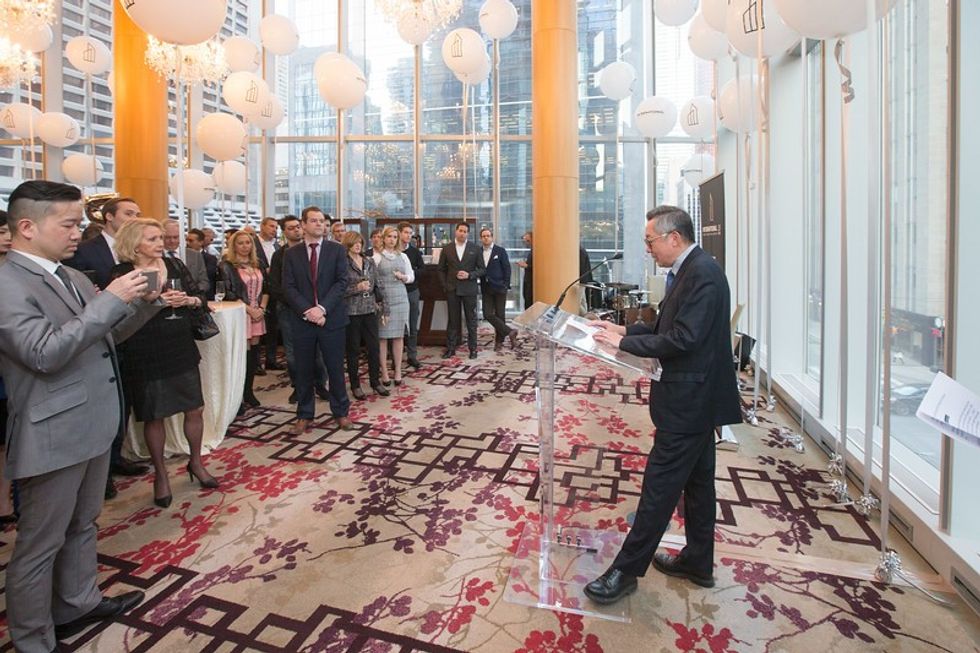 Stephen Wong, co-founder International Home Marketing Group
Though the room was filled with the who's who of real estate elite, missing and honoured was the late, great, Michael Wilson. He founded, owned and established International Home Marketing Group. Wilson created this notorious company and its caché.
His son, Fraser Wilson, vice president of IHMG, made a strong speech covering the company's impressive past, his father's legacy, and their plans for the future. Included in said plans, the Michael Wilson Bursary for a deserving student from Ryerson's Centre for Urban Research and Design.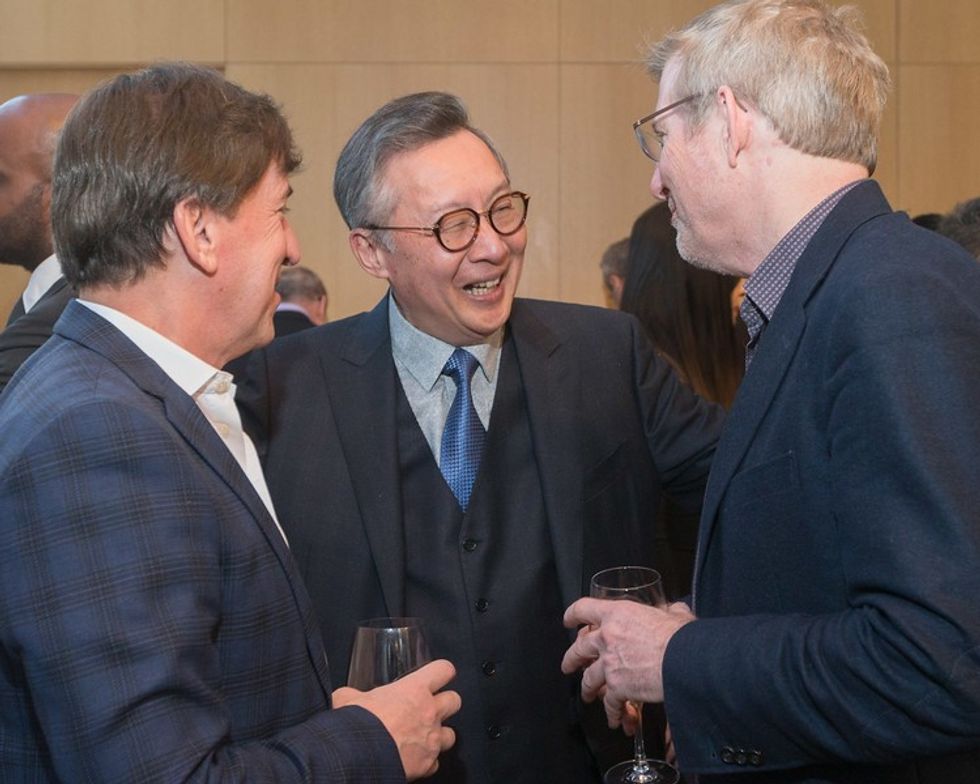 Left to right: Clarence Poirier, P&B Marketing, Stephen Wong, co-founder International Home Marketing Group, Mark Reeve, Urban Capital
After speeches were made, more air kisses were shared and guests pencilled each other in for doing "lunch real soon." Many guests bid adieu vis-a-vis a to be expected French exit. Though as one door closes, another opens wide, so they say.
The next swing of guests arrived around 8 p.m. to mix and mingle with some lingering ones before the party finally ended around 9 p.m.
All in all, it was a golden affair for a silver celebration.
Toronto