Vancouver
Real Estate News
Will More Interest Rate Hikes Finally Cool Vancouver's Hot Condo Market?
Vancouver's condo market is on fire, but with rising interest rates and intensifying affordability woes putting pressure on high-rise prices, it begs to ask whether or not that can last.
It's instructive to note that the city's low-rise market — comprising detached, semis and townhouses — is seeing so much demand that disappointed buyers have turned to residential high-rises. Outside of Vancouver proper, the condo market is already softening, no doubt providing the best bang for buyers' bucks, but the urban core is still hot, at least for the time being.
According to Robert Mogensen, a broker with The Mortgage Advantage in Vancouver, buyers whose bids weren't accepted in the low-rise market are driving high-rise sales in the inner city — a trend that's persisting despite ground-related home sales softening — but rising mortgage rates have, he says, as much to do with that as demand.
"The condo market is the beneficiary of unaffordability in the single-family market. High-rises are still hot in the City of Vancouver, and while the surrounding suburbs are doing well, they're not at the frantic pace of a few months ago," Mogensen said. "That's a direct effect of people's pre-approvals and rate-holds expiring, and now they're faced with the reality of roughly 4% mortgage rates versus 2% rates a few months ago."
According to the latest statistics from the Real Estate Board of Greater Vancouver (REBGV), the sales-to-active listings ratio for detached homes in April was 25.3%, while it was 47.1% for townhouses, and 45% for condos.
READ: Vancouver to Raise Empty Homes Tax to 5% in 2023
While there were only 962 detached home sales in the Vancouver region last month — a 41.9% drop from a year earlier — the benchmark price surged by 20.8% to $2,139,200, but only nominally by 1% from this past March. Condo sales also decreased by 26.1% year-over-year in April to 1,629, and following a similar pattern, the benchmark price rose by 16% year-over-year, and by 1.1% month-over-month, to $844,700.
To put that into perspective, the average price of a condo in Metro Vancouver is still less than half of the price of a detached house. Attached home sales declined by 40% in April to 578 from 964 12 months earlier, and by 1.1% from two months ago, but the benchmark price is still $1,150,500.
To further elucidate how much price matters, there were 3,806 active listings for detached homes in April, 1,228 active townhouse listings, and 3,762 active listings for condos, which respectively spent an average of 21, 13, and 17 days on the market. It is, therefore, easy to understand why the townhouse market is especially difficult to enter, but juxtaposing detached houses and condos — where active listings and days on market are quite similar — the latter market has fewer barriers to entry.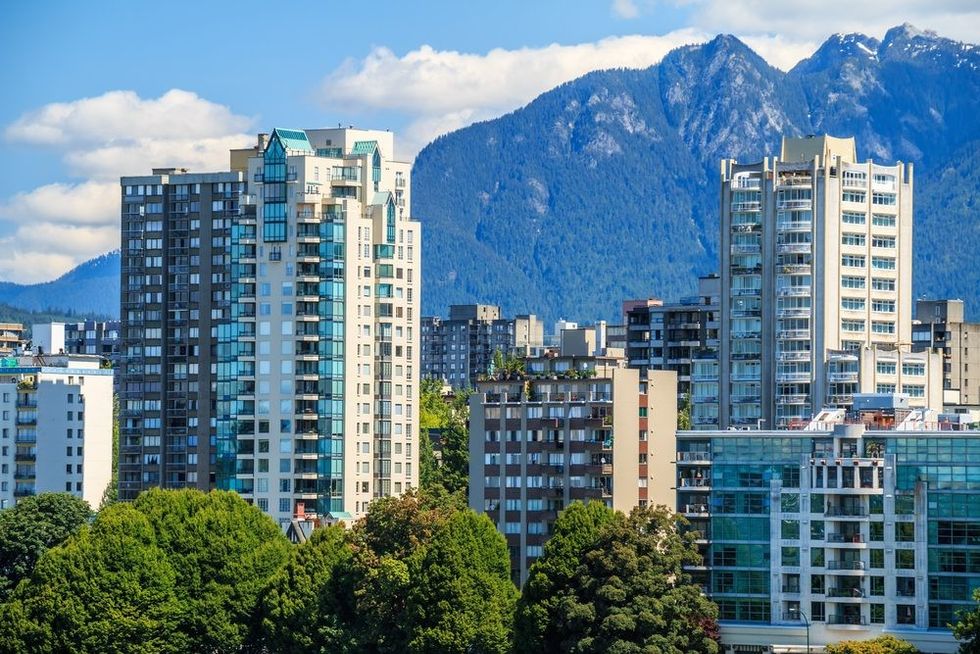 "The days of single-family homes, even for the young urban professionals, who make decent livings, is out of their range unless they move into the suburbs," Mogensen said. "Even then, if you go to Coquitlam or Maple Ridge and the surrounding area around Vancouver, single-family homes require two high-income earners to make the whole thing work, or you need a lot of help from mom and dad."
There are signs of deceleration in Vancouver's urban condo market, housing market analyst and realtor Steve Saretsky says, because the Bank of Canada hiked its overnight benchmark rate by 25 basis points on March 2, then by another 0.50% last month, and it's likely to repeat the latter rate hike next month, in which case, the benchmark rate would reach 1.50% in June, having been at 0.25% at the beginning of March.
"Fifty basis points here, 50 basis points there, that will slow it down," Saretsky said, adding that there are also hopeful signs at play. "[The downtown condo market] has tailwinds behind it too — it hasn't been that frothy; it's behind 2018 prices. Now that the pandemic is largely over, it shouldn't be surprising that it's the strongest market, as people move back to the downtown core."
Rents in downtown Vancouver are surging, and on the resale market, a one-bedroom condo registered 10-20 years ago could still sell for below $650,000 — substantially below REBGV's MLS Home Price Index composite benchmark in April for the aggregate price of $1,374,500 in the metro region.
READ: Interest Rate Hikes Could Lower Canadian Home Prices By 10%
Saretsky says a lot of buyers who failed to buy single-family homes are buying two-bedroom condos in Vancouver proper, indicating that until the full thrust of interest rate hikes influence the housing market, there are still, indeed, many determined homebuyers.
For now, at least.
"Demand will slow once these rates holds expire," Saretsky, echoing Mogensen, said. "People are active and bumping up their purchasing decisions to beat out expiring rate holds, but once they're subject to higher rates that will impact demand and purchasing power and what they're willing to spend."
He added that the downtown condo market should see elevated demand for at least a couple of more months.
"Strictly downtown will be hot, I think, for at least the next couple of months, and then it will slow down," Saretsky added. "I see softening in prices, but it depends on how much the rest of the market falls. People should remember that, despite both the suburban condo and overall markets being extremely hot and frothy, the downtown market was a buyer's market for the last two years. That was the opportunity during the so-called 'pandemic market,' which is now lessening while rates are going up, but I'm not extremely bearish on the downtown market, either."