Vancouver
Real Estate News
Greater Vancouver Home Sales Dropped 25% from March to April
Home sales are returning to more traditional levels, the Real Estate Board of Greater Vancouver (REBGV) says, with April numbers taking a significant plunge compared to the previous month.
The latest REBGV report found a staggering 25.6% drop in the number of homes sold in April compared to just one month prior. April's sales, of which there were 3,232, also sat 34.1% below the numbers seen in April 2021, and are 1.5% above the 10-year April sales average.
Spring is typically a hotter time of the year for the real estate market, picking back up from the slower winter months. But this year saw sustained interest throughout the winter with Vancouver home sales now starting to drop.
"So far this spring, we've seen home sales ease down from the record-breaking pace of the last year," said REBGV Chair Daniel John. "While a small sample size, the return to a more traditional pace of home sales that we've experienced over the last two months provides hopeful home buyers more time to make decisions, secure financing and perform other due diligence such as home inspections."
But just because sales are down doesn't mean prices are. The composite benchmark price for Metro Vancouver sat at $1,374,500 in April — a 1% jump from March's price. This also marks an 18.9% increase year over year.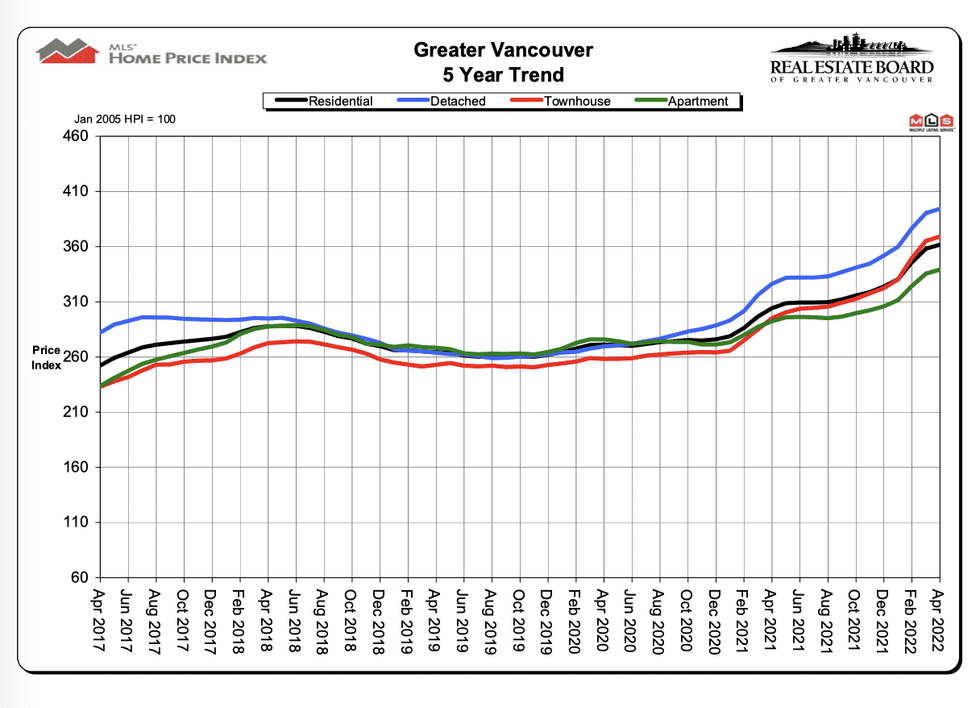 Limited inventory has plagued the Vancouver market for well over a year, fuelling climbing prices. But there are signs this is starting to change. Homes listed for sale totalled 8,796 in April, which is up 15.3% from March but is still down 14.1% from April 2021. The sales-to-active-listings ratio, the report notes, has not yet fallen enough for there to be downward pressure on home prices.
"With interest rates climbing and the total inventory of homes for sale inching higher, it's important to work with your local Realtor to understand how these factors could affect your home buying or selling situation," John said.
Detached home prices rose 1% month-over-month to a new benchmark price of $2,139,200. Apartments and attached homes both jumped up 1.1% from March prices to new benchmarks of $844,700 and $1,150,500, respectively.