---
The area surrounding the Metropolis at Metrotown mall has been one of the biggest targets in Burnaby for new development, and that momentum won't be slowing down any time soon as a sizeable new project, dubbed the Willingdon Rose, gets closer to joining the area.
Developed by Vancouver-based IDS Group, who were involved in notable projects such as the restoration of The Beverley heritage building in New Westminster, the Willingdon Rose in Burnaby was first proposed back in May, but recently passed its third reading in Burnaby City Council on December 12.
The project is now in the final stage of the rezoning and development process, where the development team just needs to meet the prerequisites outlined by the City, before Council officially approves the project. Reached for comment, IDS Group President Josh Adelberg told STOREYS that they hope to submit their Preliminary Plan Approval in January and are currently working on construction drawings for their Building Permit.
The Willingdon Rose will be located on 6622-6688 Willingdon Avenue, near the intersection with Imperial Street, close to Central Park, Metropolis at Metrotown, and the Burnaby Public Library. The site is currently occupied by two three-storey rental buildings that were constructed in 1967.
The new building would be 34-storeys with an eight-storey podium, housing 460 rental units. As mandated by the City of Burnaby's Rental Use Zoning Policy, a portion of the units will be available at below-market rates.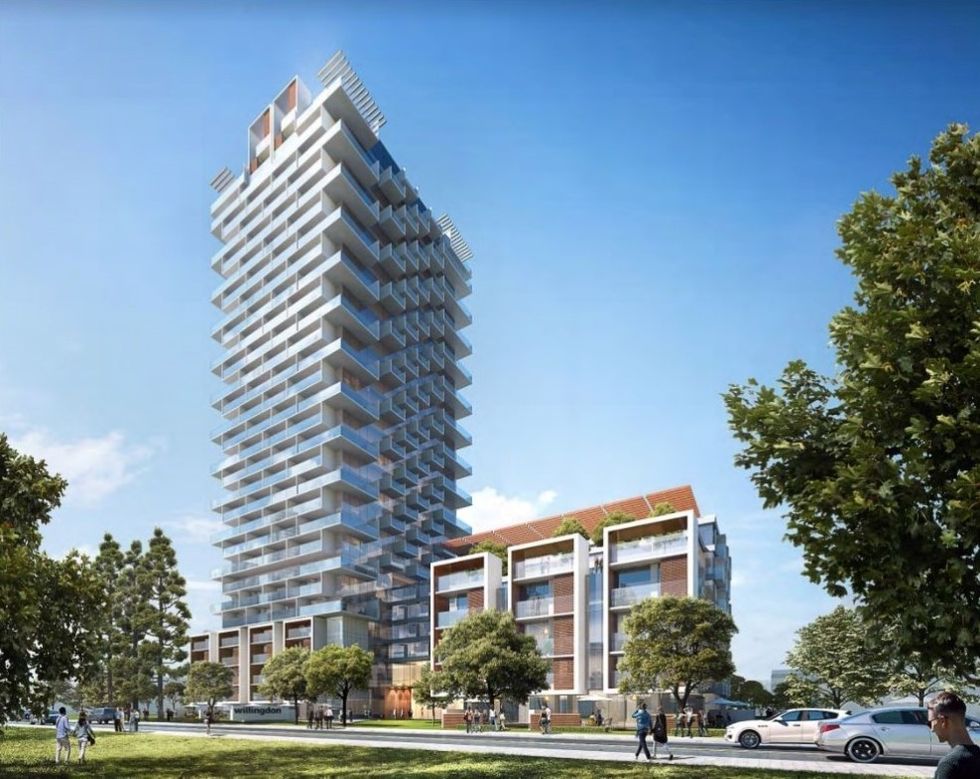 An old rendering of the Willingdon Rose on 6622-6688 Willingdon Avenue. (IDS Group / B+H Architects)
In terms of the unit mix, there will be 131 studios, 189 one-bedrooms, 120 two-bedroom, and 20 three-bedrooms, with many of the units also including a den.
Additionally, 72 of the units would be designated as replacement units to cover the 72 rentals in existing two buildings that will be lost, which will be offered to the current tenants at the pre-development rates, as mandated by the City of Burnaby's renter protection policy.
"The all-rental development includes a range of market and non-market units in order to accommodate a range of incomes and age cohorts, as well as a generous indoor and outdoor amenity package available to all tenants, including a two-storey amenity with lounges, change rooms, fitness areas, meeting space, and a theatre room," the City noted in its initial council report, in May.
According to a brochure provided by IDS Group, there will also be a sports lounge with high-tech simulators, as well as a pool, whirlpool deck, and firepit zones.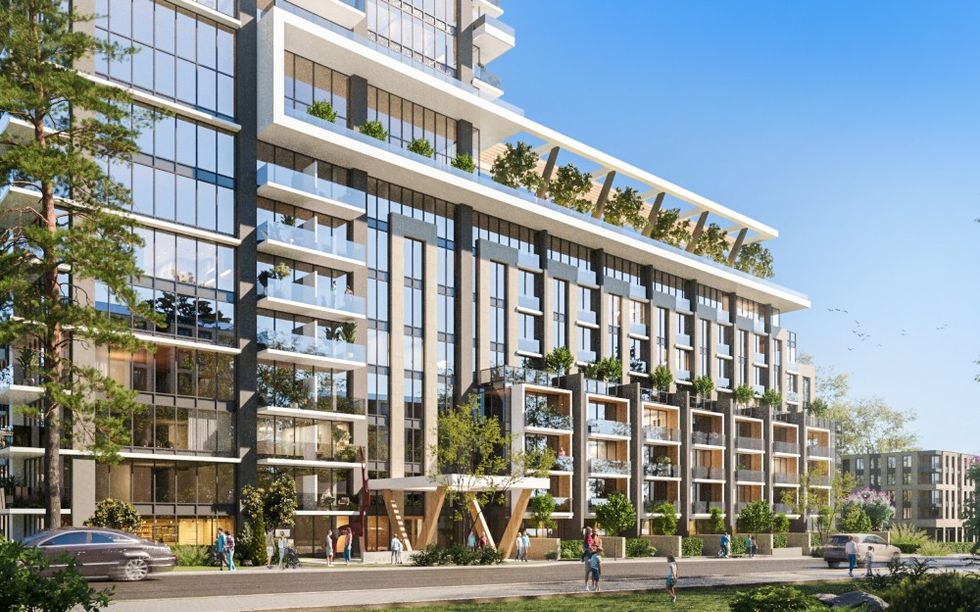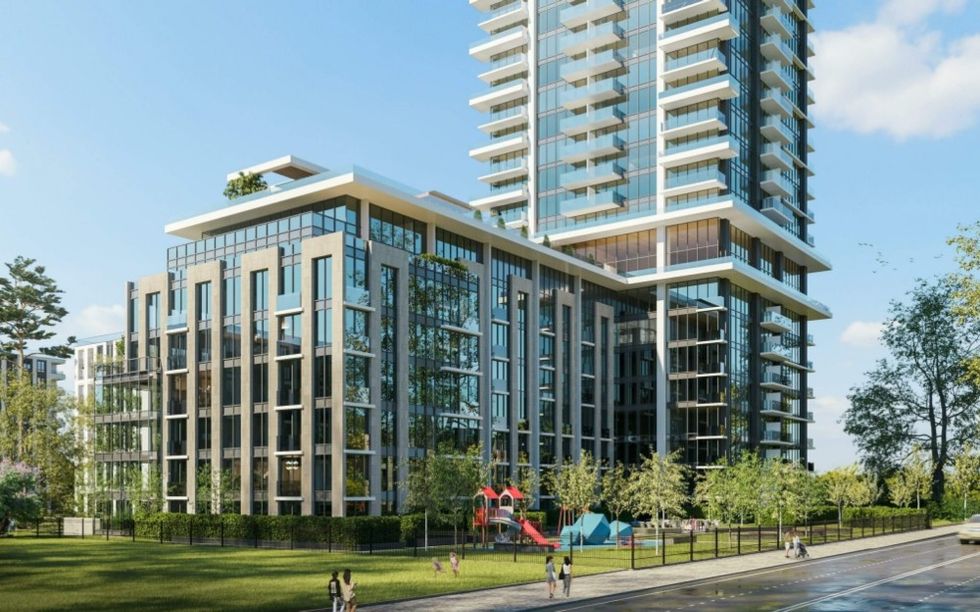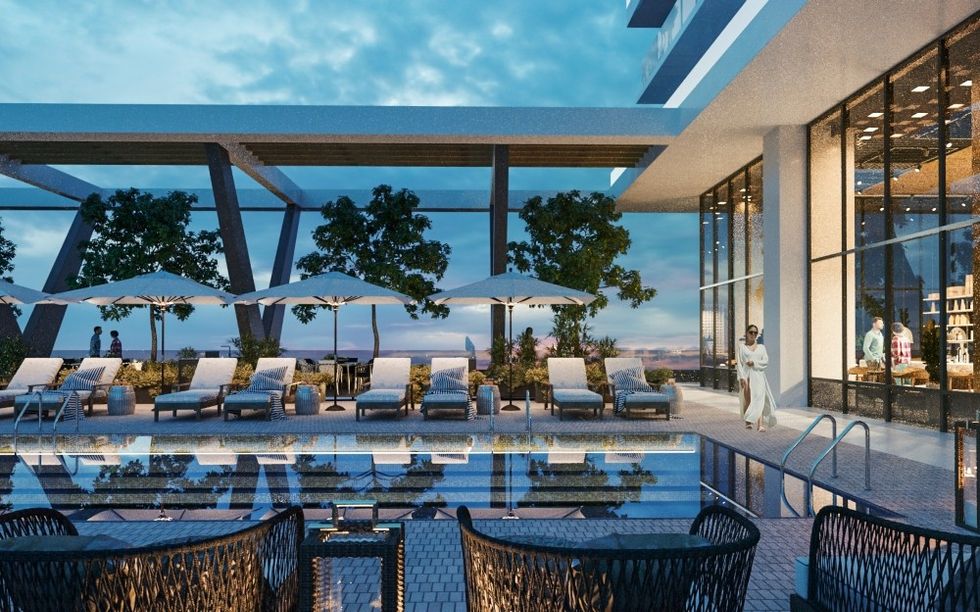 Renderings of the Willingdon Rose on 6622-6688 Willingdon Avenue. (IDS Group / B+H Architects)
The building will also include 277 vehicle parking spaces and 1,012 bicycle spaces, including spaces for visitors. All parking will be underground, accessible via the rear lane, and every residential vehicle space will be equipped with EV charging capabilities.
The Willingdon Rose was designed by Toronto-based architecture and engineering firm B+H Architects, who have indicated that the project will have low-carbon energy systems that will help the building meet Step 2 of the BC Energy Step Code.
In the project letter of intent, Adelberg, also the Project Manager for the Willingdon Rose, wrote that this project "strives to be a leader in both architecture and sustainability measures not only within the Maywood Area [of Burnaby], but City-wide."
The project, like most projects of this size, is not without opposition, however. A public hearing was held in June, where a group of citizens -- all of whom reside in the area of Willingdon Avenue where the high-rise would be built -- voiced opposition to the project, unhappy with the inevitable construction noise, abnormal density for the area, and increased amount of traffic in what is currently a quiet neighbourhood.
This article has been updated to include comment and additional details provided by IDS Group.
Future Developments